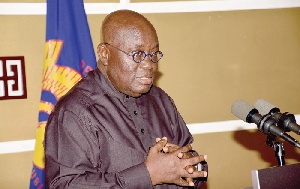 A year ago in January 2017, the people of Ghana ushered in a new president, Nana Addo Dankwa Akufo-Addo, and NPP administration to power to steer the country to good fortunes.
The year before then could be remembered for its uncertainty and unpredictability, notably, there was Brexit in U.K. and more disturbingly and questionably, the election of the Donald to the U.S. presidency, where in both instances some sizable minority decided to succumb to the politics of fear, intimidation and deception to make these infamous events possible. Thus, the year 2016 was very miserable and difficult for those people who still believe in the politics of reason, fairness and sanity.

However, there was a silver lining in that year of despondency and gloom for national and international politics - and the good news was that majority of Ghanaians decided to balk that trend - they spoke loudly and chose wisely the politics of hope, fairness and accountability over politics of fear, deception and intimidation. Christmas, therefore, came early for most Ghanaians and indeed they had every right to celebrate and enjoy it that long for getting rid of those incompetent nincompoops who styled themselves as serious government but were shamelessly found out to be in there for themselves, family and friends after 8 years in power. The new government came in with a very ambitious agenda coupled with high expectations.

Challenges

Not that the year 2017 went without its challenges and as with any new administration, there had been quite a few of them from the beginning. If the new administration thought it was going to be politics and business as usual then they were profoundly mistaken and wrong. It was rudely awaken to the reality/fact that the honeymoon, unfortunately, was going to be short for them as a result of the, undoubtedly, high expectations put on them by their own core supporters. It's refreshing to note that - in the contemporary Ghanaian politics - the fiercest critics of this administration with constructive criticism, so far, have been these core NPP supporters and sympathizers. This is very good sign for Ghana and its democracy and as such the era of tacit, unbridled support and taking party supporters for granted is, possibly, over. NPP supporters and sympathizers are now more discerning, they demand accountability from the party leaders and hold them to high standards, expectations as well as to their words and promises.

Just to cite few examples to illustrate my point here. When it became public that the new administration had, apparently, had a sacred verbal promise to allow the former president, John Dramani Mahama, to continue to occupy and appropriate state buildings as his own, there was an uproar from the NPP supporters/sympathizers especially when his government had denied the same benefits to his predecessor, John Agyekum Kufuor, who incidentally, happened to extend the hand of "let bygones be bygones" to his predecessor, John Jerry Rawlings by granting and compensating him with state buildings, supposedly, as part of his indemnity clause provisions in the constitution. This one-way street of "let bygones be bygones" was quickly shut down by these supporters and they loudly proclaimed "what's good for the gander is good for goose".

There was also a situation whereby the new government was contemplating of signing into law a hold-over bill from the previous government that would have compelled motorists to pay towing tax to a company (from The Jospong Group of Companies) which, allegedly, has a dubious past. The NPP supporters/sympathizers again stood up against this monopoly and demanded its rejection.

In both instances, the new government had no choice but to change cause and back down albeit demonstrating the unique traits of being in touch with the people - i.e. a listening government and thus it isn't going to be business or politics as usual. Now, supporters/sympathizers demand and expect that budget and other legislative bills are copiously and scrupulously scrutinized by the respective sector ministries before they're passed in parliament and signed into law.
More encouragingly, for the first time in the history of this 4th republic, the majority speaker in parliament allowed a motion to set up an independent bi-partisan parliamentary committee to investigate further the so-called 'cash for seat' hullabaloo. Which, in my view, is needless because there is no 'there there' but then again it buttresses the fact that this government listens to the people's desire and clamour for everything to be seen as above board.

Something worth mentioning also with this government was the swift prosecution of the sympathetic youth groups who ignorantly took the law into their own hands. Culprits were dutifully arraigned before the law courts and justly dealt with irrespective of party affiliations.

Hopefully, these 'citizen vigilante' awareness, sentiments and attitudes of NPP supporters/sympathizers as well as Civil Societies would spread to other party supporters/members over time to make Ghana whole again. Our nation Ghana deserves better than cheap parochial partisan politics and propaganda.

One Year Achievements

Arguably from the 4th republic perspective, the sincerity of any NPP government to do the right thing with Ghanaians and for that matter the confidence in their capabilities and capacity to deliver and fulfill their promises to the people is unquestionable. This trust thus extends to the present Akufo-Addo led NPP government even though it's very difficult to trust politicians nowadays.

Therefore, with an inherited International Monetary Fund bailout programme in place leaving the government little room to maneuver due to strict budget constraints, it's a remarkable feat for the government to have chalked the following successes - including some major signature flag-ship policies and agenda - within a short space of time despite the struggles.

Few examples here will definitely suffice. Top of all was the government successful launch and implementation of the Free Senior High School (SHS) policy programme, which brought great relief to the populace, particularly parents. This implementation received great commendations from Ecowas, African Union, European Union, United Nations, Civil Societies, Charity groups and other friendly nations. Even though it had its own initial logistical and infrastructural problems, the bold implementation of the Free SHS programme alone within a year in government commits the government and the nation to our children's education and their future.
Despite the challenges, government ensured that half of the amount of GHC 486 million needed to start off the Free SHS programme was disbursed to schools. The other half was also disbursed by mid-term. As well, the National Buffer Stock Company was contracted to supply food to the various SHSs across the country. This was aimed at providing stable market for farmers across the country. Also the government released GH¢10 million to pay the outstanding debt of school feeding caterers.

Furthermore, the government started the implementation of the National ID Scheme on the 15th September 2017. This would be a big boost to the digitization process of Ghana's economy and for better economic planning and effective revenue mobilization. This followed the implementation of the paperless clearing system at the country's ports which increased port revenue by 56% according to the government's initial assessment. The Registrar General Department (RGD) also successfully implemented the online registration of businesses, issuance of certificates to commence business, and the registration of marriages. The GhanaPostGPS – the official digital property addressing system which ensures that all locations in the country are addressed - was also implemented with gusto.

Yet again, the new government through Energy Ministry and GNPC saved Ghana over $1.2 billion in a new Liquefied Natural Gas (LNG) transaction that would allow for the addition of up to 1,000MW to Ghana's power supply by renegotiating NDC's era contract for LNG.

Besides the above, the government increased the Capitation Grant, restored Teacher and Nursing Training Allowances, paid off all National Service Personnel allowances which the NDC government deliberately increased by 55% in the twilight of their administration. Railway workers also got 35% salary increase which was effective from July, 2017. The government cleared all their salary arrears and resolved to ensure that every month the workers receive their salaries on time. Across the board the government increased civil/public sector workers salaries by 11.5% starting this year.

Crucially, the government ensured the payment of all the arrears of the National Health Insurance Scheme (NHIS) which the NDC government accumulated over the 8 years in government. Perhaps there wouldn't have been any need to send government officials abroad for emergency treatment if the NDC government hadn't spent all that time in office to run down and dismantle another Kuffour led NPP government signature achievement.

To protect the environment and secure the forest, rivers and other water bodies, the government successfully embarked on massive crack down of illegal mining known as 'galamsey' right from the onset - this deprived unscrupulous politicians hoping to extract 'galamsey' money for their own selfish ends. This illegal activity was often undertaken by some foreign nationals, allegedly Chinese nationals, with the connivance and condonance of local/national powerful individuals or entities.

Again to strengthen the banking sector ability to finance big projects in Ghana, the government through the Bank of Ghana increased capital requirement from GHC 120m to GHC 400m.
On top of all the above, the government reduced VAT from 17.5% to 3%, abolished a lot of taxes including that of "Kayaye". It also scrapped the 5% tax on real estates which led to the demand for mortgage to go up by 6% in 2017 according to GREDA. Also reduced within the year were inflation, interest rates, fiscal/budget deficit, debt to GDP ratio and rate of debt accumulation.

As a result of the government's fiscal discipline and prudent management of the economy resulting in increased international reserves and a stable economic environment as well as a relatively stable exchange rate of the local currency (Cedi), investor confidence has increased and as such it has been predicted by Fitch's BMI report that Ghana's balance of trade will move into a surplus in 2018 due to the increase economic growth from 3.6% to 7.9% - the first time in 2 decades.

Last but not the least for the year, the Special Prosecutor Bill was signed into law by the president and ironically an estranged member of the opposition NDC party, Martin Amidu, was appointed by the government to lead the charge on corruption in Ghana - very interesting times indeed.

Yet to be fulfilled campaign promises

Isn't it exciting to see that line by line this government is steadily but surely fulfilling all its campaign promises? Hopefully, next on the agenda of the promises to be executed would be the following:

It's believed that One Village One Dam programme is to start from the Kpandai District with 10 units of 300KW Biopower and 80 hectres of centre pivot irrigation dams in 10 selected villages in the district. This would indeed be extended to other villages and districts.

The government also plans to embark on One District One Factory programme as part of the government's industrialization agenda. This would ensure that local produce and other natural resources are given added value to the end product before export. This is aimed at tackling unemployment especially that of the youth right from the source. In conjunction with that the National Youth Authority (NYA) was to meet 120 Chief Executive Officers (CEOs) across the country on September 20, 2017 to help provide job avenues for the youth and also deliberate on effective ways of addressing youth unemployment in Ghana.
This is the change majority of Ghanaians voted for and indeed the change they can believe in, and when you think about the fact that it's just the beginning of greater things to come then it's therefore apt to state that, so far so good with this Nana Addo Dankwa Akufo-Addo led NPP government.

One year of this government has demonstrated that with prudent economic management, efficient management of resources, fiscal discipline, attitudinal change, closing of institutional loopholes of bribery, cracking down on government and general corruption, it's possible to mobilize enough resources to transform this country for the better – Ghana beyond aid is within sight, we can make it happen.

Majority of Ghanaians honestly trust this government to do its utmost to meet the people's high expectations, and it's my fervent hope that everything pans out well for the sake of mother Ghana. That doesn't preclude us to continue to be vigilant over the next 3 years and criticize constructively when the need arises, that said, we should also be able to give praise when it's due and not bent on having the effrontery to finding faults in anything that the government does when indeed there aren't any.

.

May this administration flourish to fulfill its electoral promises to Ghanaians. Our nation Ghana deserves better.