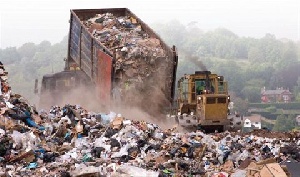 Kwesi Kyei [not his real name], in his early 30s, was picking up plastic bottles from the Jamestown Beach in Accra when I met him on a Wednesday morning. After five minutes, he had picked up nearly 10 empty plastic bottles which he collected into a dirty white sack.
For every kilo his bottles weigh, he is paid 50 pesewas (10 cents) and has ever made as much as GH¢ 40 ($8) on a good day, that is about 80 kilos of plastic bottles collected from the beach.

"I have some customers who buy it. They tell me they take it to Tema and use it for various purposes," he said.

"I come here every day to pick the bottles and I get enough here," he added.

From this occupation he earns enough get by and support his torchlight sales business, which he runs in the evenings.

Kwesi Kyei wasn't the only one collecting plastic bottles from the Jamestown beach. There were at least three other people doing same that morning.
The Jamestown Beach is one of the many popular public beaches in Accra.

Jamestown, where the beach is located, is described by some historians as the birthplace of Ghana's capital, Accra.

The community has a rich history with important monuments such as Ussher Fort and James Fort dating back to the 17th Century when slavery was rife in Ghana.

These monuments attract tourists from all over the world, and the beach serves as an important complement to their tour experiences in the community, but, the current state of the beach leaves much to be desired and a major setback to local tourism.

Sandals, empty water sachets, plastic bottles, toys, glass bottles, polythene bags, and disposable cups, coconut husks, and styrofoam are among the common waste materials found along the beach.
Heaps of organic and inorganic waste, producing irritating smell, could be seen all along the beach area, making it unattractive for sunbathing, swimming, or exercising.

"How can tourists come and swim here? You can't swim here. If they want to swim they go to Labadi Beach or Kokrobite beach and the others because those places are neat," said Charles Quaye, a businessman who has been living in the community for more than 30 years.

"About 25 years ago, if you are descending from the Lighthouse, people remove their slippers and shoes and walk along the beaches you can remove your slippers and walk along the beach... This is not the beach we came to meet, it's not what we grew up seeing," he said.

With every sea wave came waste materials, commonly black polythene bags that settle on the shore.