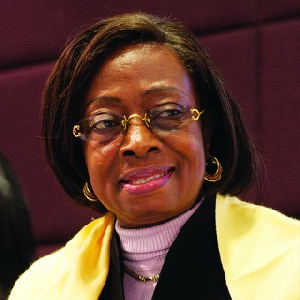 Sometimes you pause to ask, how some people moved to certain high positions they are occupying in Ghana today. Reason being that some of the things they spew to the masses make a huge mockery to the populace. Otherwise, can anybody explain why a Supreme Court Justice who goes by the name Sophia Akuffo, and claims to know the laws of Ghana and elsewhere will be her own prosecutor and Judge at the same time?
Interesting things are bound to happen if Sophia Akuffo who behaved like a drunken sailor and sentenced a presenter and two panellists of Montie FM, an Accra based radio station to four months in prison, is not informed that free speech is under serious threat in Ghana. Sophia Akuffo did not stop there but also sentenced the directors and owners of the radio station to a fine of GHC 30,000 each.

Imagine if you buy a taxi and your driver accidentally hits a pedestrian. What Sophia Akuffo is telling Ghanaians is that if you own a taxi and your driver hits a pedestrian and is convicted you will also see jail time just like the driver who knocked down the pedestrian. What if you bought the taxi with a bank loan? Sophia Akuffo will probably jail all the officials of the said bank.

Now I move on to another question. What if we have an accident on one of our roads leading to injury or possible deaths? According to Sophia Akuffo's gospel, the driver, owner, the contractor, government, and possibly the institution that gave the loan or grant for the construction of the road are all liable and could be convicted and sentenced in court.

We are in Ghana where the sitting President, John Dramani Mahama is daily insulted, disparaged and torn apart on radio and television stations. We are in Ghana where somebody declared war and even challenged the then National Security Coordinator, Col. Gbevlo Lartey (rtd) to come and arrest him. Was Sophia Akuffo not in the country then?

If Sophia Akuffo is not a disgrace to the Supreme Court of Ghana, then I do not know how else to describe her. Sophia Akuffo and the other judges convicted the presenter and two panellists of Montie FM for contempt of the Supreme Court. Contempt of what?

The presenter and two panellists of Montie FM, the owners and directors were not under court order not to talk about any issue or they did not restrain any enforceable act by the Supreme Court. So why were they charged for contempt?
The whole conviction and sentencing by Sophia Akuffo, who came to court with her politically tainted mind already made up, will go down in history as perhaps the lowest point in Ghana's judiciary setting. Sophia Akuffo may be laughing and clapping for herself by using diabolical means to throw away the three men in jail in order to aid the NPP to win the December 7 elections.

Indeed the three men are noted for being a thorn in the flesh of the NPP and their flagbearer, Nana Addo Dankwa Akufo-Addo, who has been doing a slash-and-dash campaign by going to lorry stations during market days and visiting chiefs and promising things he cannot even recall afterwards.

You may have the NPP smiling because Mugabe Maase, the guy who has taken them on and have them sitting on tenterhooks everyday has been cleared off the screen, in other to give them a breather during the campaigns.

This is a sad day for Ghana and Sophia Akuffo is a big shame if not a sham. She quoted a judge in the United Kingdom during her sentencing forgetting that in that country even Queen Elizabeth is criticized. Nowhere in this wild world is anybody free of criticism unless you are a despot.

The clearest signal that Sophia Akuffo has sent to Ghanaians is that you can never criticize her if you don't want to be convicted and see jail time. Otherwise, it was unnecessary for Sophia Akuffo to state that not even President Mahama can control Judges when the President has never attempted to control Judges in Ghana.

Writer's e-mail: magjackson80@yahoo.com