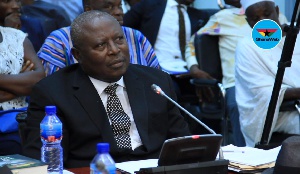 It is precisely a year ago since Mr. Martin Amidu was appointed as Ghana's Special Prosecutor (SP).
Martin's office has been dormant for an entire 365 days, as this Akufo-Addo administration has decided not to resource the SP's office.

As we write now, the SP's office has neither Regional nor District ancillary offices.

Even the SP's office couldn't be resourced until a formal threat to resign was made.

Corrupt people, and all those who intend to be corrupt in public offices, though they haven't yet been in public office quickly charged Martin to resign with immediate effect.

Well meaning Ghanaians wish Martin Amidu well. But please do not resign because deceptive Akufo-Addo will soon be voted out as NPP leader and Presidential candidate for the 2020 elections.
When he has been ousted from NPP leadership, and our next leader becomes President of Ghana, Akufo-Addo's Akyem and Kyebi mafia will surely face Martin Amidu.

Our policy is that "Charity Begins At Home"

Kwesi Asamoah,

Dallas, Texas.