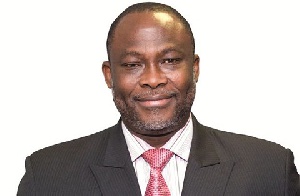 Any person who reads the title of this article will be wondering why I am advising that, but hold your peace and read along. You will understand why I am saying that. The NDC was conceived and born out of Rawlings' People's National Defense Committee (PNDC).
The letters of the NDC was coined from PNDC by striking out the letter P and changing the original meaning of the letters to become National Democratic Congress. Since its inception the NDC has been hi-jacked by people from the Volta and the Northern regions.

Their third largest sympathizers come from the Central and Western regions. Any member from any of the two regions who rises to the position of president or vice must ultimately die. The secret behind this can only be explained by the gurus of NDC.

Flt. Lt. John Rawlings became the first presidential candidate of NDC and then becoming Ghana's soldier turned civilian president after the overthrow of the democratically elected government of the late Dr. Hilla Limann.

He chose Mr. Ekow Nkensen Arkaah as his Vice-President. Mr Arkaah was a highly educated Fanti from Senya Breku in the Central region. After completing Mfantsipim in 1946, he proceeded to Achimota School. He traveled to America where he obtained his first degree at Taft's College and further pursued an MBA at Harvard University from 1952 to 1954.

He obtained a job in an oil corporation in New York as an Assistant Sales Manager for eight years from 1960 to 1968 before he finally returned to Ghana to work as a sales executive at Mobil Oil, Ghana Ltd.

He worked at GNTC, GNPA and was consultant to several companies in the Gambia, Sierra Leone and Yugoslavia. With such vast experience, it was not surprising that Rawlings chose him as his Vice.
Mr Arkaah was a hardworking and an astute politician. He very much believed in the party's accountability principle and followed it to the letter. He chaired all cabinet meetings. During one cabinet meeting he openly declared that there was too much corruption among the cabinet and the entire party.

His frank admission and pronouncement infuriated Rawlings and that day marked the genesis of hatred for the Vice-President. Rawlings suddenly appeared at one cabinet meeting and angrily confronted the Vice-President who was chairing the meeting. He asked him to prove who in the cabinet was corrupt.

Before he could answer, Rawlings held him on his shoulder and kicked him in his groin. This sent Arkaah sprawling on the ground. This kind of harsh and brutish treatment did not happen once and Arkaah was compelled to hold press conference to expose Rawlings' brutality towards him.

Mr. Ekow Nkensen Arkaah who was Vice-President from 7th January 1993 to January 1997 was seriously injured when a hit and run driver crashed his car into the Mercedes Benz in which he was riding. The assailant vamoosed into thin air and was never arrested.

Arkaah was rushed to the 37 Military Hospital where he died a week after president Kufuor had visited him. According to investigations conducted by Heritage Newspaper, the docket on the case was missing from the police headquarters.

Who contracted the hit and run driver to kill the former Vice president in such a merciless manner? Why did police investigations stop so abruptly? There are more questions than answers.
The next Fante scholar to become Vice-President to J.J Rawlings was Prof. J. E. A Mills. In 2008 Prof. Mills won the elections for NDC and became the next president in 2009. He was a learned man and a social advocate. He died on the 24th of January 2012.

In his private life, he was a lecturer at the Faculty of Law at the University of Ghana, Legon. He also became the boss at the Internal Revenue Service. He was sworn in as president on the 7th of January 2009.

His time in office was a turbulent one in the sense that, as a president, he was a very weak ruler and many who worked under him disobeyed his commands as in the case of the Woyome scandal. He ordered the GHc50m not to be paid, but the then Attorney General disregarded his instructions and ordered the payment.

He could not control corruption and matters became worse when he was overwhelmed with sickness. Rawlings did not spare him with insults for looking on when things went astray.

Ghanaians woke up one morning to hear that their president had joined his ancestors in what many felt was a strange and suspicious death. The cause of the death of the late president still remains a mystery.

Suspicions pointed towards one direction: It is believed that the top gurus of the NDC felt Prof Mills was too weak and sick to win the presidency for the party. Therefore they felt it was best to precipitate his death so that the young Mahama could win the election for the party.
Sources said he was strangled and when he was losing breath, he was taken in a private car instead of an ambulance. Dear reader, pay attention to the events which I will narrate now to suggest that his death was carefully engineered. In the first place, the car carrying the president drove him to an ante-natal clinic at the 37 Military Hospital.

They waited until a doctor came out to tell them they were in a wrong place. By their deliberate irresponsibility of driving to the maternity ward, the late president lost the last breath.

Having achieved their aim, Mahama who became the substantive president ordered the doctors to stop any autopsy on the late president. Are you not suspicious?

The New Patriotic Party (NPP) then in opposition mounted pressure on government to investigate the cause of the late president's death and put the results in public domain. Nothing has been done about it to date.

The next Fanti to become Vice president for the NDC was Mr Paa Kwesi Amissah-Arthur. In an interview he granted to a journalist, he openly declared his regret for leaving his governorship at the Bank of Ghana to join Mahama as Vice president.

According to him, throughout the four years of NDC rule, Mahama side-lined him for no reason. "I could sit in the office for the whole day without a call from president Mahama or even files to work on."
"Sometimes I wept". That was a confession from Paa Kwesi. He was a learned man, a product of Mfantsipim School and the University of Ghana where he studied up to Master's in Economics.

He lectured at the department of Economics at the University of Ghana, Legon from 1980 and 1988 and also at Anambra College of Education in Nigeria. He worked as deputy Secretary of Economics and Planning and at other places before becoming Governor of Bank of Ghana in 2009.

One early morning on Friday, June 29th 2018, a very earth-breaking news rendered the calm of the atmosphere asunder! The former Vice president of Ghana is dead. He was reported to have collapsed at the Airforce gym where he was working out.

He was rushed to 37 Military Hospital where he died later. Was his death a natural occurrence? Rev. Owusu Bempah told Statesman that he foresaw the death of the vice president coming and he told his family but no one took him serious.

Rev Owusu Bempah affirmed that he was "killed". He never said who killed him. Was he poisoned? Was it spiritual? This, among other questions, would be asked for a long time to come.

From what I have discussed so far, it stands to reason that it is risky for a Fanti to assume a high office in the NDC. My only advice to Ekow Spio Garbrah is to quit the NDC presidential race if he wants to live long.