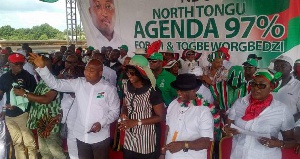 By Clement Sanpaparee
The June Four Uprising in 1979 and the 31st December revolutions were all justified because of the rot and moral decay as we witnessed from January 2001 to 2008 and from 2008 to 2017 where extreme corruption had been in its worst form in the body politic in Ghana throughout those hellish years while Ghanaians wallow in abject poverty.

I challenge Students and their Tutors, Lecturers and Teachers including Nursing Trainees who all voted massively against the NDC to do a comparative analysis of the situation THEN and NOW, and they would then know that they bought FALSE HOOD SOLD to them by the violent prone NPP without asking for any price reduction just because their allowances were cancelled and replaced by the Students Loan Trust in order to get more people to enter the various colleges of education in Ghana.

The National Democratic Congress (NDC) was formed out of the military PNDC regime and there has been a lot of massive disinformation on account of the popular Uprising in Ghana on 4th June 1979. People wanted and still want to pretend that THEY DO NOT KNOW WHAT LED TO THE RISE OF RAWLINGS. Who was chosen by God Anyway. This is a fact, no true prophet can deny.

Those who have been pretending that they do not know what led to that violent uprising on June 1979 include Ghana's Clergy and all members of the ruling NPP and even some members of the NDC who brought the party back to opposition on 7th December 2016. Why should that happen? ANSWER: The country's administration did not support the 31st December Revolution in 1981 where the PNDC government was begging people to agree to be appointed as PNDC District Secretaries nationwide. Today, I mean from 2009 – 2016, some MMDCE's could even brag that they bought then positions. If some NDC appointees could openly say that with impunity, why won't the NDC lose the 2016 elections, and so, what are some people talking about now in 2017?

Look here, dear reader; wars take place around the world. Class wars and ethnic wars do take place but I can assure you that the most vicious war, the most capricious wars that take place, from reading history is that of CLASS WAR, that some few people falsely believe and think that they are the Elitist elements and so, they should always rule the rest of us.

That can not came to terms with the facts that human beings were created equal and slavery was abolished several decades ago, so modern slavery must not be entertained as it was in Ghana between 24th February 1966 to June 4th 1979 when that popular uprising broke the chains forever from Ghanaians hands and feet.
Yes, why won't the NDC lost in 2016 – it is because there are several appointees and party executives who does not believe in the principle of the NDC but pretend to be members in order to amass wealth and become millionaires over night.

This is the stubborn truth, Rawlings was described as a barking dog that was chained in 2011. Until the NDC won the 2012 election without him because he could not join the campaign team since he was chained by the Party Leadership.

He remained chained in 2016, and when they were asked to unchain him for him to campaign, they said he is too old to campaign for the NDC and yet Ex-Prez. J.A. Kufuor joined the NPP campaign using a walking stick – Now, Kufuor and Rawlings who is older? Is it not J.A. Kufuor? The NDC lost BADLY while the NPP won NICELY to enable them lock up – offices like NHIS, Youth Employment Offices, NADMO offices, DVLA offices, close toll booths and toilets, seize lorry parks and garages, and also seize stores at Fadama in Accra to show NDC members that they (NPP) has retuned to power again.

Why should some party leaders then poison the minds of innocent NDC supporters that it was Jerry Rawlings who is the Founder of the party that has caused its defeat? As a Cadre, I ask my fellow comrades to refute this wicked and malicious dis-information by those anti Rawlings party executives. Don't they think Ghanaians saw their behavior when the NDC was ruling this country from 2009 to 2016?

Cadres became ENDANGERED SPECIES when Nana Konadu Agyeman Rawlings fear lessly contested the late Prez. Mills and lost and it was there that we had a nasty situation like: You Are A Rawlings Boy, You won't get Anything including jobs in the NDC government. Nonsense: where are we today, both the so-called Mills boys and the Rawlings Boys?

So, because of extreme bitterness, Nana Konadu Agyeman Rawlings left the NDC, the party she toiled to build with Rawlings and his Cadres to go and form her own party called National Demociat Party (NDP) with her as its Presidential candidate.
Nana Konadu Agyeman Rawlings, the Presidential candidate of the NDP was happy to get only 16,878 votes on 7th December 2016 in the whole country and also happy that the NDC has lost the 2016 elections because she feel very comfortable with NDC in opposition than seeing it in government. She prefer seeing the NPP in power than in opposition and she expressed her happiness during the swearing in of His Excellency Nana All-die-be die Ado Dankwa William Kwaku Akuffo Addo at the Black Star Square on 7th January 2017.

She prefer the NDC to remain in opposition for her daughter to become a minority MP on the ticket of the party than for NDC to retain power out of extreme bitterness because of the way she was treated like a Social Nobody in the NDC by some NDC leaders who even said Rawlings was Not the Party Founder and Konadu did not own the umbrella which she single handedly designed in 1992 for us to form the NDC.

Rawlings must Always talk on matters concerning the NDC party with confidence because he is the Founder of the party – period. No retreat, No surrender. Those Destructive infiltr4ations within the NDC must be prepared to leave and let go the party or……………….

Keep your fingers crossed, I shall return when the need arise. Is anybody listening.

Waati – Anaa?

Jaanbie Iwaii.
Aluta Coutinua

Clement Sanpaparee

United Cadres Front

Obuasi.

Distribution.

All media houses
Accra/Ghana

Writer's e-mail: E-mail:Clementsang@yahoo.com