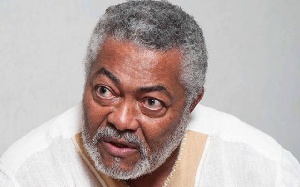 By: Sangaperee Clement
On 15th May 1979, a news broadcast of the arrest of a certain air force pilot called Ft. Ltd. Jerry John Rawlings for attempting to overthrow the Supreme Military Council (SMC II) led by General F.W.K Akuffo who had removed General Acheampong in a palace coup in July 1978.

Flt. Lt. J.J. Rawlings was put before a military Tribunal for trial. However his Audacious Defense of his actions endeared him to the people of Ghana who were looking for SUCH A MAN AS THEIR REDEEMER. This was so, because by 1979, morale amongst the Junior ranks and other service men in the military was at its lowest ebb because their senior officers who were the political leaders at the time, could not be bothered, and were not even bothered about the welfare of the men they were commanding. Because of that, soldiers became the LEAST RESPECTED IN THE SOCIETY between 1977-1979 under Generals Acheampong and Akuffo and Ghanaians ridiculed them by calling them "ZOMBIE", and there were some incidents of market Queens at Makola, Takoradi and Kumasi pouring their URINE IN CHAMBER POTS ON SOLDIERS IN UNIFORM whenever they go to the markets and bargain for reduction in prices of goods they wanted to buy. Such women did not fear those soldiers in uniform at that time because their senior officers succeeded in reducing the image of the military profession to NOTHINGNESS BY BEFRIENDING THOSE SHYLOCK MARKET QUEENS.

COME JUNE 4 1979

Some three weeks into the detention and trial of Flt. Lt. J.J. Rawlings at the Burma Hall, the corrupt SMC II military Junta was contemplating whether to EXECUTE him or not, A GROUP OF LIKE MINDED Junior officers of the Ghana Armed Forces initiated ANOTHER INTERNAL UPRISING and removed Jerry Rawlings from DETENTION and took him straight to the Broadcasting House situated a few meters away from his guard room to announce the violent overthrow of the corrupt SMC II Military Junta led by General FWK Akuffo of cursed memory, and may his soul and bones rust in pieces together with Generals A.A. Afrifa, Ghana's number one trailtor, "General" E.K. Kotoka, General I.K. Acheampong, Roger Felli, Utuka, General Odartey Wellington etc.

The resultant AFRC, with Jerry Rawlings as its chairman conducted a bloody but necessary House Cleaning Excise and ruled the country for less than four months and handed over power to Dr. Hilla Limann who will not have been elected memory, and may his soul and bones rust in pieces together with General A.A Acheampong, Roger Felli, Utuka Odartey Wellington etc.
The resultant AFRC with Jerry Rawlings as its chairman conducted a bloody but necessary House Cleaning Exercise and ruled the country for less than four months and handed over power to Dr. Hilla Limann who will not have been elected president of Ghana because of his TRIBE as a NOR THERNER. But for Rawlings AFRC Military Junta, that election would have been RIGGED IN FAVOUR OF MR. VICTOR OWUSU, who was a bald headed short fine lawyer with a very foul mouth like Sir. John, Kennedy Agyapong, Ursula Owusu and Otiko Jabbah in the ruling NPP government. In Dr. Limann's inaugural speech, he promised to MEASURE UP TO THE NEW STANDARD ADVOCATED BY THE AFRC BUT FAILED WOEFULLY THROUGHOUT HIS 27 MONTHS IN OFFICE AS HE WAS BEEN DIRECTED FROM BRITAIN, our colonial master, whose leaders wanted Limann to sack Rawlings from the Ghana Army and even kill him to enable Britain to re-organize the Ghana Armed Forces. Yes, one day, Rawlings was invited to the Castle, the then seat of Government by Dr. Limaann who wanted him to become a member of the Council Of State.

Rawlings rejected that position and as he was conversing with Dr. Limann who was smiling at him, we heard from the one O'clock news bulletin that Rawlings was SACKED from, the Ghana Armed Forces-I mean, he was prematurely RETIRED on the instructions of the British Prime Minister in October 1979 or there about. As long as you were a June Four Member you were an enemy of the Military Intelligence and Dr. Limann's PNP government between 1980-30th December 1981 and YOU MUST BE ELIMINATED. Lt. Col. Annor Odjidja was a deputy director of the Military Intelligence at that time. The writer was able to outwit those murderous M.I. operatives together with my fellow June Four Members to ensure that the 31st December violent revolution was launched in 1981. In fact, people went through hell in this country and the June Four Members including this writer were one of such people.

THE BRITISH ANTI-PEOPLE AGENDA-IN GHANA

Yes, Dr. Limann succeeded in dismissing Rawlings prematurely from the Ghana Armed Forces in 1979, but he could not kill him because Rawlings had the support of Thousands Of Young Revolutionary Volunteers including this writer called June Four Members who were prepared to DIE FOR RAWLINGS since most Ghanaian leaders, including the CLERGY HATE THE TRUTH. If I don't know anything at all, I know how to DODGE the then DREADED MILITARY INTELLIGENCE OPERATIVES that were moving Heaven and Earth to Kill Rawlings after accusing him of plotting a coup de 'tat in Ghana, but which was false.

If I don't know anything at all, I know the blood thirsty deputy Director of Military Intelligence called Lt. Colonel Annor Odjidga and how he ordered his MI chaps to shoot at June Four Members on sight but we eluded his chaps and supported Rawlings to launched the 31st December Revolution where MEN became WOMEN. No matter what, the June Four Cadres had and still have no regrets whatsoever for assisting Former Prez. Rawlings to restore Ghana's dented international image on 31st December, 1981. Is anybody listing? "Jaambie Iwaii"
Aluta Continua.

…………………………………

Clement Sangaparee

United Cadres Front

Obuasi
Distribution

All Media House

Accra/Ghana

E-mail:clementsang@yahoo.com