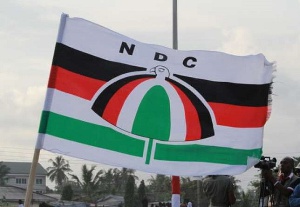 By: Sangaparee, Clement
By the close of 1979, Ghana was on her knees, deprived completely of all kinds of essential human needs that could support a growing human population. In fact, it was a crime to speak the TRUTH in Ghana, nationwide, whether at work in the Mines & Factories, on the farm, in the civil and public service, in the markets or lorry stations or in the Security Agencies as institutions and in the barracks, I mean, the country Ghana, was a COMPLETE FAILED STATE EXISTING ONLY ON THE MAP WITH HER FLAG.

To make matters worse, the detested Supreme Military Council (SMCI) regime under "General" I.K Achampong Floated the unpopular idea of a non-party union Government to prolong its stay in power.

This created so much DISSENT, AGITATION, AND POLITICAL TENSION that brought the country to the brink of a CIVIL WAR IN GHANA which was saved by the popular June 4 uprising in 1979.

As the dreaded Military Intelligence operatives were busy chancing Jerry Rawlings, Captain Kojo Tskata, P.W. Obeng, General Arnold Quainoo and most June Four Members around with orders to shoot at them on sight, in 1980-81, Most June 4 Members including this writer were busy organizing and campaigning for Rawlings to take over through military force again from Dr. Hilla Limann, and we, the Active June Four Members who worked for Rawlings return on 31st December, 1981 knew that Dr. Limann would be overthrown on 24th September 1981, but an air force officer was arrested by the Military Intelligence for questioning and since he was a June 4 Member the date was posponed to a later date which was not communicated to us again until the revolution was launch by the Progressive forcers in the Army led by Comrade Jerry Rawlings who promulgated the PNDC on 31st December 1981 AND SEVERAL UNTOUCHABLES AND BRAVE MEN, IN GHANA BECAME WOMEN FOR TWO GOOD YEARS, WHY NOT? AFTER ALL, WHO BORN DOG? The political and economic recovery that Ghana had achieved under the Provisional National Defense Council (PNDC) has be sustained under the new Democratic Constitution that the PNDC bequeathed to the country.

THE 'NEW NDC MEMBERS' AND THE RAWLINGS; BOYS

When the NDC was formed in 1992, it brought together people from different political traditions in Ghana's political history. We had 90% of people from Dr. Nkrumah's CPP tradition including this writer who was a Young Pioneer cadre during the Nkrumah regime. We had only 10% of people from the Danquah (Busia tradition or the United Party (UP) tradition and some independent presidential candidates.
The revolutionary organs led by the Committee For The Defense Of The Revolution (CDR's) worked around the clock day and night to ensure that the PNDC governed the country and recovered her weak economy after eleven years.

CIVILIAN RULE

After eleven years, the C.D.R cadres again worked around the clock in unity without rewards whatsoever and ensured that Jerry Rawlings won two successful elections as a civilian president for 8 years.

WHAT WENT WRONG

It will be recalled that Rawlings imposed the late Professor Mills on the NDC by FORCE as the party's presidential candidate against the wishes of the cadres and the NDC lost the 2000 elections because Mills was a stranger and did not toil with us in the PNDC era. In 2004, he said the NDC could work with all Ghanaians to create 'A BETTER GHANA' that would cater for the well being of its citizens, not only TODAY but FOR GENERATIONS YET UNBORN. Cadres gave our full support until we lost the 2004 elections that was rigged for the NPP. We again re-organized and worked hard until the NDC won the election and Mills beat Nana Akuffo Adoo in 2008.

ALIEN POLICIES INTRODUCED IN THE PARTY BY THE 'NEW NDC MEMBERS'
All of a sudden, some Anti-Rawlings elements raised their ugly heads and moved Heaven and Earth to do away with the Rawlings Factor and turn the NDC party into the CPP party and regarded the Rawlings as a social nobody in the NDC. Next, they made LIFE UNBEARABLE FOR ALL CADRES NATIONWIDE EXCEPT THOSE BOOT LICKING CADRES AND BACKBITERS AMONG THE CADRES – They Described themselves as the 'Mills Boys' who later became the 'Mahama Boys' that worked against Prez. Mahama indirectly and unknowingly to ensure his Downfall as he was beaten with more than one million votes. Who now hate Prez. Mahama?

Is it the Mills / Mahama Boys who more driving party supporters away and chasing monies or the Rawlings boys who were sacrificing for the party? Look at Them.

They are stomach politicians who all pretended to support him but worked against his election victory in December 2016, but who will listen to you when you suggest anything? Nobody, at best you become an Enemy of the president. Yes, the Rawlings Factor supported him for eleven years as the PNDC Chairman and again supported him as a civilian president who won two general elections in 1992 and 1996 before handing over to Ex-Prez. Kufuor in 2001.

We then have a group of self seekers also describing themselves as 'New NDC Members' who could lead the NDC to victory under Prez. Mahama in 2016, only to ensure that he was beaten at the polls with a difference of over one million votes – Now, between the much hated Rawlings Boys including this writer, and the 'Mahama Boys' who is hardworking? I leave the answer to readers.

NO MAHAMA BOYS IN NDC

If there were actually some dedicated Mahama Boys in the NDC, there was no way that he would lose the 2016 election at all with such a wide-margin, why should party members and ordinarily Ghanaians pay GH¢ 2,000.00 and GH¢ 3,000.00 before one could see the them president in his office at the Flagstaff House. This was happening at the blind side of the then president anyway. This writer tried to see him for 6 good times, by always booking appointments all to no avail, until Hon. Alban Bagbin brought out the Big Cat from the Bag that he himself could not see the president as the then Majority Leader in parliament and I forgot about any further attempts to see my own president. That did not help him anyway. Who knows if I had been painted black before him by those who hate the articles I have been writing including the former MCE for Obuasi in 2009
Yes, that's the world, and their 'New NDC' for you. As Rawlings Boys, we never let Rawlings down at all, so, why should a group of people describe themselves as the 'Mahama Boys' and then let him Down by Hoarding Billions of campaign cash, motor-bikes, T-shirts, Bicycles, welding machines, Hair dryers, clothes for the vulnerable, Rubber Bowls, soap and even cooking utensils by saying that because of the massive infrastructures that Mahama had built – He has already won the election – and then shared everything among themselves – Look At Them.

They should all bow then thick leads in shame. Is any body listening? I shall return.

"Jaanbie Iwaii"

Aluta Continna

………………………

Clement Sangaparee
United Cadres Front

Obuasi

Cc:

All Media Houses

Accra – Ghana

E-mailclementsang@yahoo.com