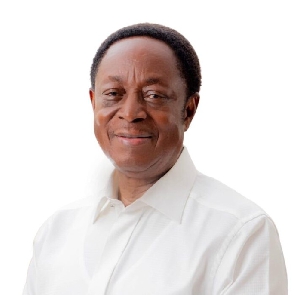 I am by this publication strongly entreating my Kumawu compatriot, Dr. Kwabena Duffuor, to do himself and me the greatest favour by resigning from the National Democratic Congress (NDC).
He has no place in the party for his prospects, being that honest, knowledgeable and without the love of lawlessness and corruption, unlike most top leaders in the party, especially, John Dramani Mahama, Johnson Asiedu Nketiah, etc.

What does he expect if, for selfish personal gains, his blood relation could turn against him, rather solidarising with his political rival contestant, John Dramani Mahama, the clueless one with an insatiable taste for corruption and power?

From the way he has been fobbed off by the leaders of the party, and harshly criticised when he was only pursuing fairness and justice by applying to the court to place an injunction on the NDC presidential and parliamentary primaries election scheduled for today, Saturday, 13 May 2023, because of the purposeful inundation of irregularities and inaccuracies in their photo album to tilt the election in favour of a particular candidate, he had better distance himself from NDC.

By his action, he was seeking a fair playing field for all the contestants. However, the NDC leadership having only one person in mind and wishing only that person to win held their ground and treated Dr Kwabena Duffuor's attempt for fairness as a taboo never heard in the history of NDC, hence all rallying together to mock him, making it impossible for him to continue with his dream to successfully contest the NDC presidential primaries.

If, and only if, Dr Kwabena Duffour would listen to me, his younger Kumawu compatriot, the fearless proud son of Kumawu/Asiampa soil, Rockson Adofo, he had better bid adieu to NDC to shame all his friends who are wolves cloaked in lambskin.
He should not waste his time worrying about the NDC and what he stands to lose if he left the NDC after all, what further gains does he expect in life after all the abundant grace of God upon him in every sense of God's blessings and grace? Is it longevity, material wealth, knowledge or what? He has them all.

Kwabena, as it does not belong to he who is leading to redirect their steps, or better still, he who is cutting the lane cannot tell when it begins to get crooked, but those following from behind, I can only offer you the best advice by asking you to stay out of NDC. I don't have to tell you most of them are demons whom Satan is afraid of and pales into nothing when he encounters them.

From today forward, let your association with NDC for whatever reasons, become a history; part friendship and political affiliations with them. When they are around, be careful what you eat and drink, in order not for some nutter to poison you, as dangerous and unpredictable some people could be when it comes to vying for power and wealth with them.

A word to the wise is enough and out of my overflowing fountain of wisdom have I advised you today, Saturday, 13 May 2023.

A good ear does not take long to hear! The ball is now bouncing in your court. It is up to you to decide what you want to do with it. I am done!