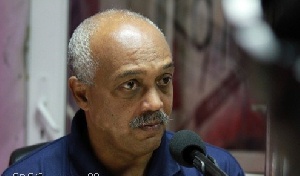 By Sydney Casely-Hayford
We have had a few weeks of it. Rainfall diluting manifesto launches even when enough "nyame akuma' spicing in the mix forced some of us to tune out of the vague promises.

But we were not alone. The USA, with its own peculiar debate style, saw the "Trump" floundering amid much rain as Hurricane Matthew raged across the Caribbean, pummeling the Indies as Donald Trump himself was thrown back to the future, comments from a decade before crawled out of the woodwork and tipped poll points in favor of Hilary Clinton. Aah, sanity returning from previous nervousness of a possibility, even slight as it was, of a trip-over from steady heads in world politics.

Yet it is not over. In Ghana we caught the tail ends of hurricane Matthew, rain reminding us, in case we had forgotten, of the folly of listening to campaign pledges that never get redeemed. I am waiting to hear the NDC government tell me what they have accomplished and not what is "waiting to take off" or "in the pipeline" or even "in "various stages of completion".

Manifestos and promises in Ghana have become a casualty of deliberate human failure of major policy. We are using the manifesto document; a litany of promises never to be delivered, as campaign pointers, deciding which party captures the most outrageous non-achievable goals. We have arrived here because in the past, we have not bothered to list and state clearly when and how many of the promises will be redeemed for those who believed enough to be lured into voting one way that they would receive their rewards and keep their families in hope for the next four years.

A good thing therefore that IMANI released a review of the 540 manifesto promises by the NDC government, who managed a dismal 52.9% achievement level, but still went crowing across the media landscape about how well they had achieved for Ghana, forgetting that score is a poor pass and cannot warrant an automatic promotion to run this country another four years.
And after the NDC's criticisms and downplay of the NPP ideas, the opposition party put it out that they would promote the establishment of one factory in every district in Ghana. As would be expected, it generated a spirited debate, with different political parties staking claims of "ownership" of the concept.

For the avoidance of doubt, the "one district, one factory" concept, was first introduced by the Ministry of Trade, Industry and Presidential Special Initiatives during the past NPP administration, as part of an integrated program for accelerated growth and industrial development. Originally designated as the Rural Enterprises Development Program, and later rebranded as the District Industrialisation Program, it was designed as a comprehensive program for rural industrialisation, involving the setting up of at least one medium sized factory in each of the administrative districts of Ghana.

The program is an attempt to deal with severe poverty and underdevelopment among rural communities, through the establishment of an institutional framework that will attract private sector participation in business development activities.

The Plan also includes, among other things, the development of selected large-scale anchor industries that will serve as growth poles for the Ghanaian economy, such as iron and steel, petrochemical, integrated aluminum, industrial salt, vehicle assembly, and the manufacturing of machinery, equipment and machine parts.

But there are arguments that the plan is too ambitious. Core to its success, however, is that it takes into consideration that the private sector will respond to opportunities to invest, if the government provides the right policy, regulatory and incentive framework for businesses to thrive. Secondly, financial institutions will finance projects that demonstrate clear potential for success based on bankable proposals and public private partnerships provide an excellent opportunity for government to leverage private sector funding to finance development initiatives.
Above all, putting people to work is a development imperative, and industrialization is one of the most powerful tools to realize this goal.

But such an idea doesn't resonate with the NDC. Because it wasn't a first thought from their manifesto? It really is time for this country to generate a few good ideas and initiatives to leapfrog our economy into the 21st century, and if one cannot do it, we should at least embrace a good idea when we see it. We are still wallowing in the doldrums of denigrating good ideas because we should have thought of them first and the "skin pain" is just a little too much.

And with the manifesto blitz, we completely subsumed the efforts by the Bank of Ghana to top the outrageous ex-gratia awards, commonplace and fashionable in a drowning economy. Awarding gold watches to deserving staff with more than three decades of service is nothing when compared to a $100,000 Ford Expedition fully kitted out with machine guns and Lord knows what other grenades and rocket launchers not mentioned as a take away gift at the Presidency.

Unlike other countries where these matters are long certified as insane waste of public funds, the public hue and cry was totally out of proportion with the "offense" attributed to a little extravagance.

In the fight for manifesto supremacy, it would seem logical that when it is sold and papered, someone would make sure that the opportunity to complete the promises would be captured in the annual budget, which itself is a weak document at best, would maybe give a small window of opportunity to deliver the key projects and ideas promised by parties.
By any standard, the manifestos themselves are nothing save a multiplicity of words, which because they have no real possibility of being achieved, are spliced together loosely with little conviction.

Hence the rains came down and unraveled what little glue and what little chance we in Ghana have to make the politician think twice about coming back to the electorate for another term after such abysmal delivery.

But they do. And time and after, we vote them back based on what we see in the palm of our hands and not what incoherent noise we hear in our rational minds.

So with the volume of rainfall coupled with Ghana superstition, the NDC manifesto was curbed soon after their Sunyani rain and the NPP launch "out-reigned" that of the NDC on the back of better rainfall; timed to perfection because they postponed the date of launch at least twice, "to catch showers of blessing"?

Now Joe Ghana is left wondering which of the manifestos to vote for? Too much water in October for my liking.
Ghana, Aha a y? din papa. Alius atrox week advenio. Another terrible week to come!

Writer's e-mail: thenewghanaian@gmail.com