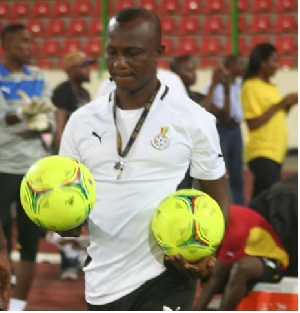 Sun, 24 Mar 2013 Source: Gary Al-Smith
For a team that has just come out of a disappointing finish at the African Cup, Ghana does not appear serious about redeeming itself at all.
The team camp on Friday and Saturday said a lot about the failure to learn lessons from the debacle of South Africa.

At the post-Afcon 2013 press conference last month, it was clear from the words of the coach, team doctor, Ghana FA boss and spokesperson that the contingent had not been focused enough to execute the job to satisfaction.

A national team camp is supposed to be a den of concentration and focus among everyone involved in the effort, especially for the players.

The current team is unbelievably distracted. There is no sense of control at all. It begins from the time they leave the team hotel and get to the stadium.

Accreditation is almost non-existent on the pitch. Accredited journalists stand by watching from the pitch-side, while officials also observe. That's fine.
What is not fine, and has been happening for some time – but must change – are those who have no business there, praise singing and/or making snide remarks at people they do not like.

Nobody stops them.

It is normal for players to meet government officials and other ex-officio people before important games. There is no problem with that.

Where there is a problem is the lack of control. You see barefooted kids tugging players' shirts, members of the general public rushing onto the field to fight for space and to ask players for photos and favours.

And it's all out in the open. And it's all haphazard.
Make no mistake: there is nothing wrong with players appreciating and having quality time with fans – fans whose hard-earned taxes are used to pay them. However, as it any institution that is serious, there must be procedures.

We see it at the international level all the time: there is a time for fan interaction, autograph taking and fan engagement, and it is always orderly and secure.

There is a time for meeting dignitaries. There is a time for accredited media. And so on.

When the Ghana team had its first meeting this week, players had cause to complain to the FA about how they were being swamped by journalists and other people and how everything was unregulated.

It is easy to scoff at them for being snobbish and aloof, but you cannot deny that most of them have come from climates where things are well-run and structured. And it works there.
The solution?

There should be a simple, drawn-out plan for every activity the players will go through from the moment they touch down for national assignments until when they are officially released.

Our culture is such that niceties with the adoring public are very integral, and so they should be included in the schedule. Perhaps, 15 minutes for fans meet players before or after training, following which government functionaries get their turn, time for media and on and on.

While they are at it, the Ghana FA must, as a matter of extreme urgency, find a way to screen the crowds that are able to get access to the players at their team hotels.

It is ridiculous.
Players must feel free to mill about in the lobby without fear of being harassed or being mobbed. National team assignments – especially when you have to meet Sudan for a crucial World Cup qualifier – is not the time for Kofi Mensah's brother, uncle, sister, niece, former coach or whatnot to see them.

All this may sound insensitive.

But if we want the much-touted discipline to remain in the team, this will be a great start.
Source: Gary Al-Smith