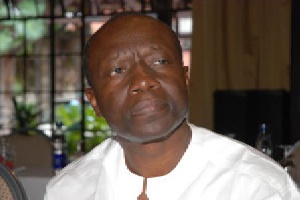 It is hardly a hidden secret that many customs officers are uncultured thieves, nation wreckers, and lily-livered dastards, very insincere and grossly unjust. That is the least that could be said, describing some of these folks. There was a high ranking officer I once knew who loved pineapples so much that visitors were often advised to get to his heart through his stomach.
Very laughable I must say! But The Herald newspaper that reported a fake, baseless, and unfounded story accusing the finance minister of a charge he is completely innocent of seems to be worse in all those dirty traits. After all, an NDC newspaper has nothing better in it than the shit it is used to wipe off a dirty behind.

That said, many other officers are brave soldiers of progress and development who live and breathe patriotism. Those people are, however, often discarded in quite insolent terms as if they are the cancer that is afflicting the greater cancer in the Customs Excise and Preventive Service. But what hasn't been said about the paperless system?

This is the revolution that has toppled the blood-sucking venture of looters in the CEPS. Hasn't anyone noticed the expensive cars that these civil servants drive? Heavens!

It is about time we asked them, "Where from". Some live in private villas that cost hundreds of thousands of dollars. The very NDC stooges whose corruption has been culled by the smart paperless system are involved in painting a bleak picture of the situation in a derogatory manner as to involve the spotless name of the Honourable finance Minister, Ken Ofori-Atta.

Within one month from the implementation of the paperless system, government gained hundreds of millions of Ghana Cedis that would have otherwise vanished into the pockets of those thieves. The Director-General of the Ghana Ports and Harbours Authority has also instituted some measures, putting his foot down in spite of the shenanigans of some appointees who have colluded with corrupt CEPS officers to bypass or beat the system. At least so far so good.
The finance Minister, I can state on authority, will never condone illicit acts that will cause financial losses to the State. The Green Tag that they mentioned is erroneously skewed to drive home the wrong idea in order to create disfavour for the Minister. You see, there are diplomatic goods that come through without scanning. Just like diplomatic parcels that come by air are not screened, scanned, or searched, so also diplomatic containers are not. It is normal diplomatic practice. Diplomatic parcels for Ghanaian Embassies and High Commissions all over the world are not searched either.

It is an international regulation, so Herald Newspaper, come again!

Let's not allow sand be thrown into our eyes. We refuse to be blinded by the unholy diction of thieves that do not care whether Ghanaians sleep on an empty stomach or not. All that they care about is to fill their bellies and those of the urchins in their homes. Aaah! The 2017 budget was as excellent as the governance of President Nana Akufo-Addo; very excellent I must say!

On the 15th of this month, November, 2017, the budget for 2018 is going to be read in Parliament.

I have no doubt it is going to be an excellent one, too. At least we are told that the electricity tariffs that incompetent ex-president John Mahama hiked to levels of over 300% are going to decline. We will all soon be witnesses. The NDC buffoons, out of an acute case of "skin pain" (jealousy) are pulling every trick in the book to cause disaffection for Ken Ofori-Atta.
How come the cedi depreciated from GHs1.20/1$, when NPP handed over to NDC in 2009, to GHs4.40/1$, at the time change was effected in 2017? The free-fall of the economy during John Mahama's days was a drop into a bottomless abyss. Because President Akufo-Addo has declared war on corruption that his ministers have equally adopted, especially Ken Ofori-Atta, hooligans in uniform want to tarnish his image in connivance with The Herald toilet paper.

It is really nothing more than a toilet paper that is even too dirty to wipe the arse of a hardened farmer on a savannah yam farm with.

The Customs Advance Ruling System is quite simple. The authorities in charge have the right to give a discount on eligible imports. What is so wrong with that? In fact they can even give waivers.

For example, picture this: an importer of items to be used at a factory in Ghana has to pay duty, which makes the final product more expensive than the imported replica. Since the unfavourable laws and regulations were entrenched by the unfriendly government of the drunkard ex-president John Mahama and his thieves, the Customs Advance Ruling System is applied to maintain the continuity of the Ghanaian business.

This, also, ensures the livelihoods of Ghanaian employees. So you see, the NDC looney characters behind the Herald rubbish paper, a masquerader of gross inefficiency in the journalism profession, are but another face of the distorted NDC coin.
Whether they like it or not, the paperless system will continue to bring government more revenue, and the modalities in place will be used in favour of the whole nation rather than that of Ibrahim Mahama, Lordina Mahama, their familes, extended surrogates, and the other criminals under the NDC perforated umbrella. With Ken Ofori-Atta at the helm of affairs at the Ministry of Finance, those thieves will go hungry.

Oh and lest I forget, was it not CEPS officers who connived with Ibrahim Mahama to steal millions of Cedis by way of dud cheques or more? Herald newspaper editor, try to be objective, #YouStink.

#Akromfo3k)mB3DeMo