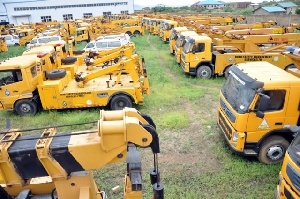 I've been sad since last Saturday evening and my sadness is yet to lessen. How could Usain Bolt bow out with a loss and to no other than twice-caught cheating Justin Gatlin? If only he had listened to good counsel and retired after the last Olympics! But his legendary status in the sprints cannot be doubted, not even by his fiercest enemies.
I know for sure that I'm not alone in this. The outpouring of grief on social media following Bolt's shocking defeat is unbelievable. All manner of reasons are being given for the loss. My superstitious compatriots are even blaming President Ogwanfunu Mahama for being a bad omen for the 100m and 200m world record holder. Others too say Doom's Day Prophet Ablakwa should have warned Bolt of the imminent doom in London.

Did you not see the Doom's Day Prophet on television gleefully scaring his compatriots of an imminent terrorist attack in Dr Okro's homeland? He tried hiding behind the so-called announcements on the website of the Canadian Embassy and other Western powers. But his mischief was exposed by the British Embassy. The embassy explained that it was a routine announcement, which had been in force since the doom prophet was a child. Like a fowl, he could not see the wind that exposed his nakedness because it blew from his rear. I can't wait to hear from the doom prophet again!

Abusuapanin, I suspect the Usain Bolt factor is not the only source of my sadness. I'm sure you know that feeling of seeing someone you love so much making an ass of themselves publicly? That is how I feel about the tow-levy saga? I'm not only sad, but angry at the "pilolo" being played by a government and a president I desperately want to succeed.

It beats my imagination that the current government is dragging its feet on the matter. One needn't be a genius to see plain thievery in the deal. A 20-year contract to a company with no experience in the work it is being contracted for is not only irresponsible, but also a calculated attempt to loot in the name of towing.

I understand if the previous Parliament considered and even approved the tow-levy bill. I understand because the Majority then believed in the "create, loot and share" policy. But I will never understand if the current Parliament does same. From the "pilolo" game being displayed, I'm afraid our worst fears may come to pass.

The Information Ministry and the President's communication outfit should monitor the traditional and social media and advise the President accordingly. People are seething with anger. The introduction of the unpopular tow-levy may erode the little goodwill left for the government.
It is in the light of the above that I applaud the likes of Sammy Awuku and Lawyer Obiri-Boahen for their open stance against pure thievery under the guise of tow-levy. As Sammy intimated, the party wouldn't allow the folly of their political rivals to become an albatross on the neck of the government.

I have read the press statement from the Ministry of Transport and it is not comforting at all. With the genuine utter disgust and disdain for the tow-levy, I can borrow one of Prophet Ablakwa's prophecies and predict the downfall of the Transport Minister. In other words, if the minister does not take care, the tow-levy would become his Achilles heel.

The president has a lot on his plate. He does not need the Transport Ministry to add more to it. Like Pontius Pilate, the minister should just wash his hands off this well-calculated trap to save the government from the needless embarrassment.

Yes, the idea is good; but handing over the fate of this country to the same folks who looted in the name of GYEEDA makes the deal very smelly. We would be very foolish to allow them to step on our testicles twice.

A similar 'create, loot and share' deal was given to Zoomlion and we are all witnesses to the results. Are we so daft not to learn from such a classic mistake? Perhaps, there is something we are not being told.

We dozed off when numerous clandestine deals were struck with dubious private sector businessmen. We all saw how SUBAH, GYEEDA, SADA and ISOFOTON deals were used to milk the state dry. But we are now wide awake. We have heeded the call of our incorruptible president to become citizens, and not spectators. Unlike President Ogwanfunu, I'm sure President Nana Dee and his charges are listening