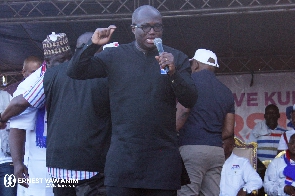 What can I say unto the Lord? I will say thank you, Lord.
What can I say unto the electorate in Sekyere Kumawu constituency for voting overwhelmingly for NPP to affirm their love for late Philip Basoah (Hon.), member of parliament for the constituency, as I had been praying for and pestering them with online requests and last minute WhatsApp audio message?

I can say nothing but thank you to them.

All those who voted to grant Ernest Yaw Anim, the NPP candidate who was a trusted disciple and confidant of Philip Basoah in rain or shine, a resounding victory in the parliamentary by-election held in the constituency following Basoah's demise, I say thank you in the name of God Almighty.

Your weeping and wailings at Basoah's mammoth funeral never came to nothing. It was not fake but real. It was real in the sense that you have let it materialise through the direction of your voting that culminated in the unquestionably resounding victory for Ernest Yaw Anim, over his contesting rivals.

When some self-styled NPP opinion leaders in Kumawu who have access to the president and some powerful members of NPP turned against Basoah, undermining him for not just cause but jealousy, Ernest Yaw Anim remained faithful to him unto death.
The victory the lovers of Basoah who throughout his life was humble, respectful and wouldn't hurt a fly have accorded Anim goes to tell that remaining faithful to others pays in normal circumstances.

This brief publication is only for thanking all those who showed their love for Basoah even in his death by responding favourably to our pleas to them to vote for Anim for the sake of Basoah, if not their belonging to NPP.

How I hope the NPP as a political party and a people would learn a lesson from this by-election to never underestimate the resolve of Sekyere Kumawu constituents and to never hate their representatives with passion when selfish avaricious individuals falsely report on them to the leadership as it was the fate of late Philip Basoah (Hon.).

Once again, I say, thank you to all the constituents of Sekyere Kumawu constituency for your demonstrated expression of love for Philip Basoah (Hon).