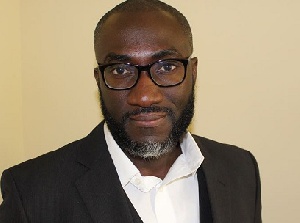 Ghana's Vice-President, Dr. Mahamudu Bawumia is the lead official in President Nana Addo Dankwa Akufo-Addo's government with the responsibility to rebuild Ghana's economy.
Prior to the New Patriotic Party's (NPP) presidential election win, Dr. Bawumia drew a 10-point plan for solving Ghana's youth unemployment problem at a public lecture organized by the Economics Students Association of the Kwame Nkrumah University of Science and Technology (KNUST) on 29th March, 2016 in Kumasi.

He spoke on the topic, "High Graduate Unemployment and the Employment Embargo, What is the Solution", and provided solutions to addressing youth unemployment, which received rave reviews from civic groups and professionals across Ghana.

Indeed, graduate unemployment, which is a part of the larger youth unemployment problem in resource-rich countries like Ghana, and other West African countries, keeps rising. A 2016 paper by Ms. Patricia Ackah-Baidoo, "Review article: Youth unemployment in resource-rich Sub-Saharan Africa: A critical review", provided a clear picture of Ghana's graduate youth unemployment.

Her article offered a serious review of youth unemployment in Sub-Saharan Africa and specifically singled out Ghana, an upbeat nation destined to fulfill its fullest socio-economic potential, for rising youth unemployment. She offered a case study of past and present unemployment events, and examined interventions by past governments to fix joblessness.

In this regard, Dr. Bawumia's 10-point plan to address the issue of youth unemployment was welcomed by the youth and, indeed, the public. Having won the election, it is fair to assume that Dr. Bawumia along with President Akufo-Addo's administration will implement the 10-point plan. As Chairman of the 11-member Economic Management Team, Dr. Bawumia will likely play a leading role to fix Ghana's economic problems in general and unemployment in particular by delivering realistic and cost-effective strategies to achieve the economic transformation plan of the administration and the goals of the 10-point plan he presented a while back.
Although Dr. Bawumia's 10-point plan provided a comprehensive plan to addressing youth unemployment, I submit that the plan could be improved by including employment policies that benefit Ghanaian adult graduates/youth with disabilities and special needs. To that end, including this category of persons who were left out will amend Dr. Bawumia's 10-point plan to an 11-point plan.

The 11th-point plan petitions for the inclusion of Ghanaians with any one or combination of the following disabilities; autism, chronic illness, hearing loss and deafness, intellectual disability, learning disability, memory loss, mental health, physical disability, speech and language disorders, and vision loss and blindness.

In other words, actions that affect qualified unemployed Ghanaian graduates' vision, movement, thinking, remembering, learning, communicating, hearing, mental health, and social relationships should not affect their employment abilities.

As it is often said, disability is not inability; persons with disabilities still have abilities with which they can contribute to national development. In 2010, the United Nations Educational, Scientific and Cultural Organization (UNESCO) listed three provisions for persons with disabilities in Ghana. The provisions contained policy proposals from human rights conferences held in 2005 and 2006.

First, the 1992 Constitution offered protection for Ghanaians with disabilities from discrimination, mistreatment, neglect, and abusive treatment (Article 29) and instructed parliament to approve appropriate laws to protect such persons (Article 37). Second, a National Disability Policy in June 2000 served as a valid disability law. It applied to the specific rights of persons with disabilities, thanks to the UN Standard Rules on the Equalization of Opportunities for persons with disabilities. This policy established that Ghanaians with disabilities must be offered education, transportation, community acceptance, housing, and employment rights. Third, but not least, the Persons with Disability Act of 2006 as a constitutional law, satisfied Ghana's constitutional desires.
The 10-point plan appears as designed for able-bodied Ghanaian youth that are unemployed. Many Ghanaian governments in the past have offered insufficient funding and resources for Ghanaians with disabilities. In fact, records show that the amount of funding and resources offered were primarily for persons with physical disabilities. Below are five policy parameters that I hope the Economic Management Team will consider as they set the stage for effective governance to solve the graduate youth unemployment issue.

The proposals were considered, in part, based on the 2010 World Health Organization (WHO) policy on employment of persons with disabilities.

Policy 1: The recommendation for the new parliament to vote, and President Nana Addo Dankwa Akufo-Addo to sign into law, a requirement of a 3% minimum hiring quota for qualified Ghanaian job applicants with disabilities that apply for ministry jobs. Each ministry shall independently finalize details of the policy.

Policy 2: The recommendation for government ministries to cultivate a culture of disability inclusion in all government ministries that effectively promote the following attitudes: set clear communications and expectations; encourage management to retain employees; protect disability rights; make reasonable accommodation for disability needs; accommodate flexible selection and recruitment practices; create career development and learning opportunities; provide employment retention and return to work possibilities; encourage efficient performance evaluations and work practices; offer adaptable working and office environments; grant flexible work arrangements and organization of work; organize meetings, conferences, workshops, and seminars to meet disability needs; circulate information and learning to satisfy persons with disabilities; enforce fair policies and procedures to ensure proper inclusion standards; guard confidentiality of information; and foster inter-and-intra ministry collaboration. Each ministry will independently finalize details of the policy.

Policy 3: The recommendation for private sector companies to be granted tax subsidies and other commendable incentives for hiring qualified Ghanaian graduates with disabilities. Each ministry will independently finalize details of the policy.
Policy 4: The recommendation that private sector companies that offer financial grants and awards to non-governmental agencies that cater to disability causes be awarded tax and other laudable incentives. Each ministry will independently finalize details of the policy.

Policy 5: The recommendation that private sector companies that offer no less than 10% of contractual opportunities (including, but not limited to, board membership, apprentices, small business owners, etc.) to qualified disabled professionals will be awarded tax and other meritorious incentives. Each ministry will independently finalize details of the policy.

Conclusion

Many Ghanaians are excited about change that provides employment opportunities for young adults. The NPP administration can live up to its intentions and campaign promises when it focuses on real employment needs.

Importantly, government should seriously consider the less fortunate graduate youth with disability that are willing and able to work. That way, society transforms to economic confidence, stable homes, enhanced culture, and improved standards of living all around.
Dr. Adoo is an education and management professional with 15-plus years of successful multidisciplinary skill sets in organizational leadership and professional development. His research interests focus on employee work motivation and wellbeing, organizational change, and uncertain employment relations. He was an Assistant Professor of Management at the College of Adult and Professional Programs at Shorter University in Georgia, United States. He was nominated for the 2016 Shorter University Vulcan Materials Teaching Excellence & Campus Leadership Award in recognition for strong campus leadership and pioneering teaching methodology. He has served as a member of the editorial board of The Journal of the Georgia Public Health Association (GPHA), a peer reviewed publication addressing public and community health, health education and promotion issues. Currently, he is the founder and managing partner of Education & Management Consulting, LLC. (EMCLLC), an innovative organizational development consulting and solutions company, providing services to businesses and governments.