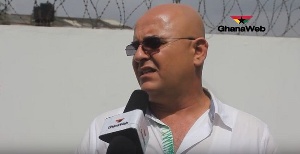 It is a matter of course to have two sides to history: The honourable and the disgraceful.
Our disgrace is in the fact that we have allowed a bunch of liars, propagandists, and wasted terrorists to fester in our midst under an umbrella that has never sheltered the Ghanaian from harm, deviousness, dubiousness, triviality, and suffering, ironically visited upon the nation only when they were in power. And Power they shall have no more, in shaa ALLAH!!!

During the NDC regimes of 2009-2017, it was evident that the very survival of the chromosomes of corruption in the NDC had to be by way of free bontos, feeding on the nation like parasites and malignant algae.

So what did they do when they were in control? Even president Mahama said that "we were down to the bone", of course having chewed the succulent meat "borborleborbor-ly"! It was no wonder to anyone then that 4 years after the NDC took over on January 7, 2009, John Mahama announced that we were still in first gear.

Eii )man Ghana, yate ns3m hunu p3noo!

So banks mushroomed everywhere like creeping parasites. A couple were genuine and many others just plain parasites. One was like the mistletoe, according to money lovers the natural mystic of "chopping kiss" underneath its tentacles; seemingly friendly, but dangerously ominous.
So Honourable Ken Ofori-Atta became Finance Minister. NDC thieves put their hands over their heads. He announced some measures in order to preserve the dignity of the Ghanaian from imminent poverty.

That gave birth to the Consolidated Bank. As a result, account holders did not lose their deposits, and people's lives were saved. Certainly there are advantages and disadvantages in every step one may take. This case was obviously no different, having taken along a good one with better future prospects, in my own humble opinion, but it inured to the general good of the nation. When judging an issue of national interest, we look at the positive aspect of the results juxtaposed against the disaster that a lackadaisical approach would have suffered us.

So the NDC plotted in all manner of dirty ways to cause commotion to disturb the peace. OfosuAmpofo, the criminally inclined chairman of the NDC, was caught naked juggling his shame in what is now seen as the most malicious and treasonable admission of murder and terrorism ever planned on Ghanaians. Among this was a plan to take Ken Ofori-Atta down by concocting lies about Data Bank, and contriving all sorts of ill to ensure that it comes crumbling to the ground.

Let the sensible investors and stakeholders in Data Bank understand that if this institution was able to survive the dubiousness, callousness, and porky mess of the NDC, do you think that it will collapse under this government of hope? Say thee what may, the country is in fantastic hands.

I am mollifying the anxiety of people who have fallen for the distasteful lie about Data Bank written by an NDC fart to create pandemonium amongst investors. Let me repeat that DATA BANK is as strong as it was when NDC was in power. They would have wished to destroy it, but they just could not do so because it was built, and stood firm, on solid foundations.
Unlike UT Bank, Capital Bank, Heritage Bank, for example, that were supposedly built on stolen monies from Ghana's coffers, Data Bank was built by a strong case of reason, astuteness, and pragmatic investment and economic measures.

You may be able to catch a small fish using a pole, but you cannot hope to catch a whale with it. With the flimsy, unsubstantiated propaganda as that struggling to sprawl on social media, NDC may only succeed in making the empty mouths rattle, but the big investors, whales in this case, will not be shaken. In any case, Data Bank is for the reasonable investor, not the greedy lot who staked their life savings in Menzgold and Menzshit!

If you want to invest with people who make all the sense that NDC does not have, then it is Data Bank for you. Close your eyes and walk in, they are there to serve you best!

#NppWontumiTaki