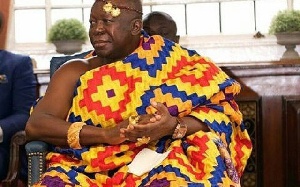 The United Kingdom is not legally corrupt--as Ghana is and has always been.
Many of you are talking or writing about a jurisdiction you know little to nothing about, and that makes your arguments wobbly from start.

The UK has money laundering regulations, backed by specific laws and the Proceeds of Crime Act, 2002.

When my rich friends from Ghana come to the UK and start paying for large shopping with cash, common store assistants even become shocked and start double checking their money! No one does that in the UK--I mean carry 50 pound notes of about 2000 pounds or 5000 pounds on them to be paying for things, except foreigners.

Carrying cash on you here is not the order of the day; people use bank cards to pay for almost everything, including parking tickets and even for blowjobs at prostitute joints.

Just last month, I brought into the UK about 10,000 dollars which was a payment of some work done in Ghana.
Even that money was to be used by me immediately to pay out some bills on the job! That's not a lot of money but changing that money into pounds was hell.

Thomas Cook asked for evidence that I just came in from Ghana as said, my passport and a copy of the contract under which I worked and was paid was to be supplied. Even that, the person who was to pay the money had to get her boss to look at the submitted evidence or documents, before finally changing the money from dollars into pounds for me.

This is a mere exchange but the rules demand that huge sums should be queried--especially the source.

Now the Asantehene: he has money but the law does not by default say because he's a king or has money, he's exempted from this scrutiny.

He brought his money into the UK and therefore he's subjected to the laws and mechanisms of verifications in the UK!
If he took that money to Barclays or anywhere else apart from Ghana International Bank, he wouldn't have had it easy! He would have faced the same stringent application of the law.

No one is above the law; one of the principles of the rule of law. Any working country must respect this. There can be special waivers when approved by the appropriate authorities, here, there is none for the Asantehene when it comes to the Money Laundering Regulations and the Proceeds of Crime Act.

The Asantehene did not commit any crime by bringing that much cash into the UK--I believe his special diplomatic status allows him. I don't know if he declared it at Custom or not and whether he is to even declare it because of his diplomatic status.

My Status as a non diplomatic passport holder, even if a British, allows me to only come into the UK with about 10,000 Euros undeclared! Anything above that, must be declared. I don't know what his sort of diplomatic status comes with but surely it's a higher amount.

However, Mr Arthur, the man at the centre of the conversation who accepted to deposit the cash and failed to follow due process committed an offence, at least, disregarded laid down banking rules. And that's why he was fired.
He is seeking for redress, under the lame excuse that he unilaterally provided a waiver for the Asantehene, because of his status. That's nonsense in law.

He had no authority to do that, hence his action was ultra vires.

This is UK; those who enjoy special privileges are backed by legitimate rules--you cannot just accord the Asantehene a privilege he is not entitled to by the rules, simply because you feel he would somewhat feel disrespected when you do your work or apply the rules he is subjected to.

Once again, that's pure nonsense in law and I will be shocked if the Tribunal accepts such a lame argument.

For Asantehene, the mere fact that someone failed to do his work or failed to be assertive does not mean he has done anything wrong.
His source of money; Ah, he has already told them--whether it's believable, reasonable or not to you, the fact that he's not facing money laundering charges himself means the source has been accepted as true by UK authorities.

My question is; why didn't he use any of the banks in Ghana to transact this simple business of deposit and transfer? Sake of small charges Ecobank go chop?

It makes no sense to me for anyone to carry so much cash on him this way, only to come and transfer a bulk of them to another country when he could have instructed the transfer to be done in Ghana. Maybe our banks in Ghana are useless and he knows too!

Whether he is a king or not, that's absolutely irrelevant because the law does not say once a person is a king, his money is exempted from the needed scrutiny!

*The author is the managing editor of www.ghanacelebrities.com