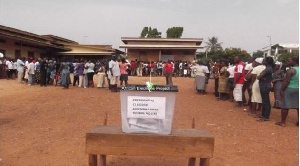 Romantic novelist and poets often portray the notion that there is nothing as painful as unrequited love. However, losing a quadrennial national election where your chances of redeeming yourself depends on several parameters can be extremely painful. And no one should underestimate that especially in our winner takes all democracy.
So, I can understand the pain of people like Dr Omane Boamah, Felix Kwakye-Ofosu and the rest, because I have lived long enough to comprehend the phenomenon. On the other hand, it is unpardonable for the NDC to salve their agony with the sort of childish tactics they tried to apply, which nearly torpedoed the nation into confusion and anarchy.

I think it's rather cacophonic to repeat that electoral malpractice is a huge problem to all democracies everywhere in Africa. Even in the Western countries where they have the experience and resources to combat this insidious disease, it still rears its ugly face every now and then.

Nevertheless, there is a pattern to this problem. Wherever it occurs in Africa, it's the incumbent that happens to be in the thick of things. I have written about this before in the past. Therefore, I am not going to repeat myself. The post mortem of the last election is the most important.

President Mahama and his delusional campaign team maliciously detonated a dynamite when the 2016 election was on a cruise control to a successful end without a glitch.

They were denying the obvious when it became clear to every sensible person with sight and brains that Nana Akufo Addo had clinched the coveted prize of the election. Unable to stare defeat in the face, they sought to prolong their nightmare that there were over voting in the Ashanti Region, after deceiving themselves for hours that they were in the lead.
I was flabbergasted by this strawman antics. Come to think of it, the fact that this people were prepared to plunge the nation into needless chaos just to hang on to the power that they gave away on a silver platter due to their own arrogance and corruption beggars the imagination.

As I have stated earlier, rigging of elections are the preserve of incumbents. It is near to impossibility for the opposition to rig an election. What power do they have to achieve that? It sounds ridiculous for an incumbent to even air such allegations.

And in this instance, it rather turns us into a laughing stock. It's either you are incompetent to the bone or simply a tool of malevolent mischief. If with all the resources at their disposal: the military, the police, and the control of the national purse, they could not provide adequate policing only for their opponent to stuff ballot boxes then they are the most useless group of people to ever govern Ghana. The most annoying part is when their attack bulldog, Koku Anyidoho, become belligerent in a respond to Sammy Awuku, which was also a provocation by the chain of events ignited by Mrs Joyce Bawa-Mogtari.

I don't think this will be the last. It will happen again, and when it does everyone should remember that the opposition do not have the power to rig elections. And if an incumbent allows the opposition to stuff ballot boxes under their noses then they are not worthy to hold on to power. I can, therefore, state here categorically, without any equivocation, that the so called over voting in the Ashanti Region is an unusual red herring.

It only took shape in the active brains of those corrupt and disgraceful cabal of NDC politicians that someone described as babies with sharp teeth.
Philip Kobina Baidoo Jnr

London

baidoo_philip@yahoo.co.uk