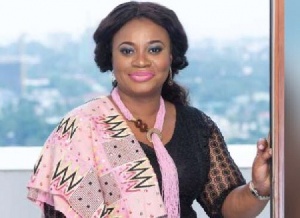 It has been said over and over that "Things happened for a reason(s)." There is an element of truth to this old saying. Listening closely and analyzing the utterances, actions, or inactions of the current electoral commissioner, there is no doubt Ms. Charlotte Osei was appointed to that high-tension position for a "special" reason(s): And that is to help break down all the barriers that may be standing in the way of her appointer's reelection bid come December 2016.
Ghanaians may recall the rush or the relatively hasty circumstances under which President Mahama selected Ms. Charlotte Osei to succeed then retiring incumbent Mr. Afari-Gyan. By now all those Ghanaians who might have thought President Mahama was crazy to nominate a neophyte to occupy one of the most politically-sensitive positions in Ghana, must have come to realize the "shrewd" political calculus behind Mr. Mahama's timing and choice of Ms. Osei.

The president definitely knew ahead of time what the long-term returns on his "investment" in the present Electoral Commissioner would be.

Certainly, President Mahama conducted thorough background checks, including an in-depth personal psychology, of his would-be electoral commissioner. The psychological analysis might have involved anger management and stress test to get a fair idea of how Ms. Osei would handle sustained political pressures and hostile criticisms from the opposition and the media. Obviously, Mr. Mahama had to be fully convinced that the person he was selecting to become electoral commissioner wouldn't falter under the potential barrage of criticisms from all angles in Ghanaian political morass.

With this in mind, and most likely having passed the litmus test of stress endurance and puppetry IQ test, Ms. Charlotte Osei was eventually presented to Ghanaians as the next EC. From this likely scenario, what else can Ghanaians expect from Madam Charlotte Osei except a show of insensitivity and unresponsiveness, while simultaneously executing her "undercover" role as a minion of President Mahama?

It is very disturbing and dangerous path she seems to be pursuing, unfortunately, but Ghanaians have to understand Ms. Charlotte Osei's untenable plight.
She has to pay back the favor or do whatever she can, consciously or subconsciously, to appease her appointing agent(s) for the high office entrusted in her care. Armed with this knowledge, she thinks she does not need to respond to every criticism or political red meat thrown at her direction. Neither does she exhibit any fierce sense of urgency to ensure that she updates Ghanaians, at least, once a week or biweekly about the Commission's activity and progress for transparency purpose.

Often, this posture of not responding to inquiries in timely manner has understandably led many of her critics to view her as arrogant. But this Electoral Commissioner is not arrogant; rather, she is clueless of the massive complexity of the job given her. If Ms. Charlotte Osei is not clueless and puppet, her performance to date would have reflected competence, impartiality, transparency, and sensitivity to some of the legitimate concerns raised by almost all the opposition parties.

From her actions and inactions, it is clear to any level-headed student of advanced political science that Ms. Osei may not have a deep grasp of the constitutional imperatives of the job of Ghana's EC.

This explains why she often tries to stay silent without acting or saying anything that may have the potential to incur the displeasure of her overlord(s).

Do some of you get the mental picture here?
Yes, President Mahama had to pick someone who was clueless or vastly inexperienced to the intricacies of Ghana's body politic, so the chances of remote-controlling that person like a puppet becomes great. For example, there is no way Mr. Mahama would have selected fair-minded and knowledgeable person like Mr. Martin Amidu, the former Attorney General of Ghana to be the Electoral Commissioner. Unlike Ms. Charlotte Osei, Mr. Amidu is vastly experienced, highly qualified, and more importantly, an independent thinker—the most essential quality needed in every credible EC, worldwide.

Ms. Osei's short reign is replete with lawsuits and many other legal tussles all because of her inexperience and tacit bias. Let's take a quick look at the bizarre and incompetent ways in which the Electoral Commissioner used to disqualify a bunch of the political parties from contesting the upcoming general elections in December. She keeps talking about fairness and the fact that she has no way of rigging elections in President Mahama's favor. However, what she is failing to tell Ghanaians is that she has been putting a lot of electoral barriers in the paths of most of the opposition parties save the NDC.

As Mr. Martin Amidu accurately observed in his thought-provoking statement: "the Commissioner had no legal authority to invalidate the nomination of an aspiring candidate for president without first giving the candidate the opportunity to alter or amend his or her improperly completed nomination forms […] I have already said elsewhere that this Commissioner [Ms. Charlotte Osei] was appointed with a rigging agenda. Let us as citizens defend the Constitution by watching her every step during this election" (see: myjoyonline.com). Hopefully, one day in the not-too-distant future Ghanaians will get an Electoral Commissioner in the caliber of Mr. Martin Amidu, who I consider to be one of the few honest and preeminent independent-thinking Ghanaian public officials in this century!

The writer is based in the United States. He can be reached at: detrio03@aol.com