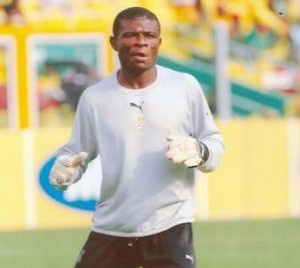 Fri, 20 Dec 2013 Source: Kenneth Nii Yeboah
Ghanaian Players Performance before Brazil: The Fatau Dauda Dilemma
Brazil 2014 is fast approaching and as usual Ghanaians expect nothing but the best from our national team when the tournament kicks off. The world cup as we all know is the biggest stage any footballer dreams of playing at and of course every player when given the chance to appear at the world cup prepares body, mind and soul for the tournament. This is a stage where many stars have been born, talk of the likes of Pele, Maradona, Ronaldihno, etc. And it is a stage where all the stars and best talents around the globe assemble to exhibit their talent and win laurels for themselves and their country.

We have been there twice, first as underdogs who started a fairytale that was cut short at the round of sixteen. The second, time the fairytale continued and the world watched in awe as a virtually unknown Ghana nearly took the world by surprise. Now we are there the third time and no team is going to take their eye of us as everyone has realised that we can actually cause damage when given the least opportunity, therefore every team that will meet us this time around will come all guns blazing. I believe Coach Akwesi Appiah knows the kind of task ahead of him and he is not going leave any stone unturned in his preparations in terms of player selection.

Most of our players expected to make the team for the tournament are playing well at their various clubs week in and week out and that is something all Ghanaians will be happy about because that means that our players will be very sharp and ready for the tournament, which also means that Coach Appiah will have a large pool of talents from which he will draw a very good team from. Essien played his first 90 minutes in the EPL and performed well, Opera also came back from injury to help his side win over the weekend, Muntari is in good shape for AC, K Asamoah is also performing well at Juventus but to mention a few, this is a good thing for us going into January and provided all our players stay injury free then it means we will be in a good position going into the world cup.

My only problem has to do with Fatau Dauda. Fatau hasn't seen a single minute of action in the South African league since he moved to Orlando Pirates and it doesn't look like he is going to get any as things are now. Fatau is not even making the bench at his club and that is very bad for Ghana. Because he is one of the trusted pair of hands in recent times and if things stay this way, then it means we are going to take a very rusty material to the world cup if he is given a call up at the end of the day. The world cup is not a stage for experiments and it will be a very expensive experiment if he keeps watching his club games from the stands but eventually makes it to the world cup. Even taking him to the world cup as a second or third choice keeper will be a great gamble because anything can happen during the tournament and I believe we all know what bench warming can do to a player's physique.
I believe like many other fans that Fatau Dauda must move this January. A loan deal will do him a lot of good as Pirates will definitely not sell a player who is likely to play in world cup. Looking at how Coach Appiah has done his work since he became coach of the stars, I will not be surprised if Dauda becomes one of the major casualties of the call ups, that is, if he stays at Pirates and does not move this January. A report a read on a South African football site posted on the 19/12/2013 quoted Orlando Pirates administrator Floyd Mbele saying that Fatau is not moving from pirates. Mbele said "Dauda has a contract with us and I don't know why people are making this an issue," he was also quoted saying "We have spoken to Dauda and the coach in Ghana has spoken to our coach. He understands the situation." My question is that does Coach Appiah through this communication understand that it is okay for Fatau to be sitting in the stands while the world cup is approaching? Because as it stands now Fatau is not even a third choice keeper at the club as he has been most the time spotted in the stands during match days.

Well, I only want to draw the attention of Ghanaians to this situation because we mustn't wait until the last hour before we start making noise about it because it might be too late. As for people like me, we will only do the talking because that is where our power ends but those who have the power make things happen should make things happen for Dauda because he deserves to be at world cup but things can happen for him and Ghana when he is playing regularly at club level. Tswa!!!

Kenneth Nii Yeboah

King_ken2@yahoo.com
Source: Kenneth Nii Yeboah