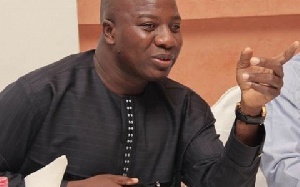 By Kwame Okoampa-Ahoofe, Jr., Ph.D.
Having been fairly and squarely and handily defeated at the polls, the human pit-bulls of the Mahama-Wing of the National Democratic Congress (NDC) are determined to hijack the Akufo-Addo Administration at all costs. Of course, the reference here is to former President John Dramani Mahama, the leader of whose NDC wing, Mr. Mahama Ayariga, recently fabricated a damning case of bribery against the just-confirmed Energy Minister, Mr. Boakye-Agyarko, and the Chairman of the Parliamentary Appointments Committee (PAC), Mr. Joseph Osei-'Wusu.

Mr. Ayariga claims that the 10 NDC members on the PAC were each given an envelope containing GH? 3,000 and told that it was payment for their "sitting" or "over-sitting" allowance. Mr. Ayariga further claims that his envelope was personally delivered to him by his party's Minority Chief Whip, Mr. Mohammed Mubarak Muntaka (I may have gotten the ordering of his names a bit wrong, as they often appear in various arrangements in news reports).

But not only has Mr. Muntaka, the National Democratic Congress' Member of Parliament for Kumasi-Asewase, vehemently denied Mr. Ayariga's story, he has also publicly sworn in the name of the Muslim-God, Allah, that he never at any time informed Mr. Ayariga that the money given the 10 NDC-PAC members, and which the recipients had allegedly been told was their sitting allowance, had been offered them by the then-Energy Minister-Designate, Mr. Boakye-Agyarko.

If Mr. Muntaka never personally handed any envelope containing cedi notes to Mr. Ayariga nor informed the latter that the said money was an inducement payola intended to have the 10 NDC-PAC members reverse their negative votes on the then-Energy Minister-Designate, then what is the possible motive on the part of the former Environment, Science and Technology Minister for fabricating such an outrageous story?
Well, our extensive media gleanings indicate that, indeed, the Bawku-Central NDC-MP had a vendetta against Mr. Boakye-Agyarko, who had allegedly made some damning corruption charges against former President John Mahama when he appeared before the PAC panel. On the other hand, the man accused of having attempted to induce the 10 NDC-PAC members with payolas to reverse their votes had absolutely no reason, or motive, for plying his political nemeses with the same.

He had absolutely no reason, whatsoever, because the 16 NPP-PAC members constitute 62-percent of the PAC votes and therefore could, all by themselves, have readily confirmed the nomination of then then-Energy Minister-Designate without soliciting or courting a single vote from across the parliamentary aisle, as it were.

As of this writing, PAC Chairman Joe Osei-'Wusu had announced that he was heading to court this Tuesday, January 31, to clear his name and recover his integrity. What this means, of course, is that he intends to sue Mr. Ayariga for quite a bundle, and where it most hurts, as New Yorkers are wont to say. If he is able to successfully follow throw with his threat, the accuser would be in serious trouble, and that is, of course, assuming that the NDC's Chief Whip, Mr. Mubarak Muntaka, will also be able to vindicate himself. My confident prediction here is that if all goes as discussed above, the Bawku-Central NDC-MP could very well be facing expulsion from the House.

From what I know, the Bawku-Central parliamentary seat used to be held by a New Patriotic Party member who was maliciously brought up on charges of dual-nationality fraud and summarily expelled from the House. The man, Mr. Adamu Dramani Sakande, would also serve 2 years in prison. Well, as New Yorkers say, "Whatever goes around, comes around," no matter how long it takes.