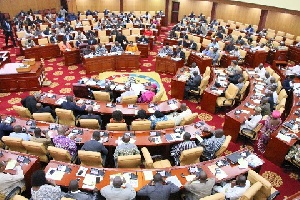 I don't like politics as much as you think I do but I find myself writing and talking about it. It is like a plague we can never avoid because everything seems to have a pinch of politics.
At a young age, we are unconsciously shoved into politics when we are asked to stand for or elect an individual for a class position ; It could be as a class representative, blackboard cleaner (if blackboards still exist) or cupboard monitor. I found myself in one of these positions and even went ahead to get elected as the girls' prefect of my school after a very vigorous campaign. But that is a story for another day.

In the Universities, we have Student Representative Council Presidents who might most likely contest for government positions in future.

Before a politician gets into power, he or she seems humble and seems to know what is good for the nation. But I can vehemently state that a politician before power, is different from a politician after he or she gets hold of power.

More often than not, I used to ask myself what happened to all those brilliant ideas that these politicians had right before they walked into the Castle or in this era, The Jubilee House. Where was the lag or the disconnect? Why do some politicians choose to steal state money or pretend to use state money on projects that are unnecessary especially when we still lack certain basic things like potable water, constant supply of electricity, a good healthcare and education system.

Why do we have 200 million dollars to spend on a Parliamentary Chamber but we have no money when it comes to putting certain drugs on the National Health Insurance Scheme to improve healthcare and save lives or build more boreholes to provide potable water to areas in Ghana that lack this.

We can build a National Cathedral but we can not pray away our troubles because the people we have put in power to help our country do not really care about us. The hard truth is that our politicians do not really care about you and I. The Minority and the Majority are torn on a lot of important issues but when it came to the Right To Information Bill and this 200million Parliamentary Chamber, it was quite surprising to see their unity in full glare.
I recently saw a video of the Majority Leader, Mr. Osei Kyei Mensah-Bonsu, trying to explain the reason behind the Parliamentary Chamber being that it is to avoid touching the hands of another parliamentarian. The Minority leader, Haruna Iddrisu, also indirectly backed him up. It is quite clear that there are misplaced priorities here.

Hippocrates, The Father of Medicine stated in his book (On Airs, Waters and Places) that " For if one knows all these things well, or at least the greatest part of them, he cannot miss knowing when he comes into a strange city, either the disease peculiar to the place, or the particular nature of common disease so that he will not be in doubt as to the treatment of the diseases or commit mistakes, as is likely to be the case provided one had not previously considered these matters.

And in particular as the season and the year advanced, he can tell what epidemic diseases will attack the city, either in summer or in winter, and what each individual will be in danger of experiencing from the change of regimen". Here, Hippocrates emphasized on the importance of a doctor being familiar not only with his or her patient but also with the seasons of the year, the patients food intake, exercise habits and general living conditions. I am sure you are wondering what this has to do with politics and the government.

It is simple. Our politicians do not feel what we feel because of the bubble we have placed them in. They do not endure power outages and even if they do, they have enough money for generators so they remain unaffected. They are not forced to drink dirty water because they have an infinite supply of bottled water in their offices everyday.

They do not care about fuel prices because guess what? You and I pay for that too via our taxes. They do not care about our poor healthcare system because they have ambulances or emergency services at their beck and call or they could simply take a flight outside this country for a check-up. Neither do they care about our education system ; after all, they can afford whichever Ivy League school that their children choose to attend.

They can do this to us only because we gave them the power to. If they are made to feel what the average Ghanaian feels, maybe they might just get it. What if they were made to use the poor healthcare system they have given us and not be flown abroad for minor procedures that could be done here? What if every politician was required to enrol their children in the public schools to benefit from the 'good' education system they have created? What if they are allowed to drink the same water that people who do not have potable water drink?
What if they are only allowed to use public transportation to get to work so that they will experience how much fuel prices have risen? What if they were not given huge salaries or ex-gratia but the minimum wage of every Ghanaian? I can only say 'What if' because this is the point where I have been driven to by the state of the nation and I don't even know if this would ever happen.

For a long time now, we have been forced to choose between the two evils - Minority or Majority? That is an illusion of choice because we are not left with much of an option anyway. Should we then fold our arms in despair and relinquish our right and shirk our responsibility to vote ? Hard decision.

I believe it is not due to lack of knowledge of our politicians that our country seems to be sinking but due to greed and selfishness. Dear Politicians, you know better so do better.

By : Naa Adzoa Adzeley Boi-Dsane

www.adzeleydeluxy.wordpress.com