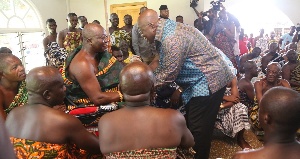 The visionary septuagenarian Nana Akufo-Addo, the similitude of biblical Joseph, Moses or David, but now mocked in some circles as "King Promise", indeed made numerous electioneering promises, the implementation and achievements of which are intended for enhancing the development of Ghanaians and Ghana in the competitive global market.
Subsequent upon the promises among which were the introduction of Free Senior High School Education, One Village One Dam in the northern sector villages in Ghana for agricultural purposes, One District One Factory and One Million Dollars to Every District, if he were elected the President of Ghana, coupled with his anointment by God to come to liberate Ghanaians from their economic hardships, Ghanaians were persuaded to vote for him and his represented political party (NPP) overwhelmingly.

Knowing my people, they expect every good thing to happen at the crack of the finger in the abracadabra manner hence flocking to the churches of these mushrooming fake prophets who promise and preach prosperity and doom instead of salvation of the soul.

Most of them are holding His Excellency the President, Nana Addo Dankwa Akufo-Addo to account to deliver all his visionary promises to them within the shortest possible time or else, he is a deceitful person and a failure. Some of these people whose quest is being goaded by the opposition NDC party, appear to be behaving irresponsibly in addition to seeming to be living on a different planet other than on earth. I see their behaviour as being perpetually short-termism which does not augur well for the development of any nation on earth.

What is short-termism? "Short-termism refers to an excessive focus on short-term results at the expense of long-term interests". No government on earth could ever, or has ever, been able to achieve the sort of promises given by Nana Addo within a year or the first term of their election into power. The degree of the promises are of the nature of long term that requires about twenty or more years to achieve them in the manner that will be sustainable, beneficial and of long term interests to the country and the people.

However, for political incitation and inexpediency bordering on the spurious desire by the opposition NDC party to capture power from the incumbent government in any next election, they will always prod the populace to compel the government to deliver their promises or else, they have failed and needed to be replaced. This attitude of the Ghanaian is injurious to our own wellbeing. It underrates our intelligence and always makes us rush into signing agreements with foreign countries and companies which do not in the end benefit us but impoverish us further.

His Excellency the President's promises must be seen as visionary and long term development national plan that must be achieved within at least twenty to thirty years but not within a year or two-term of a total eight years in power. Therefore, the needless pressure being exerted on him to fulfil all his promises at a go seems to me very silly of us.
Pardon me to cite as a good example and explanation the 2030 National Development Plan by South Africa to buttress my contention about how Ghanaians should see the promises by the then NPP Presidential-candidate Nana Addo as being of a National Development Plan, although he made the promises without seeking the consensus opinion of Ghanaians. With campaign promises, the consent of the entire population could not be sought before they are declared but what the person asking to be voted for has as their vision to deliver when granted the permission to serve the country and the people in the capacity of a president.

"The National Development Plan (NDP) is a long term South African development plan, developed by the National Planning Commission in collaboration and consultation with South Africans from all walks of life. Minister Trevor Manuel stated in his speech at the launch of the NDP: "The plan is the product of thousands of inputs and perspectives of South Africans". "It is a plan for a better future; a future in which no person lives in poverty, where no one goes hungry, where there is work for all, a nation united in the vision of our Constitution". The NDP envisions a South Africa where "everyone feels free yet bounded to others"; where everyone embraces their full potential, a country where "opportunity is determined not by birth, but by ability, education and hard work".

President Nana Addo Dankwa Akufo-Addo's, plans for Ghana as enlisted in the second paragraph are long term development plans and are to be seen as such. Therefore, please let us give him time and space to achieve them.

So far, so good. He has put in place some enabling factors which we must all capitalise on to help him achieve his policies for the collective benefit of Ghanaians. The introduction of a Special Prosecutor is a policy of a step in good direction. It will stop or curtail the endemic corruption always in perpetration and perpetuation by our horrendously disgraceful Ghanaian politicians; those entrusted with power, and our court judges.

How do we help in this area? We have to report anyone found to be involved in any malpractices with the potential to defeat the President's vision of stopping official corruption, the bane of the socio-economic emancipation of Ghana, with culmination into Ghana becoming the American President Donald Trump's descriptive shithole. Judges are to speed up the cases of people arraigned by the Special Prosecutor for involvement in corruption and causing financial loss to the State. They should not give room to the usual nonsensical postponements based on defendants submitting to court fake medical sick notes to dubiously delay the hearing of, and ruling on, cases.

How can the President realise money to run his promised projects if politicians, Chief Executive Officers of Government Corporations are allowed to continue to embezzle funds and assets as well as abuse their powers to favour their cronies, family members, friends and tribesmen?
I am yet to hear of a country on this earth apart from Ghana where there is a free Senior High School where the government pays for everything from boarding and lodging, books and all utility bills. The richest countries in the world cannot even afford this type of free education. Yes, in the UK and other advanced countries, the governments do assist those from the poorer households with free lunch but those from families earning incomes above certain threshold do pay for the dinner for their wards. Again, the free public secondary and Sixth Form schools or High Schools in the advanced countries are all Day but not boarding and lodging.

The free Senior High School has started same as promised by the government to the enthusiasm of Ghanaians. I have my personal reservations even though I am supportive of the policy. It is very good to offer every Ghanaian the chance to exploit their unlimited potentials through formal education for the benefit of the country and the collective interests of Ghanaians. Nonetheless, can our resources both earned as our share of the mined mineral resources as in ever exploitation by foreign countries and companies and our permanent infatuation with not wanting to pay taxes but want everything free and at lower prices be able to support the free Senior High School? In my personal estimation the answer is a NO! I am not accusing the proponents of the policy of error of judgment or that they just conjured it without much thought, proper feasibility studies or risk assessments taken. Nevertheless, I shall ask them to make certain byelaws or amendments to address the challenges that are unfolding by the day to make this policy that has the potency to drain the national resources work much better.

What are amendments and byelaws? "An amendment is an addition, alteration, or improvement to a motion, document, etc. while a byelaw is a standing rule governing the regulation of a corporation's or society's internal affairs". Parent and Teacher Associations must come in to play a role to raise money to support the free Senior High School. The head teachers, bursars and matrons who are sabotaging the policy are warned. I have a twelve-page report against a certain senior High School where the headmaster/teacher and the bursar are deeply involved in financial malpractices to render it ineffective this noble policy by the government. They see it as a means to enrich themselves. I shall forward it to the Minister of Education or the President directly so please NAPO, do contact me on rocksonadofo@gmail.com for me to forward the report to you for immediate deterring action to be taken.

The President should not rush to achieve all his policies in four years. They cannot be done. There is not any country where every district has got one factory. It does not even exist in China, the second largest economy where must countries throughout the world have outsourced their companies. Therefore, this policy must be achieved within twenty or more years or else, factories employing less than 100 workers and without much relevance will spring up in Ghana in the districts and where many such factories will die on their day of inauguration. They will simply become white elephants.

For the fact that the President has been fighting galamsey that had been spoiling our water bodies is a feather in his cap.

Finally, who is ruling Ghana at the moment? Is it His Excellency Nana Addo Dankwa Akufo-Addo in the driving seat or it is his nephew Lawyer Okyere Darko at the steering wheel? On the ground, many a Ghanaian is saying Okyere Darko is ruling the country with the President being on the backseat. The fear that people had for the president when he was a presidential candidate and their expectations of him as a strict disciplinarian are ebbing if not yet ebbed. Many people have been alleging it is Okyere Darko and a clique of people ruling Ghana. If it is true as alleged, then I will advise the President to be up and doing. Even though I detest Asantehene Otumfuo Osei Tutu II for his many lies told and abuses of his position in many areas and ways, especially in the ongoing Kumawu chieftaincy dispute where he is criminally trying his possible best to twist justice but God has already faulted him, let me give him a credit for the advice he gave to the President when he paid him a courtesy call of some sort. He told the President that it is him that people voted for but not anyone else, so he is the one that Ghanaians will hold accountable for any failures or give credit to for any successes.
Yes, we can at times give the devil a credit for certain good things that happen in our lives. Why do we do this or how does this come about? We do this when the devil in his overflowing evilness tries to harm you in a way or the other. However, in his such devilish endeavour, God will step in to turn it into something good, quite opposite to the intentions of the devil hence the saying, count every misfortune as a blessing. I hate the bad attitudes by Asantehene Otumfuo Osei Tutu II, the person who never wanted Nana Akufo-Addo to ever become the president of Ghana, but in the video, he is giving him good admonition. It is where we say, do as I preach but don't do as I do.

Watch the following YouTube link of advice to the President titled, "President Akufo-Addo Pays a Courtesy Call on Otumfuo Osei Tutu II"

https://youtu.be/iXSYv72VKFA

Finally, I shall take this opportunity to suggest to the President to reshuffle his Ministers and get rid of the non-performing ones. What is the role of Hon. Osafo Marfo as Senior Minister in his government? Is there a need for any such position which was first created by former President Kufuor for his brother-in-law Hon J. H. Mensah?

There are worse corrupt practices going on at the Ghana harbours at the moment. Many people have been complaining. The duty for agricultural machineries like tractors have shot up four or fivefold unlike under the erstwhile NDC government led by former corrupt President John Dramani Mahama. What is going on? Is it a quick way of realising money for starting your many laudable projects, Mr President? Many people are complaining so please check that. Although Ghanaians are noted for wanting everything free, please, see to the reduction of the tractors.

To conclude, some imported goods that go to rent at the harbours because of the inability of the importers to pay the requested heavy duty payments imposed on them, are in the end secretly given away without going through proper public auction, to certain party members at one-tenth the asking duty from the importer. If you will auction them that low, then why not reduce the duty price for the actual owners of the imported goods? If this allegation is true, then I shall say without fear or favour that this is daylight robbery been inflicted on some innocent Ghanaians to favour certain cronies and friends. A country is not run on such discriminatory, criminal and short-sighted policies.
Galatians 4:16 – "Have I now become your enemy by telling you the truth?" I don't care! It hurts to tell the truth but in the end it brings comfort.

1 Corinthians 3:8 - "The one who plants and the one who waters work together with the same purpose. And both will be rewarded for their own hard work". Does this biblical verse have any relevance in the NPP government and party? Yes, if you climb the ladder one step further, in social life, you are bound to abandon some of your previously lowlife fellows to associate with another higher class of people. Anyway, this is not my character and it could explain why I am not progressing as I should. I still continue to dine and mingle with my primary school friends when I go to Ghana on holiday. For what reason should I abandon them, tell me? To me, a friend today is a friend always unless they turn their back on me.

Certain undue or overly credits have been given to certain people like Joseph Anokye and Alex Daddy regarding NPP's successful emergence from Election 2016. Assuming both of them planted according as in the scriptures, what about those that watered? Yes, Alex Daddy came to London, what about the person who met him at the airport? Is he to be discarded? Alex pretends not to know him at all. However, without that person or persons, Alex could never have achieved his objective of travelling to London on that fateful day. This is the highest depiction of Ghanaian's ungratefulness and selfishness. Such attitudes in the end come back to haunt those doing them.

Please Ghanaians, do exercise patience for the president but do keep to your right of constructive but not senseless destructive political criticisms goaded by the opposition parties or certain selfish individuals.

This write-up comes from the proud and fearless son of Kumawu and Juaben-Asiampa. He who receives it should not only WhatsApp it to their contacts but to ensure it reaches the President, his government, family members and cronies as well us all Ghanaians if possible.

"Asem beba di"