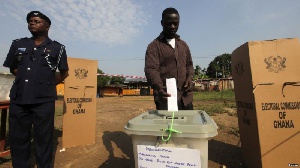 By Akwasi Brobbey
The political process does not end on election day. Young people need to stay involved in the process by continuing to pay attention to the

conversation and holding their leaders accountable for the decisions they make. These are words of the renowned Patrick Murphy.

General elections in Africa has been the cause of several wars but the truth of the matter is that it can't be ignored as it forms the mark of hope

for the end of tyrannical rules. Presidential elections in Burundi took place on July 21, 2015 despite calls by African leaders and Western powers for it to be delayed due to the tensions in the country. Incumbent President, Pierre Nkurunziza won a new term having been said to have garnered 69.41 percent of the votes cast, with his nearest rival, Agathon Rwasa, taking 18.99 percent of the votes.

Nkurunziza's decision in April 2015 to seek a third term had plunged the country into its biggest crisis since the civil war ended in 2005 with the opposition saying Nkurunziza's bid violated the constitution. The opposition consequently called for Nkurunziza to form a Unity government to

avert a new civil war but even before Nkurunziza could think of the demand, violent clashes

erupted in December (three months after the elections leaving most people on the African Continent calling for Nkurunziza's

resignation).

Togo had its Presidential elections on 25 April 2015. The polls which were originally scheduled for 15 April 2015, had to be postponed by ten days. The National Independent Election Commission declared Faure Gnassingbé winner with about 59% of the votes giving him a third term in office. On the other hand, Ivory Coast President Alassane Dramane Ouattara won a second five-year term with 83.66 percent of votes on October 25, 2015.
The December 2010 polls led to tension in the country with his predecessor Laurent Gbagbo refusing to concede defeat and hand over power. This sparked a wave of violence which left about 3,000 people dead. Gbagbo was eventually defeated by forces loyal to Ouattara and backed by the UN and France.

Tanzania. Tanzania's elections came and went like a flash on October 29, 2015 with nothing so significant to report except the victory of governing party Chama Cha Mapinduzi's John Pombe Magufuli. Many would have seen Magufuli's victory which occurred on his 56 earth-strong day as a perfect gift for him but the man had other ideas.

The victory presented him with an opportunity to change the face of Tanzanian politics and power. Soon after his swearing-in, Magufuli began making international headlines. First, he banned the celebration of the nation's

Independence Day

Anniversary, arguing there was nothing to celebrate if people had to die out of cholera and other communicable diseases; the day must rather be spent cleaning the country. Next, he banned foreign travels except when they are very necessary and the number of officials undertaking such trips significantly reduced; Tanzanians working in embassies abroad were

capable of handling work which ministers and other government officials travelled from Tanzania to perform on such trips.

Magufuli certainly knew why he got into public life to lead change. That resonates positively with William Barclay's assertion "there are two great days in a person's life a the day we are born and the day we discover why".

Burkina Faso

Burkina Faso also went to the polls on 29 November 2015 to elect a President and 127 legislators. The elections were the first national elections in the country since the 2014 Burkinabé uprising and the departure of President Blaise Compaoré, who had ruled Burkina Faso for 27 years. The presidential election was won by Roch Marc Christian Kaboré of the People's Movement for Progress.
Mr Kaboré had previously served as Prime Minister of Burkina Faso from 1994 to 1996 and President of the National Assembly of Burkina Faso from 2002 to 2012. In January 2014, he left the ruling CDP and founded a new opposition party—the People's Movement for Progress. He received 53% of the vote in the first round, negating the need for a second round.

Central African Republic

Presidential and parliamentary elections were postponed from 18 October 2015 to December 30, 2015 due to violence and instability. Provisional results announced by the National Election Authority, on 7 January 2016

showed none of the Presidential Candidates polled at least 50+1 votes to become an outright winner.

Dologuélé led with 23.78% of the votes followed by Touadéra in second place with 19.42% of the votes. However, Touadéra won the second round of elections held on 31 January 2016 with 63 percent of the ballots cast. Dologuélé accepted the results and recognized Touadéra as president, but expressed concerns about irregularities. Hero or Villain?

Uganda

Uganda went to the polls on February 18, 2016 to elect the President, Parliament and local councils. Incumbent Yoweri Museveni, who has been in power since 1986, and Kizza Besigye, who had run against Museveni in 2001,

2006 and 2011 contested each other again. Voting was extended in several locations following claims of rigging and violence at polling stations and reports of people being prevented from casting their votes. The Electoral Commission declared Museveni re-elected with 61%.

The state machinery was used largely used to favour Museveni drawing huge criticisms from European Union, United States and the Commonwealth election observers. Hero or Villain?
Comoros

In the Comoros Presidential elections were held on February 21 alongside elections for the Governors of the three islands– Anjouan, Grande Comore and Mohéli. The presidency of the Comoros rotates between the country's three main islands; Presidential candidacy in the 2016 elections was limited to Grande Comore residents since two previous elections (2006 and 2010) were limited to candidates from Anjouan and Mohéli respectively. Three top candidates—Mohamed Ali Soilihi, Mouigni Baraka and Azali Assoumani progressed from the primary to the nationwide second round on 10 April where Azali Assoumani of the Convention for the Renewal of the Comoros

was elected President with 41% of the votes.

Niger

General elections were held in Niger on February 21, 2016 with a presidential run-off held on March 20. President Issoufou placed first in the first round, but fell just short of an outright majority, necessitating a second round vote in which he faced Hama Amadou. The opposition boycotted the second round, thus allowing President Issoufou to be re-elected

with an overwhelming majority. Niger had come very close to tipping point following disagreements over electoral register earlier and subsequently strings of attacks by various insurgent groups, most notably Boko Haram in the recent months making security and poverty alleviation major issues in the larger scheme of things.

Gabon

The West African country went to the polls on August 27, 2016. Incumbent President Ali Bongo Ondimba ran for re-election challenged by former Minister for Foreign Affairs Jean Ping (Ali Bongo ascended the seat of power in October 2009 following the death of his father Omar Bongo, who was President of Gabon from 1967 until his death in 2009). Ali Bongo was Minister of Foreign Affairs from 1989 to 1991 and subsequently became Minister of Defense from 1999 to 2009.

Protests erupted in the capital Libreville after the electoral commission declared Ali Bongo re-elected with a margin of less than two per cent on 31 August. Consequently, the Parliament building was set on fire later and the following day, Ping claimed his party's headquarters had been bombed by the presidential guard killing two people.
Several people have been arrested. Flash Points South Sudan Plans to form a unity government has failed to materialize. The unity government was part of a peace deal in August 2015 to end the civil war which began in 2013 when President Salva Kiir accused Riek Machar (his vice at the time) of plotting a coup. The two sides blame each other for violating the terms of the agreement and thousands of people have been killed and millions displaced since 2013.

President Kiir, appointed 28 new governors for the new provinces, just as rebel delegates arrived in the capital Juba, to begin work on the new government.

Rwanda

Remember Rwanda? How radio ravaged that race? The eyes of the world will be on Rwanda when they go the polls in 2017 as President Paul Kagame's term in office has been extended through a referendum in December 2015.

Results of the controversial vote on the country's constitution that drew international criticism means Kagame could be in power until 2034.

More importantly, back in Ghana, my motherland, where politicians for the past decade has consistently failed to realize the prime aspirations of the citizens will be journeying to the polls on December 7, 2016. The general elections which is just around the corner had received a whole lot of brouhaha from both the aspirants, electorates and the media.

The newly appointed electoral commissioner who is in the person of Mrs. Charlotte Osei has assured Ghanaians of a free and fair elections of which it's a mere promise loyal Ghanaians pray it happens in that way.

Nonetheless, our concern is not about who wins, but the cry for peace. It's our fervent hope and desire that Ghanaians for one's cast their votes based on realistic policies and in so doing will go a long way to help build strong institutions in the country. Because as things stands now, the country is in crisis. All our administrative institutions are more corrupt than the word corrupt from the apex to the bottom.

Writer's e-mail: theimpactcrew.gh@gmail.com