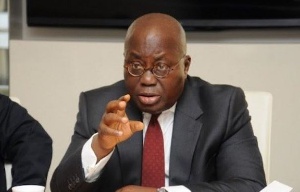 A few days ago, I received three messages from some of my readers. All of them were apprehensive about the fact that Simpa Panyin did not show up last week and virtually warned me not to repeat my absence.
I am privileged to have so many high and middle-class people – both private and public officials – who read my articles. And it appears some of them are gradually becoming addicted to the column. I do apologize to all my readers for Simpa Panyin's absence last week.

The nature of the regular feedback which keeps coming from readers has imposed on me a certain responsibility in selecting what to write about, and how I treat it. The column has evolved into not only writing to share my views or to entertain my readers, but it has made me become sensitive to the expectations of those who spend their time to read Simpa Panyin every week.

And that is why I would like to say to the few who sometimes feel unhappy with some of the things I comment on that I am not here to serve only the interest of a minority. I have said in my previous articles that I write about my experiences and the experiences of other people. Besides, I sometimes write in response to my feelings. Therefore, do not expect me to leave you alone if I feel I should reach catharsis on the altar of your wrong doings.

I have prevented myself from touching on some specific obnoxious behaviours because Ecclesiastes says there is a time for everything. Just as people read and give feedback on the issues I touch on, the same people also send me pieces of information that deserve comments. For all those who are manipulating the system and think that no one knows about their manipulations, it will happen like a bomb.

President Kufuor recently said power is sweet but it is deceptive. My understanding of that statement is that when you hold a position of uncontrolled power, you are unlikely to be surrounded by those who will tell you the truth. You become so intoxicated with the 'spoils of war' that anyone who departs from telling you what you want to hear becomes your enemy. After all, power in this country has been manipulated to bring money, and with money comes more power.

It is only in Africa that politicians seem to be the richest in society. A number of them enter politics poor but the moment they gain power, they gain riches with lightning speed. It is as though the riches were inside the ballot boxes that elected them.
Last week, my friend (call him Alhassan) and I visited a senior member of the ruling New Patriotic Party (NPP). Alhassan was my roommate when we were students in Legon, and we have been close friends since we left school. . So my friend wondered why President Akufo-Addo never noticed me when he won power.

My good friend, the former US Senator from Iowa, Thomas Richard Harkin, who retired from the US Senate three years ago, served as a member of the House of Representatives from 1975 to 1985, and then was elected to the Senate in 1985 until his retirement in 2015. I was blessed enough to have been his special guest at his retirement party organized by the global office of the International Labor Organization in Washington.

Senator Harkin was a Lawyer, a US Navy Pilot, and an early frontrunner for the Democratic Party's presidential nomination in 1992, dropping out in support of the eventual winner – Bill Clinton. I had the rare privilege of spending a couple of days with this legend. He seems to pride himself in many accomplishments, including several international initiatives, in health, education, agriculture and labour. He, together with a congressman, Elliot Engel, is credited with the Harkin-Engel protocol. The Harkin-Engel Protocol, commonly referred to as the Cocoa Protocol, is believed to be the singular international treaty that saved the chocolate industry from eventual collapse.

It is reported that when Senator Harkin left office in 2015, he was the 'most senior junior senator' after serving 30 years and the sixth most senior senator over all. Yet, on retirement, Senator Harkin is reported to be living in a simple three-bedroom apartment in Iowa where he grew up. He did not go into politics to make money; he went there to uplift others.

A former President of the United States of America, Jimmy Carter, who is currently 93, is reported to be living in a two-bedroom house with his wife. This house is reported to have been built by Carter himself in 1961 in his home state of Georgia. It is reported that the value of Jimmy Carter's house is lower than the value of the average two-bedroom houses at where he lives. He is an ex-President of America!

In his inaugural speech, Nana Akufo-Addo said that the resources of the state shall not be seen as 'spoils of war'. And I agree! The man himself was in Kufuor's government for nearly eight years, and never touched any state resources. He was reported to have lived in his own house for as long as he was a minister. It was on the back of his integrity that no corruption allegation ever came up against his person, and it might have been on the back of his incorruptible nature that he won the election.
Greed, power and evil have unfortunately taken over the minds of some of the people who are working in the name of the President, and they use powers that do not belong to them. They use Nana Addo's name to peddle influence and fear Besides, they use his name for destructive tendencies.

I have come across several instances when the President's name was used several times for the purposes of manipulations. The bottom line is: maximize the perception that you are powerful, and let everyone believe that everything you say is coming from the President. After that, your word becomes final, for it is seen as that which the President wants.

Don't worry, for the battle is still the Lord's…

By James Kofi Annan