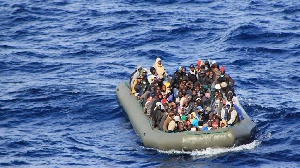 Arguably, immigration has overwhelming importance for the migrants and their families. Wages earned by migrants are in most cases many folds greater than the wages for doing the same work in their home countries.
The incessant civil wars and suicide bombings warrant migration for safety. Harsh economic conditions, particularly in third world economies, leave no option than migration especially to the exuberant and energetic portion of the population to escape the hopelessness of poverty.

Migrating to other countries demands proper documentation to have access to the approved routes either via air, sea or land. Proper documents in the form of VISA, insurance surcharges and plane tickets demand huge sums of money, making it extremely impossible for prospective migrants in third world economies to use the approved routes. They then circumvent the approved routes by resorting to irregular migration most at times packed like saddens in rickety boats via the Mediterranean and at the mercy of strong waves.

It is estimated that over 10,000 men, women and children have died by trying to cross the Mediterranean to Europe over the past 3 years. According to the United Nations' High Commission on Refugees (UNHCR), 164 people died en-route from Libya to Europe on the Mediterranean from January to April 2019. Again, on 10th May 2019 BBC reported that a boat capsized on the Mediterranean off the coast of Tunisia after encountering a strong wave which left 65 people drowned and 16 saved.

The situation is so dire though but as the saying goes in the local dialect 'kuro da npan a ye ntena faako ngye animguase' to wit countries are many to suffer at one place, the number of deaths on the Mediterranean continues to rise sharply. Again, activities of human traffickers contribute enormously to the rise in irregular migration and the apparent deaths on the Mediterranean.
We cannot continue to sit aloof and watch precious souls die on the Mediterranean without instituting lasting solutions to the canker. The International Organization for Migration (IOM) advocates for three traditional solutions which are voluntary repatriation, local integration and resettlement. IOM further advocates for enhanced law enforcement effectiveness and good governments to counter human trafficking and human smuggling.

Beyond IOM's prescriptions, governments, especially in the third world economies, should concentrate on building resilient and booming economies where there will be easy employment and wealth creation for all. Again, policies should centre on how to reap the exuberances of the youths who are potential migrants by providing quality education and skills training which are readily needed on the local job markets.

In the words of Martin Kyere, the lone survivor of the 44 illegal migrants who were brutally murdered in The Gambia, 'the troubles of travelling illegally are so inhumane that no sane person should taste it and nobody should wish it even for an enemy'.