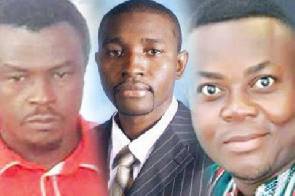 Someone accused him of urinating by a mosque, and the said accuser died of urine retention.
Someone accused him of killing his wife, and the accuser's wife died prematurely.

Someone mocked him of being sick and the person died of massive cardiac arrest only 3days later.

Loud-mouths persistently insulted him, and these loud-mouths have now been super-glued.

Indeed, who Jah bless, no one curse.The battle continues to reain the Lord's!!!

In any civilized society where selfless service to one's nation is upheld in high-esteem and jealously guarded, a personality as Nana Addo Dankwa Akufo-Addo would have been held in the highest of esteem, and his image well-protected by all.

I have also maintained that, had Nana Addo Dankwa Akufo-Addo been a member of NDC, he would have long-served 2-terms in office as president, and I have personally told him about this on several occasions.

NDC would have made Nana Addo their uncontestable presidential candidate and rigged elections to make him president, because, the man's stature is simply incomparable to that of anyone in the NDC. Indeed, DC would have literally crawl over broken bottles to carry nana Addo in a golden palanquin. Illiterate tyrants
But for the simple reason of not being an NDC, Nana Addo Dankwa Akufo-Addo was relentlessly insulted on Montie-FM by shameless social misfits without nobody in the Ghanaian society raising a finger. Panelists on the late afternoon programme, 'Pampaso' which was hosted by Salifu Maase, a character with no decency and therefore provided his ilk with the platform to always insult decent members of Ghanaian society.

Openly, these people who regularly featured on the programme, boldly proclaimed that they were doing so in order to project John Mahama to ensure he won a 3rd of office.

They were so verbally acerbic that all decent members of Ghanaian society, including the clergy and civil society organizations were cowed into submissively submission for fear of being put on the chopping-board and literally sliced into shreds.

I was once at the NPP headquarters, and one of the receptionist who was so worried about the extent to which unguarded statements were being made about the person of Nana Addo,that,she actually broke into tears and pleaded that the party's communication outfit did something about it, and pretty urgently too.

I remember raising the matter with the party's director of communication, on Nana Akomea, who assured me of a move his office was going to make in that regard. And not long after I had had the said encounter with the communication director, a letter was officially written to the media commission, with supporting evidence pointing to how unbridled verbal vulgarities had become prevalent on Montie-fm.

NDC tacit approval

When the letter got to the offices of media commission, it became public record and the host of 'Pampaso' on Montie-Fm, Salifu Maase, went completely haywire and vowed to be much more vulgar and abrasive with attacks on whoever criticizes John Mahama. Those were the days he will start his afternoon programme with monologue of a whole one hour of heavy doses of insults on Nana Addo, Dr. Mensah Otabil etc. While he engaged in that totally reckless behavior, some top NDC party and government officials will call into the programme and urge him on.
Kojo Twum-Boafo who is being paid with taxpayers' money to render serious service to the country, will also call into the programme to heap insults on Nana Addo and any other decent member of Ghanaian society they share different opinion with on an issue, at any point in time. He will go on and on, and always end by encouraging the host to continue with the "good work".

On the program, the likes of John Mahama, Mr. Ato Ahwoi, Tsatsu Tsikata, Alfred Oko Vanderpuye etc., were always being hailed. On the other-hand, Nana Addo, Pastor Mensah Otabil, Rev. Palmer-Buckle etc., were openly being insulted and frivolously accused of all manner of weird deeds with absolutely no evicdence.

For example, Ghana's legendary footballer Asamoah-Gyan was accused on the programme that he had imported arms and ammunition into Ghana to support NPP to create civil strife during the 2016 general elections. Nana Addo was accused of accepting bribes from Asamoah-Gyan.

On this very programme, Nana Addo was persistently accused of killing his wife; and that totally reckless pronouncement were made on Montie-Fm by these incarcerated Montie-3 but there was not a damn whimper from any voice of reasoning in our society.

Quality programming

As an electronic media outfit, there must be a well-structured plan for programmes that are aired. This has to be managed by qualified personnel who pay attention to detail, decency and public appeal.to compliment this, there must be an audience research outfit within the establishment to gage how consumers of what is churned out are either accepted or jettisoned.

Furthermore, topics for discussion must be well-spelt out to the discussants to enable them prepare adequately so that they will be in the position to properly educate listeners. And most importantly, these discussants must be people with knowledge, decency, integrity, decorum and have solid image to protect.
For instance,when an issue comes up for discussion on any of these established global media outfits like CNN,Aljazeera etc., an array of highly knowledgeable people are always paraded to fittingly educate the audience by bring to bear, their wealth of academic acumen and personal integrity. And what is often done by hosts of programmes on these media outfits is that, before a given discussion on a given topic commences, the backgrounds of the panelists, vis-à-vis education, work experience both past and present, are clearly spelt out.

For example, the chief medical correspondent of CNN, Dr. Sanjay Gupta, is actually an accomplished medical doctor, their Aviation correspondent, Richard Quest, who was an ordinary Wall Street reporter, has upgraded himself and now a qualified pilot. Security analysts on CNN are largely of military background or accomplished consultants in the industry.

So, when an issue bordering on security is up for discussion, a panel with deep knowledge in the field will be empanelled. If it is on economy, a panel of renowned economists will be empanelled. In otherwords, there is nothing like what we have here in Ghana where media has deliberately created some few individual Frankenstein journalistic monsters and feature them on topics ranging from archeology to zoology.

There have been many instances where these deliberately created media journalistic behemoths are always confessing to be completely unlettered in topics being discussed but are still empanelled.

Lazy production/programming

In Ghana, what makes news are trivialities with screaming headlines while cogent matters affecting the lives of the masses are always pushed to the back-burner. We currently are going through the most debilitating socioeconomic catastrophe in our nation's history with unemployment figures virtually hitting the roof. Prices of food-stuffs are currently beyond the reach of majority of Ghanaians.

Utility prices have become the nightmarishly nightmarish nightmare in every home. The unrelenting 5year-old 'dumsor' is in full-swing with its resultant ill-effects on industry.
But you wake up in the morning to listen to major news headlines, and it is all about total miscreants as Koku Anyidoho, Kofi Adams, Solomon Nkansah etc., being provided with precious airtime by hosts of programmes who have often been compromised, to engage in incorporeal necromancies.

In Ghana today, the main job of a producer of a programme is to place phone calls to corrupt state officials and provide them with air-time to throw rocks into the eyes of Ghanaians, while the host only engages these state officials in nothing short of 'Akpeteshie-spot' conversations.

So let's say, a supplementary budget is presented, all what a radio station will do is for the producer to call a representative of NPP and NDC and simply ask; "we are heard the minister of finance in parliament, yesterday, what do you have to say about it……lets go; you have 30munites,please".

The host will be handling the programme when he/she has not even seen a copy of the statement being discussed so he/she will neither be in the position to either correct lies peddled by the panelists, nor, pose the cogent questions.in the end, the audience are fed with massive doses of insipid propaganda are left in the state of abject confusion as a result.

Writer's e-mail: justnoff@yahoo.com