Feature Article of Mon, 17 Jul 20171
The NLA 'push' emails: Some serious questions
Let's take Email Number 1: It is dated August 2016

James Avedzi (MP) and Benjamin Kpodo (MP) both confirm this coincides with the committee's NLA-sponsored trip to Senchi. But in the body of the email, we see NLA lawyer, David Lamptey, requesting "an additional GHS100,000.00... to "push" the Select Committee on Finance".

'Additional'? Does that mean some money had already been approved by the NLA board to "push" the MPs? How much? When was this paid? Did that also go to fund a trip?

And who are the two others copied in on both emails? Does anyone know who Elizabeth Agyekum and Ernest Mote are?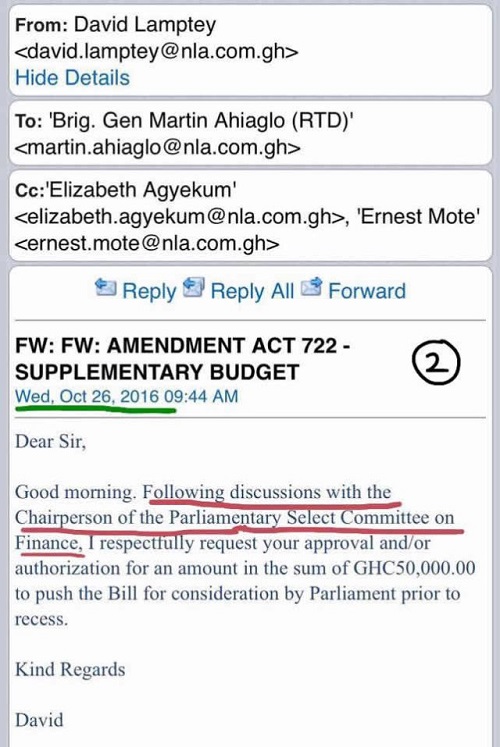 Or did they go to Senchi during recess? If they did, then why did David Lamptey say in the email that the bill had to be passed into law BEFORE recess?

Now, let's look at Email Number 2:

This is dated 26 October 2016, two clear months after the MPs returned from Senchi, as corroborated by both Kpodo and Avedzi. It is a request by David Lamptey for "an amount in the sum of GHC50,000.00 to push the bill for consideration by parliament prior to recess".
The second email also said this request was made "following discussions with the Chairperson of the Parliamentary Select Committee on Finance".

That's James Avedzi. Was this payment for him alone? Or for the whole committee?

And what was the money for exactly? The committee had already gone to Senchi and done the work, according to Avedzi and Kpodo. So why the extra GHC50,000.00 two months later?

Can anyone explain any of this?