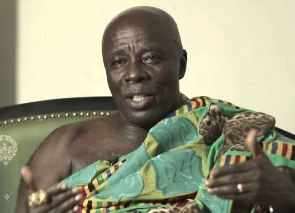 Last weekend at the 2nd Eastern Regional Ghana Journalists Association awards, the Okyenhene charged journalists to "speak truth to power".
We have in the recent past quoted DM Ofori-Atta, his spokesperson in the "Atewa Range Forest Reserve" article, "Okyenhene ?se ?nkasa biom," meaning, "The Okyenhene says he won't speak about the Atewa bauxite matter again".

But his message in Koforidua was clear and powerful: journalists should speak truth to power!

What is he to do again when he has cautioned forcefully and tactfully against mining bauxite in a natural, protected, internationally recognized, West African Rainforest with flora and fauna some of which have yet to be discovered and given scientific nomenclature?

What is the Okyenhene to do again, now that Nana Dokua, the Okyenhemaa is serving on the board of Ghana Integrated Aluminium Development Corporation, and she is part of a delegation to lobby Asanteman to support the destruction of the Atewa Range Forest Reserve?

What is the Okyenhene to do, now that 125 ministers are delivering public speeches and signing documents (including a mob of lieutenants) that do not offer justice nor hope to the widow and the orphan and the working poor?
We live in a society where grown men and women fear to speak truth to power; they obfuscate, vacillate, avert their gaze and maintain a stony cowardly silence; when it is red they say it is green…..and with a straight face as if they were never outdoored on the seventh day in a family house.

The legion of under performing SUV riding rent seekers need from the politriKcians a few per diem dollars so that they can send their kids off to so called Montessori schools, feed them pizza laced with condensed milk and deep fried fast food chicken.

We need educated and honest journalists who write with passion, knowledge and conviction as ethical guides. No – we do not need those who write "by heart" or based on emotions; without logic and critical thinking. Logic, measured, decorous and robust language is the central focus of speaking truth to power; it is the unassailable weapon of accurate and scathing critique.

When you address principles using logic, politicians and their hirelings read and the truth speaks to them in their hearts – even while they fawn and fake harmony and pledge loyalty to an unjust cause publicly.

In ancient days, satire was integral to drama. Leaders attended the drama theatre and got messages addressed to them fully albeit sometimes exaggerated for effect.
In our traditional societies there were days set aside for these rites. This month in La and Teshie, the Kpa Lala rites are loud and clear on Radio Latenu, in drinking bars and homes with messages not only to politicians but to all of us.

What do we need in Ghana today for progress?

We must first understand that our bogus political process does not allow us to get the most enlightened people to lead us.

Therefore we ought to support elected officials and their chosen lieutenants with facts, evidence and reason in order to aid public business.

My mentor for example believes that "If we have a few public intellectuals or commentators speaking truth to power at least once a week, they will drown out the noise from shoddy journalism and people will begin to pay attention thereby leading to societal transformation"; such change does not necessarily lie in the hands of politicians.
A not insignificant number of our journalists the Okyenhene was addressing are looking for visas from politicians and to be specially selected as part of the official press corps so that they can travel.

These are an important part of their parochial aspirations in a nation where 75 percent of residents want to emigrate.

Perhaps if our revered traditional leaders will consistently speak boldly and courageously, other minions like myself will also step up.

The Okyenhene whose appellation – Osagyefo, has reverberated on the fontomfrom and talking drums for centuries has exhorted us.

Make no mistake, we are ready.
Feedback; ato@writersghana.com; www.writersghana.com; LinkedIn, Isaac Ato Mensah; Instagram, @atomenswriters; Twitter, @Atomens; Facebook, Writers and Shakespeares Ghana; Telegram, Isaac Ato Mensah; Quora, Isaac Ato Mensah. WhatsApp (+233) 020 022 0353.

Writers and Shakespeares Ghana Limited exist to be a moral and intellectual guide to the best practice of PR and integrated communications around the world, beginning with Ghana.