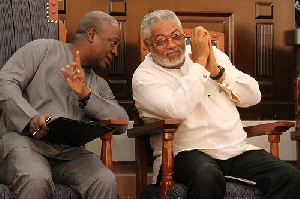 On June 4, 1979 three former Heads of State and six senior military officers were lined up and executed by firing squad for corrupt practices by the AFRC Military Junta with Jerry Rawlings as Chairman.
Has corruption ended in Ghana because of that? People are now embezzling billions and trillions of Ghana cedis instead of thousands and millions.

After the violent overthrow of Dr. Kwame Nkrumah on February 24th 1966, the nation had to explode again culminating in two violent revolutions in 1979 and again in 1981 due to the kind of power politics which had then saturated the military and a corrupt civilian regime that succeeded the military on 24th Sept. 1979.

If there are any praise worthy structures in the country today, they did not drop from the sky, but the foundations were laid by the Rawlings administration. Believe it or not.

Lying was a very serious thing when we were growing up. Today, lies are now okay from the highest level, I mean some church leaders, opposition leaders themselves led by the NPP, and their innocent supporters and everybody is lying and it is Okay. What are we teaching the youth of this country? The moral fiber of the country is fast going down.

In 2007, ex-President Kufour had no right whatsoever to take the courtesies of Prez. Rawlings away because they are enshrined in the 1992 Constitution. Thinking that he could do what he liked with the 1992 Constitution, he took them away.
The Ghana Bar Association remained silent, Human Rights Organizations kept silent, Civil Society Organizations kept silent, so called Concerned Ghanaians kept silent. The Christian Council kept silent as well as the Council of State in Ghana as the abrasive tribal government of Kufour did what he liked as he pretended to hand out an olive branch for reconciliation as former President Rawlings, the late Professor Mills, Captain Kojo Tsikata and a number of NDC MP's declined to collect National Awards that were conferred on them by Ex-President J.A Kofour on Republic Day in July 2008.

They rather saw his olive branch as fake and not worth accepting at all. The partisan trend that year was evident among others, in the way the Armed Forces Band that performed at the ceremony was clad in NPP party colours and the ribbons that were pinned on the breast of most awardees were in the party colours.

The whole event was given the appearance of being solely an NPP ceremony.

Most Ghanaians questioned the mindset of ex-Prez Kufour and his government for awarding a former Minister in the NPP government such as Mr. Kwamina Bartels or Mr. Abbey Sam, formerly of the Ghana Highways who were sacked for their alleged negative acts in office.

The enemies of the late Dr. Kwame Nkrumah came to power from 2001 – 2008 and they thought they could remain in power for 30 years as they engaged in a shameless class war. The Rawlingses and President Mahama had been a Assemblyman, a member of Parliament (MP), a Deputy Minister of State, a Cabinet Minister and a Vice President of the Republic of Ghana before becoming the President of Ghana in 2012.
He occupied all these positions and served Rawlings Government faithfully.

An executive presidency such as Ghana is operating, voters want to be sure that the buck stops with the person to whom they give their mandate to on Election Day. The Position of founder is mainly a ceremonial one on which is accorded great respect.

It must be noted unequivocally that the leader of the party, who must give direction on the conduct of affairs especially in the run up to the December elections is the Flag bearer who is currently President John Dramani Mahama.

If there are people who are dissatisfied with the leadership of President Mahama, they should wait and help him to win his second term in office and then call a Congress and install whoever they want in 2021. With President Mahama's demeanor, there is no good advice that will be given to him by ex-President Rawlings that he will refuse to take it. There is no good advice that will be given by the former first lady who was then an NDC Vice Chairperson that he will refuse to take, so what again?

Nana Konadu must scrap her NDP completely, apologize to the Cadres and NDC members and return to the NDC. Former President Rawlings must also stop supporting his wife whose party will never win the 2016 elections and rather throw his full weight behind President Mahama for a one touch victory on 7th December 2016.
The Rawlingses have no moral right to fight and undermine their own Party's Presidential candidate who happens to be the incumbent. Is anybody listening?

I shall return.

Writer's e-mail: clementsang@yahoo.com