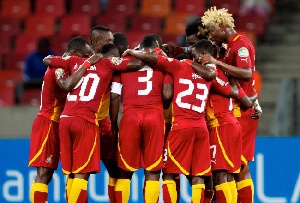 Wed, 1 May 2013 Source: Sammy Heywood Okine
Africa got involved in the FIFA World Cup finals in 1934, when Egypt made an all- too brief appearance at the tournament's second edition in Italy.
Following the Pharoah's first round exit, 4-2 defeat against Hungary, it took 36 staggering years until another African representative played at the finals. Morocco followed Egypt when they made it to the 1970 FIFA World Cup in Mexico.

The intervening seasons saw hopes for the continent extinguishing before the tournament finals kick off.

For the 1954 finals in Switzerland, Egypt lost to Italy in the qualifying while for the 1958 tournament in Sweden, Sudan and Egypt both withdrew during the preliminary campaign. It was only for the 1962 finals that Africa was finally granted its own qualifying group, won by Morocco, although the North Africans still had to contest a two-legged play-off against European opposition, losing both games to Spain.

Africa's boycott of the 1966 FIFA World Cup, partly in opposition to the inclusion of apartheid South Africa and partly in protest at the fact they were not given a guaranteed berth at the finals, ultimately ensured that no team from the continent played in the preliminaries. The South Africans had been scheduled to play in a qualifying group with Australia, Korea Rep. and Korea DPR, but were subsequently suspended by FIFA before playing a single game.

Real change occurred ahead of the 1970 tournament when Africa's call for a fixed qualifying place at the finals was finally heard.

Eleven teams entered the competition with Morocco going on to win the three-team final round ahead of Nigeria and Sudan. Although they exited the tournament itself at the top stage, the Atlas Lions acquitted themselves admirably after losing to 2-1 to West Germany and secured Africa's first ever World Cup point with a draw against Bulgaria.

Since then, Africa has been ever present at all the FIFA World Cup finals with its number of qualifying places rising steadily from that single berth in 1970 to a record six at the last finals in South Africa.
Africa now has five slots, but because South Africa historically hosted on African soil in 2010, the continent had the sixth slot.

The number of African member associations entering the World Cup qualifiers has also increased reaching a record 52 for the 2014 preliminaries. Only Mauritania did not to enter.

Milestones along the way have included the first ever win for an African side at the 1978 finals when Tunisia beat Mexico in Rosario and the first-ever progression from the opening round, achieved in 1990 by Cameroun who went to reach the quarter final stage.

Two other African nations, Senegal in 2002 and Ghana in 2010 have also made it to the last eight out of 32 teams. Many connoisseurs of the game believe should Ghana's Asamoah Gyan had not missed the final minute penalty at extra-time against Uruguay in Johannesburg narrowly, Africa would not have missed the first semi final appearance. Others also blame Uruguay forward Suarez who handled a goal bound ball that resulted in the penalty. If the referee had awarded the goal, the Black Stars could have made history again.

Ghana's youth side won the World Youth Cup in 2009, and some of the players notably play maker, Dede Ayew featured at the World Cup, but he was not featured against Uruguay due to a second booking. His inclusion might also have won the cup for Africa on African soil, like he did with the youth team as captain.

The qualifiers for the 2014 edition have kicked off with a bang. The ten group winners will progress to round three, where they will be paired into five home-away series to be played in October and November 2013 to determine Africa's five representatives at the 2014 FIFA World Cup to be hosted by Brazil. Now every African nation wants to go to the FIFA World Cup. There are no more minnows in the game. When Zambia beat Ghana 1-0 at home, it was a wake up call for the stars to shine again and hopefully they will glitter.

From zero to six in 80 years
The full list of Africa's World Cup representatives

1930: None

1934: Egypt

1938-1966: None

1970: Morocco

1974: Zaire

1978: Tunisia
1982: Algeria, Cameroun

1986: Algeria, Morocco

1990: Cameroun, Egypt

1994: Cameroun, Morocco, Nigeria

1998: Cameroun, Morocco, Nigeria, South Africa, Tunisia

2002: Cameroun, Nigeria, Senegal, South Africa, Tunisia

2006: Angola, Cote d'Ivoire, Ghana, Togo, Tunisia
2010: Algeria, Cameroun, Cote d'Ivoire, Ghana, Nigeria, South Africa (Hosts)

2014: ?

For the records, Lesotho national team have played a total of 14 qualifiers between 1972 and 2008- losing 11 and drawing three. The disappointing streak of defeats ended when they beat Burundi 1-0 and drew 2-2 in the return leg to secure a place among the last 40 teams. Lesotho's Likuena, The Crocodiles may struggle to bite again in the second round after being placed in a tough group including 2010 African champions, Zambia, Ghana and Sudan. After losing again to the Black Stars 7-0 in Kumasi they shocked Zambia with a draw at home. Earlier, Ghana had lost 0-1 to the Chipolopopo and they have been awarded three extra points after Sudan fielded an unqualified player. The game continues…and many Ghanaians want to go to Brazil. The 4-0 win over Sudan by the Black Stars was a booster to their chances of making it for the third time.

Cameroun had been at the FIFA World Cup six times. Morocco, Tunisia and Nigeria have been there four times, with Algeria representing three times.

It is highly expected that the resumption of the qualifiers in June will offer many of the leading football nations a shot at redemption after recent disappointments at the continental level.

By Sammy Heywood Okine, Deputy General Secretary, Sports Writers Association of Ghana
Source: Sammy Heywood Okine