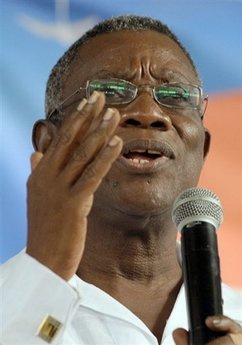 By Dr. Michael J.K. Bokor

E-mail: mjbokor@yahoo.com


March 26, 2010


Once again, the Andani family members are in the news. They are demanding that the government take action to bring to book the murderers of their kith and kin. As usual, there is a nauseating silence from officialdom. Commonsense demands that the authorities do all they can to bring a closure to this case, but there is no clear indication that the government is doing anything to solve this problem. I throw a huge challenge to President Mills and the NDC government to prove me wrong.


Is the government saying that it doesn't know how to tackle this problem or that it doesn't regard it anymore as its top priority after its functionaries had given firm assurances during the electioneering campaign period that they would bring the perpetrators to justice if voted into office? More importantly, why has the government kept mum over this matter despite persistent demands by the aggrieved Andani family?


The principles of morality and equity in a democratic dispensation frown on this kind of official ineptitude and criminal negligence. The persistent cries by the Andani family for justice are loud enough for the authorities to heed. Has our justice delivery system so broken down that nothing can be done to punish those who commit crimes? How secure are we in this kind of system?


Granted that the crime occurred during the Kufuor government's tenure and that the Mills government only "inherited" that problem and shouldn't be pushed around, it still stands to reason that it cannot escape tongue-lashing. After all, the records show that it was the NDC's top functionaries who had garnered political capital from that Yendi crisis, making glib promises that an NDC government would resolve the matter to satisfy the Andani family.

So far, nothing concrete has been done and we continue to be bombarded by threats from the aggrieved Andani family against the government. I sympathize with them because they have been used as pawns in a political game and discarded after victory had been won. Double agony for a poor family!


I think that the situation is still dire and the government must act promptly to solve this problem. What has the government to lose for pursuing the matter to a satisfactory conclusion? After all, the murder of the Ya-Naa and 40 of his loyalists is a criminal act, according to our Criminal Code. Identifying the criminals and punishing them is the prerogative of central government. Or should the aggrieved Andani family take matters into its own hands? Certainly, it doesn't fall within their purview. That is why the government must use all the resources at its disposal to resolve this crisis before the situation worsens. What is hindering official action in this matter? This lethargy is unacceptable. It adds to many more that continue to drain the NDC of public support.


No one wants to be told that the police haven't completed investigations into the matter. How long should it take them to do so? After all, the Kufuor government established the Wuaku Commission that investigated the matter and made recommendations that should have been acted on long ago, provided they were not so politically influenced as to render them counter-productive.


The Committee of Eminent Chiefs headed by the Asantehene hasn't yet come out with its findings nor do we know what it has been doing behind-the-scene to help solve this Yendi problem. Here is a serious indictment on this Committee. A fellow chief (and a powerful one at that) was brutally murdered in broad daylight but his peers aren't working hard to seek justice for him. What does this lethargy tell us?


Can't the so-called esprit de corps (which is the hallmark of any viable human institution) motivate these chiefs and other stakeholders to work hard for this matter to be settled to restore a lasting peace to that area? What is good for one chief must be good for another, right? And for all citizens too! Then again, some suspects (one of whom is a Jahinfo, I remember) were arrested and detained for prosecution; but the official order from the then Attorney-General and Minister of Justice (Nana Akufo Addo) freed them and stalled further serious action on the case. Kufuor and his NPP government did not help matters at all and should carry part of the blame. But they are no more in power. The release of these alleged murderers and the impunity with which the political forces in the Yendi and Tamale area supported them showed that the Yendi crisis has a very heavy dose of politics in it. But why should it be so?


Are we so callous as to do politics with human life? After the ghastly and dastardly act, what have the perpetrators gained to improve their lives or the conditions in the Yendi area? Or to justify the murder of Ya-Naa Abdulai Andani? But unconscionable as our politicians have proved to be, they will continue the political game by finding adroit means to calm nerves only when it is time again for elections. It is unacceptable for the government to turn a blind eye to this Yendi crisis now only to rush there to seek votes from the people.

The Yendi crisis is part of an intricate web of troubles in that part of Ghana. The murder of a sub-chief of Tamale last week may not yet have created serious security problems but it has added to the woes of the people. It may not be an isolated case, after all. Tamale and Yendi are predominantly inhabited by the Abudu and Andani families and as soon as one is touched, the others rally round to wreak havoc. We need to know that this feud between the two gates has wider implications that we must all be wary of.


In handling such serious problems, our governments have left room for much to be desired. They appear to be satisfied with ad hoc measures in handling such serious crisis situations. This attitude smacks of shortsightedness and irresponsible governance.


Take the Bawku crisis, for instance. The Kufuor government couldn't do anything to solve it and President Mills government has used the periodic renewing of the curfew there and deployment of security personnel as a "cure." Some half-hearted attempts made to bring the warring factions together failed because they had no potent element to broker peace and restore good neighbourliness into the Kusasis and Mamprusis. Now, they've extended their problem to Kumasi!


What has President Mills' government done to assure Ghanaians that it will resolve this crisis and establish a lasting peaceful atmosphere in that part of the country? All it has done so far is to heighten the show of force through the deployment of security personnel in the area and the establishment of a military base close to Bawku. This approach will not resolve the crisis because it doesn't constitute anything worthwhile. Conflict resolution is not achieved through the barrel of the gun or curfews. For how long will the security personnel roam that area to look for elusive trouble-makers? At what expense to the country's economy? Indeed, not only is this show of force itself a lame approach, but it also reveals the weaknesses in our system of governance. In this sense, the NDC government has lost its bearings. Let us say it loud and clear today!


It beats my understanding why the Ghana government will quickly contribute security personnel and resources to international , regional, or sub-regional peace-making efforts while not being able to solve its own internal security problems. Is the government waiting for all these pockets of trouble to explode into a major national disaster for it to rush to the United Nations to panhandle for solutions?


We have been told more than necessary times that "a stitch in time saves nine"; but our government doesn't seem to know what to do to stitch these crisis situations. It has the needle and the thread but cannot put its acts together now to save nine tomorrow. There is trouble all over the country.

How does President Mills understand the title he has thrust on himself as an "Asomdwehene"? Or does he conceive of "Asomdwe" ("Peace") only in partisan political terms when the situation involves the NDC and the NPP? What does his Christian spiritual fervor mean in conflict resolution? That it should translate into a mere profession of one's faith and constant recourse to the Bible and God as the panacea to our national problems while practical action is neglected? I think that there is something seriously wrong with this kind of mentality in politics. By instituting the National Day of Prayers, President Mills should have known that prayers alone don't solve human problems. I have always insisted that prayer without action is empty just as action without prayer is blind! Christianity is not meant to be professed by word of mouth alone. It must be lived. It is a lifestyle that must ensure that one works for the good of all. Christianity calls for peace and goodwill among all. How can we have that "peace and goodwill among all" when sections of the society feel oppressed and disadvantaged because of official lethargy?


If President Mills and his government or party fail to resolve this Yendi crisis, they will go down in history as a complete laughing stock. Ghanaians know that the NDC functionaries accused the NPP under Kufuor of masterminding the atrocities at Yendi on March 27, 2002. They gave firm assurances to punish the perpetrators if voted into office. They have been in office since January 7, 2009, but nobody is doing anything concrete to ensure that the problem is tackled. Assuming that something substantial is even being done, why can't they tell us? Where are we now in handling this Yendi crisis?


I am not a prophet of doom, but let me stick my neck out to say that the culture of impunity that has so far characterized the Ghanaian scene since the coming into office of President Mills will tear the country apart at various levels if not stemmed decisively.


No day passes by without our being told of a security problem here or there. The worst offenders so far have been the NDC's own activists who are taking the law into their own hands and doing dangerous acts. From forcefully taking over the management of lorry parks, toilets, and markets, they've moved into top gear, chasing public officers from their legitimate duty posts (especially in the case of officials of the National Health Insurance Scheme).


In all these acts of hooliganism, the government hasn't taken any firm action against those functionaries. It knows it can't do so because the promises it made to create jobs for them haven't materiliased so far nor is any government official so politically savvy as to take measures to allay the fears, doubts, and suspicions of these disaffected NDC functionaries. They are busily scheming to fleece the4 national economy in the name of the Establishment. That is what politics has become in Ghana.


Added to this political element in the agitations, there is also the perennial headache that the chieftaincy institution gives us. All over the country, chieftaincy problems abound. There appears to be a total breakdown of order and security, although the spate of armed robberies appears to have lessened. What is President Mills doing? Or is he content with sitting down at the Castle to receive delegations of favour-seeking praise-singers or dignitaries (both foreign and local) who have too much time and too little to do? We reject the empty rhetoric and vain promises from officialdom.

Let it not be said of President Mills that even though he entered the high office as an "Asomdwehene," his tenure was fraught with insecurity, crime, fear, and terror. It will be a huge paradox that will haunt him long after he has left political office. He has the chance now to prove his critics wrong; but if he continues to keep his fingers crossed, waiting for a political manna from God to solve Ghana's problems, he will not take long to be written off.


If he is considering contesting the 2012 elections, he must be told aboveboard now that he is frittering away all the goodwill that ushered him into office. At least, considering the high cost of living in the country and the fading of hopes that his government can out-do that of Kufuor, he is assured of one thing and one thing only: complete humiliation!! His critics have already coined something for him: A BETTER Ghana is now a BITTER Ghana. This song isn't good music to the ear.


It is time to act decisively on this Yendi crisis and all other problems that endanger social well-being in the country. The government has all the resources and must use them for that purpose. Anything short of that will make a huge mockery of the accolade of "Asomdwehene" that President Mills responds to.