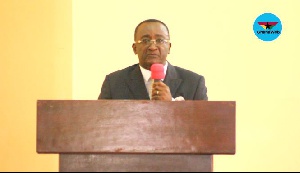 The Daily Graphic (August 4, 2017) headline, "Ghana's high rice imports: AfDB decries $400m annual bill" is a noteworthy serendipitous response to last week's column where I referenced the miraculous rice fields of Thailand.
The Graphic headline quoted the president of the African Development Bank, Akinwumi Adesina: "Ghana absolutely has no business at all importing rice. You are spending US$400 million a year importing what you should be exporting."

Year after year, Ghana's lack of leadership foresight to come to grips with that common sense reasoning is mind boggling. The responses to last week's column were so numerous, I have selected a few to share with readers. The first one read as follows:

"Thank you, my brother, for this hard truth. I read your article with tears in my eyes and my head heavy with thoughts. I remember the Operation Feed Yourself and the Green Revolutions with its associated backyard gardens. Hmmm, I wonder everyday where we are heading as a country?"

Agriculture and jewellery in Thailand

Another said, "Great article. It particularly hit home because I too have visited Bangkok and the real back story is that the King of Thailand is a very educated man and his love of agriculture and his leadership in that area is what spurred Thailand into becoming an agricultural heavy weight. So as your title states, their success was 'intentional'. But that just goes without saying because the success of advanced economies in every area of endeavor has been based on 'intention'.

"I was even more fascinated by the Thai precious metals industry. When I landed I was approached by a government sponsored tour guide who convinced me to purchase a tour package, which made sense because I was only there for 3 days. They dropped me off at my hotel and came back that evening to be taken to a tailor shop (at his suggestion).
"Then check this, the next day he picked us up to where they make their jewellery. First they showed a movie of the history of precious metals in their country and the different kinds of sapphires and rubies. And at the end, we exited into a room full of jewellery and stones where they served us free champagne as we browsed looking for something we could take with us. Who wouldn't buy? And as I experienced this I thought about Ghana and our missed opportunities with [our gold and diamonds].

Needed: vision and creativity

"Problem in Ghana is that we think that if someone has graduated from school particularly with an advanced degree or schooled and worked abroad or for the United Nations or World Bank somehow that qualifies to them to lead. The truth is, and it bears saying, that many of these people were and are just cogs in the machinery, just that some are higher level cogs in a machinery not of their own creation but technicians simply trained to stoke the fires of the engines, so that the real owners can turn their attention to more creative ownership matters and enjoyment of their wealth.

"But to expect them to have vision or a spark of creativity or genius is not forthcoming. The new crop of leaders and visionaries, though they exist, are turned off by the dirty politics. The political appointments are not given to the creative types with the knowledge and vision to make things happen."

Frequent flying ministers and government officials

Yet another reader responded, "Anis, you travelled that far out on your own to appreciate this phenomenon, 'the specter of hectares and hectares of lush green rice and other agricultural fields in Bangkok'. Human beings did this! The sad part is that there has never been a year since our independence when we did not have a Minister of Agriculture and other Senior Government Officials in the other sectors of the economy. All these people are frequent flyers, freely attending conferences everywhere in the World.
"The see it all: the serious and disciplined efforts to do the right things in some of the developed (and sometimes not so developed) countries they visit. They come back and fail to replicate any of the good things they saw elsewhere. I am of the view that the Airport Press, must be empowered to stop and speak to every Minister / Senior Government Officials on their return from these Workshops and Conferences for them to tell Ghanaians about the lessons they learnt on the trips and how they intend to implement aspects of these in Ghana. In the absence of these feedbacks/reports to Ghanaians, these trips become essentially costly holidays and a drain on our poor economy. Our leaders must be fiercely competitive."

Conclusion: Isaiah 54:2

So the question is simply this: "Is this as good as it gets? Are we going to re-think, act intentionally and get better, or is this it?" If African nations must be led to change, this must be the question the leaders must ask of themselves every blessed day. Eradicating poverty requires commitment and persistence. That is what it takes to stretch and lengthen opportunities for greater prospects.

It's worth remembering and acting on the possibilities from this verse from Isaiah 54:2; "Enlarge the place of your tent, and let them stretch forth the curtains of your habitations: spare not, lengthen your cords, and strengthen your stakes; for you shall break forth on the right hand and on the left [for you and your] descendants".