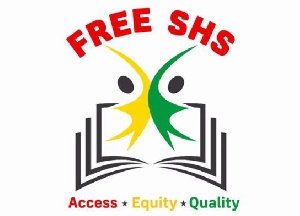 President Akufo-Addo has told the first batch of the free Senior High School (SHS) corps to "pass well and shame" the detractors and critics of the policy.
The media have widely reported him as saying so during visits to St Monica's Senior High School in Kumasi and also at Nkawkaw Senior High School, Nkawkaw, during his recent tour.

The president mentioned civil society groups and individuals as those to be shamed and this presents several problems.

Respectfully, where is the shame Mr President?

Does anyone expect our children to fail so that they go and pay for remedial classes?

For sure, free SHS introduces some first generation secondary education graduates into families "within two to three generations" as our previous articles have suggested, and that is excellent and virtuous.

But sadly, literacy level one, for English language stands at 15 percent for persons 15 years and older, and 34 percent for all Ghanaian languages including English, according to Ghana Statistical Service (GSS).
And as my mentor has observed, "The functional literacy rate in ghana is only one percent." For, are there not different levels of literacy?

As things stand free SHS is failing for the following specific reasons.

First, sanitation in our schools has worsened because the Ministry of Education (MOE) does not release funds on time, credit purchases are limited and open rubbish dumps are the norm in our secondary schools.

Second, this "Double Track" circus has increased the phenomenon of extra classes and vacation classes, two negative indicators on any best practice measure of quality.

Third, the same curriculum is being used; school sports is suffering because of the "Double Track" calendar; and the Facebook announcement by the MOE of the full complement of textbooks having been supplied has turned out to be a bad joke.

If the number of 8As and 7As passes increase in both nominal and ratio terms will it not just be more of the same overall low quality standard?
Fourth, we live in a society where the Minister for Education officially boasts that his ministry has supplied "Past questions" to secondary schools!

Alas, "pasco" has now become the gold standard with even MPs pursuing dodgy Executive MBAs punching at "pasco" as in a "try your luck" game.

Long gone are the days when the best schools and best students did their best to comprehensively cover everything in the syllabus or curriculum and even read beyond the "sylla" – a valiant attempt at delivering real education.

For the record, "pasco" was invented by those who do not attend class.

Similarly, kanzo (the carcinogenic burnt rice) was promoted as a delicacy by those who could not afford to buy the better part of boiled rice; and tilapia became an alternative delicacy by those who could not afford red fish! Now, you know.

The pamphlets and handouts of yesterday's remedial schools, with all their grammatical errors, are now government approved and recommended textbooks! Eei ghana!
The whole mind-set about passing exams and shaming critics shows clearly that the president and the Ministry of Education are grabbing at straws and are already in election campaign mode.

Will this free SHS system convince Cambridge University or anybody to reverse their decision about not recognizing the West African Senior School Certificate Examination (WASSCE)?

Absolutely nothing has been done to improve quality.

A statement about teacher training colleges now awarding degrees is misguided, patently irrelevant and irritating.

Given the ill informed statements being made, we know our politicians can never stand the intellectual rigour of an issues based campaign (least of all on education that must perforce be a concern for all of us) and by their cynical calculation, none will be demanded of them by their rented press or the assembly of discredited, pliable, supine, academics.

But we are here; we are not going anywhere.
We shall do what must be done.

Feedback; ato@writersghana.com; www.writersghana.com; LinkedIn, Isaac Ato Mensah; Instagram, @atomenswriters; Twitter, @Atomens; Facebook, Writers and Shakespeares Ghana; Telegram, Isaac Ato Mensah; Quora, Isaac Ato Mensah. WhatsApp (+233) 020 022 0353.

Writers and Shakespeares Ghana Limited exist to be a moral and intellectual guide to the best practice of PR and integrated communications around the world, beginning with Ghana.