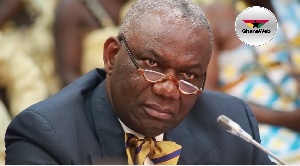 Bribery is a crime frowned upon by the 1992 Constitution. Bribery and corruption are
the banes of the economic development of Ghana and he who involves themselves in them

are the enemy of the people and the nation. Until these cankers are uprooted from our

Ghanaian society, we have a long way to go in developing the country for the benefit

of all.

Ghana, once standing on her two feet, was completely knocked over by President Mahama

and his NDC government through their unprecedented infatuation with corruption and

bribery. The country is now crawling on her knees.

With the coming into power of Nana Akufo Addo, now His Excellency President Nana Addo

Dankwah Akufo-Addo and his NPP government, Ghana will not continue to crawl but walk,

run and fly if and only if, we shall emulate the incorruptibility of the President

and strive to live up to his expectations.

My question now is why at all would Mr Boakye Agyarko ever dream of doing anything

trivial that will compromise his integrity, let alone, bribe the publicly known and

tagged corrupt NDC guys who have not yet come to terms with their disastrous defeat

at Election 2016? They are still baying for NPP's blood in the hope of exonerating

themselves from their known, but disgusting fondness for corruption and lawlessness.

I only hope that the allegation is unfounded or else, it will be a blot on the
intelligence and integrity of Mr Boakye Agyarko and a blemish on the reputation of

the President and NPP. How could we fulfil our goal of ridding Ghana of corruption if

the overseers of the project have themselves begun to orchestrate bribery?

I know the NDC will try any means possible to put us on the same pedestal of

corruption as they are noted for to vindicate themselves. They may try to fabricate

stories to tarnish our reputation should we offer them the opportunity by not doing

things properly.

I am sure Mr Boakye Agyarko has not offered the minority caucus on the Vetting

Committee any bribe to help pass him and that all the allegations doing rounds about

him are just the figment of the evil imagination of the NDC as a party and people.

However, I am not in a position to defend him 100% based on two things. The first is

a statement by Duncan in Macbeth, one of the numerous books written by William

Shakespeare which goes, "There is no art to find the mind's construction in the

face" which means there is no way to read a man's mind by looking at his face. By

this, I mean to say I cannot conclusively declare him either innocent or guilty of

the alleged offence by simply considering his past and, or looking at his body

language and any public response he might have made following the allegation.
Again, there is this Akan story about one Mr Kwasi Mahuwo. This man was said to be

rich, honest, respectable and respectful. He was always rendering service to people

and everybody trusted him and had much respect for him. He had a daughter who was

equally honest and obeyed him. She was always at home only to leave the house to dump

the rubbish in the mornings.

This daughter of his was once accused of having committed fornication or having a

boyfriend. His father never believed what he was hearing because the girl was always

at home. He could not figure out how and when the girl could leave home to engage in

sexual activities as was being alleged. He defended the innocence of his daughter to

the hilt as far as his knowledge of her went. He even went to the extent of swearing

by their powerful fetish shrine to the chastity of his daughter.

Little did he know that yes, the daughter had had sex with some man during her

morning rounds to dump the household rubbish. He whoever swore by the fetish through

invocation to declare their innocence but was found to have lied, would die. When

such a person died, the tradition was to drag him on the ground, pulled by some

thorny or spiky rope grown in the wild ("enwere") attached to their

(deceased's) waist regardless of their status, to the cemetery and into their
grave.

Kwasi Mahuwo was stricken by the fetish, died and was dragged to his grave according

to the tradition despite how wealthy and respectable he was. He believed his daughter

could not under the Sun, the Moon and the Stars do what she was accused of but

indeed, she had committed the crime.

Concluding from the above cited references, I cannot vigorously defend Mr Boakye

Agyarko as I normally would for Nana Akufo Addo who has an impeccable record of

incorruptibility. Therefore, the onus is on him to prove his accusers wrong and then

I can jump on their throat using the keypads of my computer or laptop to flay them

alive or to strip them naked for everyone to see how mischievous and corrupt they

are.

Should it be true that he has bribed them for reasons only best known to him, then I

will expect His Excellency President Nana Addo Dankwah Akufo-Addo to do to him as one

School/Senior Prefect at the then Kumawu Tweneboah Kodua Secondary School did to his

junior brother of same school in 1973.

The underlying web link takes whosever want to know about how the School/Senior

Prefect Edward Adusei Pianim dealt with his brother to instil fear and discipline in
the entire student population during his one year tenure as the School Prefect.

https://www.modernghana.com/news/749932/open-letter-to-his-excellency-preside...

It is my prayer that Mr Boakye Agyarko never indulged in any crime to influence the

Members of the Appointment Committee as is alleged by Mahama Ayariga of the

Ayaricough family.

However it turns out, some Members of Parliament will loose their credibility. It is

Hon. Osei Owusu and Hon. Muntaka vs. Hon. Mahama Ayariga and Hon. Okudzeto Ablakwah

that baby with sharp teeth. One of these two parties, defenders or accusers, will

loose their credibility if after investigations they are found to have lied about the

bribery in question.

This issue has given Kwesi Pratt Jnr an axe to grind. Until this allegation became

public knowledge, he was still suffering from the seismic shock of the defeat of his

paymaster, former President John Dramani Mahama at Election 2016. This case has

invigorated him. He is now back to radio studios running his mouth.

Rockson Adofo

(Written on Wednesday, 1 February 2017)