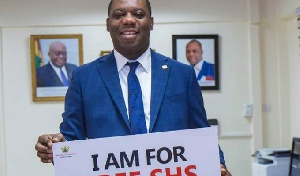 The Free Senior High School Policy (FSHSP), which is the flagship education programme of the New Patriot Party (NPP) government, has finally been implemented and it has resulted in public debate with respect to its benefits and sustainability. Under the FSHSP, government will be required to foot all bills - including feeding fees, tuition fees and all other charges - with regard to first-year students admitted in the 2017/2018 academic year.
This means that the burden of paying fees will be removed from parents, especially those who cannot afford to pay their wards' school fees. The implementation of the FSHSP is in agreement with provisions of the International Covenant on Economic, Social and Cultural Rights (ICESCR), of which Ghana is a signatory.

The ICESCR provides that secondary education in its different forms, including technical and vocational secondary education, shall be made generally available and accessible to all by every appropriate means, and in particular by the progressive introduction of free education. In effect, the disposal income of parents will increase to enable them to save funds for the next three years that their children will be in Senior High School. Those funds saved for the three years could be used by parents to pay the fees of their children when they later enter the various tertiary institutions.

For an example, under the FSHSP the fees that will be absorbed by government with regard to a boarding student for the next three years will amount to GH? 5,532.83. This means that a parent whose child is a boarding student will be having a total disposal income of GH? 5,532.83 after three years, which could be invested.

Therefore, parents should be encouraged to invest their disposal incomes which will arise as a result of implementing the FSHSP in financial instruments to grow such income in the form of returns receivable from those investments. For this reason, equity and fixed income investments could be considered by parents. Investing in equities simply means buying shares directly from a stock exchange or investing in an equity mutual fund. If an individual decides to go to the stock market directly to buy shares, that person must clearly understand how the stock market works - as well as gather enough information about the companies he/she chooses to invest in.

However, if one wants to avoid the hassle of personally monitoring the stock market or reviewing financial reports of companies he/she is considering investing in, then an equity mutual fund will serve as a convenient option for that person. An individual who has invested in equities enjoys dividend payments and capital gains. Similarly, an individual can invest in fixed income investments such as Treasury bills or bonds. This type of investment is geared toward investors with a shorter time-frame to invest, or those who are not comfortable with a lot of volatility in their investments.

On the other hand, businesses which rely on equity and debt finance will be able to expand their businesses by investing in new assets. This goes a long way in creating employment opportunities in the economy. In consequence, the rate of unemployment within the economy will reduce, as well as seeing growth of the economy. This is perfectly in keeping with the provisions of the ICESCR, which provides that the States Parties to the present Covenant recognise the right to work, which includes the right of everyone to the opportunity to gain his living by work that he freely chooses or accepts, and will take appropriate steps to safeguard this right. The state will get tax revenue from high growth companies and those employed within the economy, too.
The tax revenue could be invested in the FSHSP to sustain it, and also in other social intervention programmes. Furthermore, the FSHSP could be linked to the government's flagship agricultural programme known as Planting for Food and Jobs (PFFJ).

The benefits to be derived from the linking the two programmes are enormous. It would enable government to purchase food stuffs directly from farmers, which would be used in feeding students under the FSHSP.

Government will also make cost savings as a result of buying the foodstuffs directly from the farmers, because middlemen will be removed from the supply chain. Besides, employment opportunities will be created in the agricultural sector, as potential farmers will be assured that there will be a readily available market for their produce. In conclusion, the implementation of the FSHSP has enormous benefits to both parents and the entire Ghanaian economy. It will result in an increase in the disposal incomes of parents, which could be invested in financial instruments to earn additional income as well as growth for companies in which those funds are invested.

The high-growth companies will recruit staff to meet its growth, resulting in a reduction of the rate of unemployment within the economy. The linking of both FSHSP and PFFJ will also lead to job-creation, leading to a reduction in unemployment. The government will in turn get tax revenue, which could be invested in the FSHSP and other infrastructural projects. Indeed, the implementation of the FSHSP is a win­win situation for parents and the entire Ghanaian economy.

The author is an investment and tax advisor. He can be reached by email at: kofiduah@yahoo.com