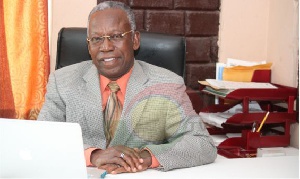 "Land of Our Birth, we pledge to thee Our Love and Toil in the years to be…" (MHB 899) by Rudyard Kipling (1865-1936) "
Yen Ara Asaase Ni Eye aboodenden ma yen…" (Ghanaian patriotic song; 1921 by Dr. Ephraim Amu)

"Others have laboured and we share the glory; Our's is to do exploits and add to their gain;…." .(Adisadel College, Ghana, School Ode)

Love of God and Country; Duty to the Motherland; Perseverance.

These are keywords and attributes embodied in what could properly be called a life of 'citizenship for nation-building'. In his two-hundred and thirty-four page fascinating autobiography, titled "Our Motherland-My Life", Kojo Yankah begins by quoting the powerful and inspirational lyrics of three Ghanaian songs each of whose first two lines have been quoted above.

Committing his memoirs into writing as an autobiography has been, in itself, a major contribution to the important enterprise of nation-building. In Chapter 1 of the book, Yankah reproduces an invited Speech he gave on Ghana's Republic Day-July 1, 2016, known as "Senior Citizens Day 2016"( invited by then Ghanaian President John Mahama). In that speech, Kojo Yankah vehemently appealed "to all senior citizens to compile their Memoirs." He strongly believed that Ghana, as a "country will be richer in indigenous knowledge, the youth will draw a lot of inspiration from them and we shall have a knowledge bank and database on our heritage."
In Africa, formal writing of Memoirs by 'prominent, accomplished and leading citizens' had not been very common. Prolific generation of autobiographical material has not been the norm. The situation has improved considerably during the last two decades. Autobiographies and Biographies of leading academicians, professionals and national political leaders are increasingly becoming available. Kojo Yankah's exhortation is similarly found in the Autobiography of former University of Ghana Vice-Chancellor, Professor George Benneh.

In the Preface to his Autobiography: "My Time, My Nation"(Winmat Publishers Ltd 2016), Professor Benneh expresses the following hope: " It is my sincere hope that with the publication of this book, Ghanaians in leadership positions would be encouraged to keep diaries and write their 2 autobiographies for the benefit of future generations."

Professor Benneh further laments thus: "Generally, Ghanaians have not acquired the tradition of writing memoirs".

"The history of this country (Ghana) could have been enriched if, (so many leaders) who have played prominent roles in government all wrote their memoirs." Hon. Kojo Yankah, a former Ghanaian Member of Parliament and Cabinet Minister( including Regional Minister for Central and Ashanti Regions), is a seasoned and highly accomplished professional writer, journalist, and photojournalist. This fact is amply evident the moment one starts to read the book. The book is extremely well written. It's pleasant and easy reading.

He uses his superb skills as a photojournalist to enable the reader to quickly follow Yankah's complex, but compelling personal and professional life story. A collection of vivid, professional quality photographs, most of them in vivid color, has been included. These glossy, beautiful, and lively pictures do add a lot to key parts of the story. Wonderful examples of "a picture being worth a thousand words".
Indeed!

Pictures of his experiences with his family (spouse, children, and siblings) point to a self-assured and a dedicated man deeply rooted in family, an African family. He was involved in numerous professional activities in the global arena as journalist, politician, educator, and an avowed Pan-African culturalist. This brought him in contact with many international luminaries.

Pictures in the book depict Yankah's working encounters and meetings with political, cultural and artistic icons. Among them were Winnie Mandela, powerful U.S. Black Congressmen John Lewis and Kweisi Mfume( former Congressman), former Namibian President Sam Nujoma, Minister Louis Farrakhan, music legend Stevie Wonder, and world-famous jazz drummer Guy Warren( aka Kofi Ghanaba).

On the home front (within Ghana), the book includes a collection of photographs which tells a more eloquent story than words can convey. The photographs vividly serve to bring to life the story of Kojo Yankah's breath-taking activities, as he diligently sought to perform his 'duty to his Motherland'.

Enchanting pictures show him consulting, and interacting with, the Late, 15th Asantehene Otumfuo Opoku Ware II, Current, 16th Asantahene Otumfuo Osei Tutu II, Former Ghanaian Presidents J.J. Rawlings and John Agyekum Kufuor, as well as former United Nations Secretary-General Kofi Annan. These very high-quality photographs enhance the reader's appreciation of, and insights into, the author's broad range of professional and cultural involvement within Ghana.
Kojo Yankah's expert use of photojournalism comes into its own in the second half of the book. In Chapter 12, entitled "African University College of Communications", he recounts the remarkable story of how he successfully founded "African University College of Communications"(AUCC).

The AUCC was initially started in 2001 as "Africa Institute of Journalism and Communication" (AIJC). His motivation for founding the AIJC, which later became AUCC, is best presented here, by quoting his own words from Chapter 12 of the book, shown below in italics:

"I was Deputy Minister of Information when (Ghana)Government liberalized the airwaves in 1996 by authorizing the first 12 private radio stations in Ghana.

Having been 3 Director of the Ghana Institute of Journalism, the only recognized communication training institution in Ghana, and noting that the private media was soon to expand, I considered it an obligation and also a good business proposition, to establish the first private university of communication in Africa"…..Kojo Yankah, "Our Motherland-My Life", page160.

The AUCC is indeed Kojo Yankah's culminating professional success story, in the long chain of success stories that has marked his professional and personal journey.
And in Chapter 12, the book brilliantly narrates, in words, the arduous process he went through to establish the university, as well as the tenacious efforts and difficult decisions (financial, intellectual, political, educational and personal) that needed to be made.

Book Review: By Albert O. Ebo Richardson, Ph.D. Professor Emeritus, California State University