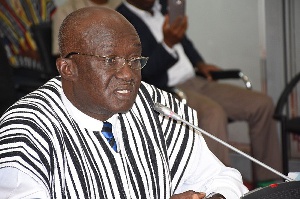 It was on a main street of Accra. Just at a traffic stop, he rolled down the window of his posh car and dropped a polythene. No one dared confront him. He did not only look civilized but his intimidating personality was enough to scare anyone around to rebuke him for littering. Having seen this, I became more aware of the herculean task of keeping Ghana clean.
Alhaji Aliu Mahama stood for discipline. He advocated that to have a clean Ghana, there must be self-disciplined. His campaign was carried on national television for a long time but the impact, looking at where we are now is minimal. We all did not like it when the infamous shithole comment was made. Should the comment not move us to take drastic steps toward making our country clean? From where I stand, the sanitation ministry alone cannot solve the issue.

Partisan politics is one of the reasons why it is difficult to have a clean Ghana. The two major parties; NDC and NPP have in time past, taken steps to tackle sanitation challenges. However, at every time that practical efforts were made to solve the issue, they accuse each other of wickedness. The excuse they each give is that there should be a more humane approach to dealing with persons whose activities are warranting us the name shithole.

In the past few days, there are comments that the ministry of Water Resources and Sanitation is not living up its expectation. It is not my intention to defend the ministry but the question is, are we ready as a people to welcome drastic steps that would be taken to free Ghana out of filth?

I am told Chairman Jerry John Rawlings was excoriated for the methods he used in dealing with sanitation issues. In his era force was applied. On a daily basis, public health workers or sanitary inspectors were tasked to invalidate licenses of people selling food at filthy environments. Those whose actions or inaction polluted the environment were severely dealt with. These actions though many did not approve, yielded results.
I hope it will be welcoming news if the ministry decides to sack all illegal squatters whose activities in various areas in Ghana pollute our environment? I hope we will all rejoice in the ministry proposes or take steps that will culminate in a ban on plastic materials? I hope we are ready to sort our waste for easy recycling granted that the government provides us bins? As was done in the past will we not crucify the ministry if they begin to tear down buildings that barricade water flow and causes flooding?

Having said this, the ministry should lead the fight. The 100 days clean-up campaigns by past and present governments have yielded little results. Places of convenience and other logistics should be provided at public places for easy disposal of waste. Offenders who pollute the environment should be severely punished. Even though it is necessary to reiterate Aliu Mahama's appeal for personal discipline, reasonable force should be applied if the personal discipline is not working.

Sanitation issues should not be trivialized or politicized. Cholera, flood-related disasters, malaria and other sicknesses do not afflict us base on our political leanings.