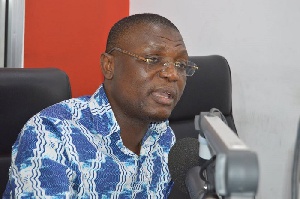 The persistency of Kofi Adams, the National Organizer of the opposition National Democratic Congress (NDC), to proclaim in the valleys and on top of the mountains that the investigations into the conduct and stewardship of Dr Stephen Kwabena Opuni, a former Chief Executive Officer (CEO) of the Ghana COCOBOD, amounts to political witch-hunt is purely an expression and exhibition of his utter stupidity and underrating of the collective intelligence of Ghanaians.
I wonder why politicians with their cronies, agents and assigns when caught in the suffocating net of anti-corruption, always seek breathing space in the forum of political witch-hunt. How do they want to be obliged to account for their stewardship, probity and transparency while in the service of their nation and people? Do they want us to let them off the hook to get away with their obvious transgressions, thieveries, abuses of power and perpetrations of all silly and criminal acts that demean the Ghanaian or the African in the eyes of our contemporary Whites as being worse than subhuman or their pet dogs?

What is the witch-hunting about the arraignment of Dr Stephen Kwabena Opuni to explain to the court some of his established conducts deemed contradictory to the rules and regulations of the company that he headed? Has he been taken before any hurriedly-set-up kangaroo court as it was in the days of former President J. J. Rawlings setting up Fast Track Courts and Tribunal Courts to put some perceived people on trial without permitting them proper defence representations and had them shot to death by firing squad or imprisoned at Nsawam Medium/Maximum Prisons?

What is witch-hunt, one may desire to know? According to the dictionary definition it is "an intensive effort to discover and expose disloyalty, subversion, dishonesty, or the like, usually based on slight, doubtful, or irrelevant evidence".

This is the angle where Kofi Adams is coming from hence his dimwit vociferous calling on NDC faithful to rally behind Dr Opuni during his trial. They can rally behind him, employing all their usual nonsensical propaganda machine but if indeed Dr Opuni has committed any of the charges being preferred against him, all the noises being made and orchestrated by Kofi Adams will not wash.He will have to answer for his misdeeds. The best Kofi Adams can do for him is to secure him a team of good lawyers who ae men and women of integrity and do uphold the ethos of the legal profession in high esteem. They should be lawyers whose defence arguments will be based on credible facts and evidence but not those that will seek technical and delay tactics to make nonsense the charges or findings against Dr Opuni who lived opulent lifestyle thinking Ghana was former President Mahama's and his. President Mahama was an unprecedented gargantuan corrupt President without his like in the annals of Ghana's political history.

My fervent advice to any NDC faithful or any sound-minded Ghanaian is not to lend their support to any corrupt official caught in the cast net to fish out all those that have caused financial loss to the state through embezzlement of funds or assets or through dodgy underhand deals as seems to be the circumstance of Dr Opuni.
Was it not this Opuni who collapsed the business of one deceased Madam Semanhyia for genuine or dubious reasons while at the Ghana Food and Drugs Board as their boss?

I am not prejudging him but the evil that men do lives after them. All those President Mahama appointed were in their 90% corrupt because he, like the Arabian Ali Baba and his forty thieves, was the Ali Baba himself.

When Kofi Adam was possessing and driving in five or six expensive cars as his, were the NDC foot soldiers not walking in the scorching sun? Now that this bastard senses the noose tightening on his neck, he wants to arrange some NDC people that he considers as dimwits to rally in the defence of those that had stolen Ghana's money to live affluent lives. Any Ghana that responds to his clarion call for support is indescribably a big fool that needs their head examined.

Until when can we stop our leaders from abusing their powers, embezzling funds and State assets as well as using their positions to profit their friends and family members at the expense on the general Ghanaian public?

Politicians and Chief Executive Officers (CEOs) are those causing the downfall of Ghana and Africa through their absurd infatuation with corruption. Let us support any process that can be employed to retrieve the money from them and also land them in prison to serve as deterrence to would-be political thieves. How I wish they could be sent to Guantanamo bay to suffer waterboarding punishment with their scrotums squeezed with pliers to the point of bursting to teach them lessons.
Let us collect all the money to support the free Senior High School, fight armed robbery and to create jobs for Ghanaians. I am highly annoyed more at Kofi Adams than at Dr Opuni.

Let us all volunteer information on the corrupt officials in order to assist the government to retrieve the money from them.

Finally, I hear of the corruption still going on at the Ghana harbours. I am in touch with some people who are investigating to pass on credible information to me. When I am well-furnished and satisfied with the information, I shall publish an article about it. I shall name the people behind it. I understand some NPP guys are involved in the same criminal things that the NDC were doing at the ports. With time, we shall uncover all those people. We did not vote for change for the better only to see things rather become worse.