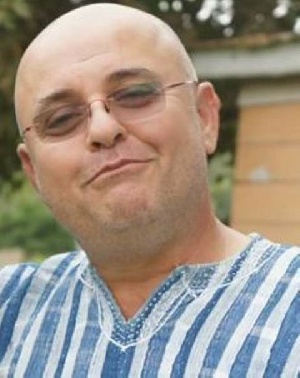 When an experienced journalist behaves like a novice striving to understand the basics of journalism, he leaves objective minds with no option that to see mischief in his action.
For serious-thinking Ghanaians, Fadi Dabousi, the man hailed by the New Patriotic Party (NPP) as a critic of President Mahama, can only be up to some mischief so should not be taken serious, except by those who have purportedly assigned him the mischievous job of tarnishing the image of the President of Ghana.

The Catalyst wants to place it firmly on record that Fadi Daboussi is a big fat liar, who must not be allowed to outsmart the security agencies with his lie that he had sourced the so-called story, over which he is being questioned from any of its publications, from The Catalyst and The Al Hajj newspapers.

This is a story which has been cleverly fabricated and circulated on the internet with the intention of tarnishing the image of President John Dramani Mahama and the Asantehene Otunfuor Osei Tutu II, and it has nothing to do with The Catalyst.

The Catalyst has done no such publication either in print or on the internet and so, the paper is calling on the Bureau of National Investigations (BNI), currently probing Fadi Daboussi to delve deeper into the matter in order to bring the matter to a full closure.

When news broke that Fadi, a Ghanaian with Lebanese parentage, was arrested by the Bureau of National Investigations (BNI), many thought he was arrested for some political reasons but it turned out that he was just one of those who, for political expediency, are ready to fabricate falsehood in their quest to achieve a dastardly aim.

Ghanaians are wondering why Fadi would make capital of cloned stories to attack the reputation of the President of the Republic of Ghana and another prominent person like the Asantehene, without proving his journalistic common sense by checking and cross-checking.
This failure on his part is enough reason for The Catalyst newspaper to perceive him as someone on a mischievous mission who shouldn't be given any attention, irrespective of his achievement in whatever field, except to probe and prosecute for posing a threat to national security.

A simple check by Fadi would have revealed to him the non-existence of a story by The Catalyst newspaper concerning President Mahama and Asantehene's daughter because the story he claimed to have referenced from The Catalyst was a cloned online front page that had no issue number nor date- signals that should have alerted him of something going wrong.

This is clear indication of the fact that he may have information on the malicious cloning of stories attributed to The Catalyst.

In another vein, when the authors of those cloned stories, whom fingers point to as being members of the New Patriotic Party (NPP), cloned the Al Hajj newspaper with the story, "Mahama Impregnates House Girl", it was clear that the NPP was up to mischief and Fadi's conduct now confirms that there is a shameless brigade in the NPP who would bow to the lowest level to achieve their despicable agenda.

The Catalyst was not surprised at a member of the communications team of the NPP, Hopeson Adorye's claims that the stories Fadi carried, were sourced from The Catalyst and the Al Hajj newspapers since he (Adorye) is part of that shameless brigade in the party who are ready to lie for their party to win power.

Clearly, Hopeson Adorye, like his like in the NPP whose insatiable quest for power is turning them into people with venomous tongues that can lie about everything and anything. The First Lady, Mrs Lordina Mahama has also suffered from the venom of Hopeson Adorye, who seems to have lost credibility so much that he is no longer taken serious even by his own NPP friends.
Interestingly, Mr. Daboussi, after his tantrums, quickly apologised to the President, knowing very well that he has already achieved his purpose. And the Hopeson Adoryes would pretend to understand democracy better than any other person, threatening to go on demonstration to call for his release when he was arrested.

Taking Mr. Fadi Daboussi serious is synonymous to telling the world that we are not serious as a nation and that is why we can afford to waste time on such funny stories.

As for the media houses that find in Fadi a sweet story, they will wake up soon to realize how they have been fooled by an Akufo-Addo fanatic who has demonstrated he can go to all lengths to ensure victory for his political idol.

The Catalyst is just enjoying the comedy; those who believe in fairy tales can enjoy it while it lasts. After all, this is free comic relief or is it another form of lunacy?