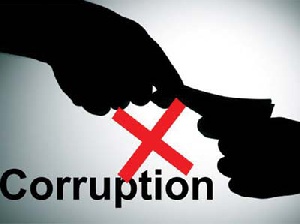 Corruption has become a rampant endemic in this 21st century. Fingers point at "top" men and "big" politicians for practicing it.
I stand to say it will be judgemental if one concludes so. Learning from the sight of the owl, they are widely believed to have the best night vision in the animal kingdom. It's interesting to note that, the forward facing aspect of the owl's eyes gives it "wise" appearance and also gives it a wide range of "binocular" vision.

As an avid veracious writer, with a "binocular microscopic" eyes like that of the owl, this write up is going to reveal how corrupt everyone is including the poor farmers in my village.

To begin with, corruption stunts economic growth, it has detrimental effects on the environment and social cohesion, and detracts from the quality of life one can achieve.

Young and old, rich and poor, men and women, corruption affects us all including all who partake in its "evil" deeds. It has become herculean task to uproot a stump which is a big corrosive problem now.

According to business dictionary, CORRUPTION is an act done with an intent to give some advantage inconsistent with official duty and the rights of others and it's sometimes understood as something against law.

Its effects is overwhelming. It exacerbates violence and insecurity. It can lead to dissatisfaction with public institutions, disillusion with government in general, and spirals of anger and unrest.

The 2015 joint international campaign focuses on how corruption undermines democracy and the rule of law, how it leads to human right violations, distort markets, erodes quality of life and allows organised crime, terrorism and other threats on human security.
Greediness and selfishness which has been instilled in the heart of the Ghanaian since time immemorial is what is fastidiously hurting us. All sectors in Ghana including those institutions that are created to check corruption are even corrupt than those they are to check all because of greediness.

The Cocoa Purchasing clerk (Cocoa Karachi) who tightened the measuring scale to steal the weight of the cocoa beans and make profit out from such malicious act is there walking happily.

A farmer who picked a snail on his way to his farm will sell the snail as if he was the one who reared it or he intentionally hunted for it.

Our economy is such a way that, farmers are forced to be corrupt else their commodities will get rotten and earn nothing from their suffering.

The market seller cheats the producer and goes to the market to continue her cheating till she gain colossal profit.

I will entreat every one to observe those who sell the following products in the marketplace; palm oil, rice, tomatoes etc to check their scales, it is so annoying to see a pinhole at the bottom of the oil measuring container. Where from that pinhole? You worry yourself to ask and you will hear the insult they will pour on you. You may even be called a witch or wizard for not allowing them to benefit from their market.

What pains me is during Saturdays and Sundays, they are those people you will see in the churches singing praises to God. Forgotting what the Bible said at Proverbs 11:1 "Dishonest scales are detestable to Jehovah, but an accurate weight brings pleasure to him".
We live to see the judgment day!

It is sometimes sad to see how nurses and health officers who are to value and save lives allow corruption to take their lead in the health centers. One's failure to pay their Gargantuan and deceitful requested amount will cause frustration and lackadaisical services which eventually leads to lost of lives.

Sometimes a patient needs to bribe a nurse before he is taken care of. This, I weep for my country!

Facebook user, Barrister Barnes narrated how he visited the 37 Military Hospital for a medical report and after paying Ghc 10 for a card and Ghc 20 for 'consultation', he was asked to pay Ghc 200 to receive the form he needed.

How some security service personnels are making earns meet at the passport office is something I plea to the government to set his corruption satellites onto.

I went to HO passport office to seek traveling passport, in fact what I saw and experienced is really agonizing. I mistakenly laminated my biometric birth certificate and I was told it is unacceptable so before they can remove it, I had to pay Ghc 50,

I nearly collapsed out of pain and disappointment in what humanity has turned into. Oh my Ghana, may Allah have mercy upon us. Amen!
I even asked him if it was Ghc 5 just to be certain ? He told me if I am not ready I should leave. So I paid the Ghc 50 to him and within 5 minutes he was done with removing the laminated rubber birth certificate. What I paid before and after the passport is something i can't explain here unless I get my calculator. Hmmm Ghana for you oo!!

I will look at a politician twice if he says he is not corrupt. Even at the grassroots level they are been paid to vote for and against candidates.

Some even issue fake cheques to deceive the electorate for vote and at long last plead for such action. It pains me Ghana is full of "naive electorates" and "Political Esau's". Eiii!!! So we are been corrupted to choose truant Parliamentarians and deceitful leaders?

We live to see their hypocritical summons against corruption come 2020.

How will our economy improve with this hungry stomachs, greedy and selfish leaders. Ghana in the eyes of the Owl.

In this era, eliminating corruption is something ascetic yet we have forgotten the fact that, we sometimes add "catalyst" to our requests and applications without demanding from these our leaders and those we tag as corrupt.

I always say, bribery and corruption are double edged swords. So to every corrupt person, there is someone who bribes. Accusing one another will not curb corruption, but rather finding a practical antidote to it, which I believe begins from the simplest unit of our society.
Global attitudes towards corruption have changed dramatically. Where once bribery, corruption and illicit financial flows were often considered part of the cost of doing business, today corruption is widely and rightly understood as criminal and corrosive.

More grease to the elbow of Governments, private sectors, non-governmental organisations, the media and citizens around the world in joining forces to fight this crime.

To anti corruption crusaders, I wish you ask yourselves this question before you pick this task. Are you clean from corruption?

Let's remember this spiritual quotation at Roman 2:21 NWT ("do you, however, the one teaching someone else, not teach yourself? You, the one preaching, "Do not steal," do you steal?") to genuinely authenticate us as truly anti corruption crusaders.

#Saynotocorruption