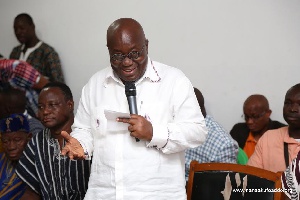 By Fuseini Abdul-Fatawu
The 2016 elections have ended and president elect, Nana Addo Dankwa Akufo-Addo, has been giving us a gist of the calibre of competent people he'll surround himself with in his office. Many hailed his choice of Alan Kyeremateng, Frimpong Boateng and Dominic Ntiwul among others as members of his cabinet. However, the appointment of Samuel Abu Jinapor as a Deputy Chief of Staff has raised some serious eyebrows within the rank and file of the party.

A lot of youth in the NPP seems to be against him and have expressed their displeasure on social media. I also hope to share my thoughts on this development.

I don't know Samuel Abu Jinapor and it's only once I saw him, that's in September 2016 when he came to Tumu to campaign with Nana Addo. I've however heard him on radio many times especially in 2007/2008. Then I was in CPP but I use to admire his passion for Nana Addo Dankwa Akufo-Addo and the NPP. In 2012, I didn't hear much about him especially after our brother, president Mahama, became the flagbearer of the NDC.

After the defeat of the NPP in the 2012 elections, some of us heard a lot of negative things about Abu Jinapor and the role he played in ensuring that president Mahama becomes a president of Ghana. He wasn't the only one accused of betraying the cause of Nana Addo and the NPP but his seems more painful due to his privileged closeness to Nana Addo and the trust Nana Addo reposed in him. Till date, I can confidently say all those allegations against Abu Jinapor are still unsubstantiated rumours.

Evidence have not been produced against him so one may classify those allegations as political lies.
Samuel Abu Jinapor was somehow silent between 2013-15 but came back strongly in 2016 to rebuild confidence in the NPP and worked very hard for the victory of Nana Addo and the NPP.

Now, we are told Abu Jinapor is likely to be our next Deputy Chief of Staff and the grassroot base of the party is shaken. The party especially our youth are perhaps not learning from the outgoing NDC government.

For me, those against Abu Jinapor have a very serious case and must be listened to by the top hierarchy of the party but that doesn't mean Abu Jinapor shouldn't be given the appointment. Abu Jinapor should clear the air on his supposed disloyalty to Nana Addo in 2012 despite their closeness. He should also let us know whether he had the blessings of Nana Addo during his period of silence between 2012-2015.

He should do this not only for his current appointment but for his future political ambitions especially in the NPP. If he doesn't take his time to address this issue, which I suspect are political lies, it will haunt him for a very long time especially if he is to go for any elected position in the party or on behalf of the party. Abu Jinapor can contact Bede Ziedeng of the NDC who lost the Lawra seat to Anthony Karbo for lessons.

My difficulty with the position of the youth have to do with the timing of the protest and the unfortunate tribal twist the whole issue have turned into. Abu Jinapor wasn't appointed today and I honestly don't think we have a right to complain on this issue. Abu Jinapor was appointed the very day he joined the campaign for the 2016 elections.
He was appointed when he got very close to Nana Addo and campaigned with him through the length and breath of Ghana. He was appointed when he jumped from

one media house to the other, campaigning for and on behalf of Nana Addo and the NPP.

That was when Abu Jinapor was appointed and that was when the youth should have registered our protest and displeasure. The youth should have protested against Abu Jinapor going to the media and campaigning for Nana Addo Dankwa Akufo-Addo and the NPP. The youth should have complained seriously about his very close relationship with our leader, Nana Addo.

The party been in opposition and working hard to get power would have listened to us. But We didn't do that then because we trusted him and trusted the wisdom of Nana Addo and trusted the competence and dedication of Abu Jinapor. Let's maintain that trust and pray for them to succeed.

Unfortunately, some members have taken the whole issue of his appointment to the barbaric tribalistic level. They are claiming that it's because Abu Jinapor is a northerner that's why he's opposed by some of the youth of the party that much. They didn't see the many people of Northern descent so far mentioned as members of Nana Addo's cabinet. To them, Ambrose Dery, Hajia Alima Mahama, Dominic Ntiwul etc aren't northerners enough. The NPP and its leadership must note that the NDC is silently observing our drama and will pounce on us aggressively if care isn't taken.
Those playing cards on the very unfortunate tribal tangent are not doing good to the party. They are giving unnecessary and unjustified ammunition to the NDC. I sincerely believe those youth opposed to Abu Jinapor are doing so based on his past actions and "questionable loyalty" and not based on his tribe or ethnicity.

The party must learn from the defeat of the NDC. We should not use our power to sweep away all grievances without addressing them. We should not underestimate the power of social media. The NPP must listen to the complains of the youth against Abu Jinapor and address it. We must not take this social media complaints for granted.

We must remember that it's the social media soldiers of the NPP that converted the kalyppo propaganda against Nana Addo into a strong campaigning point and tool for him. It's the same social media soldiers that ran to share and market Nana Addo's Facebook page to overtake that of president Mahama after president Mahama was boasting of his one million followers when Nana Addo was far behind.

They cut short president Mahama's comfortable lead on Facebook and destroyed his cruising to victory tactics. We must

remember them and act on their grievances or else we will one day come back to beg them but they wouldn't listen to us.
I shall, In sha Allah, be back...