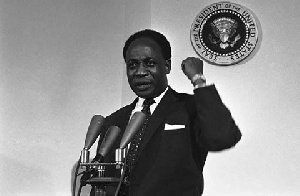 In the year 1963 May 4, in Addis Ababa, a formation of the Organisation of African Unity was planted. Dr Kwame Nkrumah in his speech called for a strong union of independent African States.
Nkrumah stated we must unite now or perish. In a similar vein, Dr Sam Njomah and other African heads of state insisted that the struggle for political independence has ended and only that for economic independence is left.

This and many other goals led to the formation. What really has come out of this formation? Are African countries having economic independence as well as political independence though on paper we are independent? Economic wise, African countries are nowhere near the word Better. We have come together to form a family, yet we are perishing, a word our ancestors were afraid of. What then might be the cause of our perishing? I will not quickly give an answer now. Let's take in a deep breath and breathe out, then take our time to look at some of the causes of our perishing as respective countries under one continent.

The incessant borrowing on the part of African Presidents and the massive reliance on aid from non-governmental organisations is what is dwarfing our growth and development as Africans. African leaders borrow monies and, to a greater extent, ideas to operate. Even ideas used in managing Africa by our great men in leadership roles are borrowed and equally sponsored by foreigners.

In this regard, when the deadline comes for them to pay back their creditors, they are left with nothing to live on to move Africa to development. African leaders, per say, are not just exhibiting to the other continents that Africa cannot live without their aid rather, they portray as well to the foreigners that they are poor of ideas.
The reality, therefore, confirms Matthew Lockwood's statement, "it has become clear that the development of Africa was all in our careers, and not in African itself. He has every right to say that for he lived with us for some years and that was the culture he learnt besides others. But the question we must ask ourselves is this: do we or our leaders have careers to develop our countries?

Must we not first and foremost have Africa at heart and then do something good to let Africa grow? Do we accept the statement of Lockwood to be true and for that matter not changeable? We, therefore, need to wake up if we want a change. Change will come when we take our brooms to sweep both the corrupt people and our corrupt selves.

The knowledge of corruption is something that is gradually being carried on through birth and for that matter, most children are born corrupt because it is in their bloodstream.

If Africa will continue to borrow, then what I refer to as "debt relief theory" will soon become a core course that will be taught with immediacy when things get out of hands. Since corruption in Africa is growing with a high speed like a river running down from the highest mountain that cannot be neither controlled nor redirected, "adjustment" will be a subtopic under " Debt Relief Theory" to be learnt in order to help plan on how to relieve Africa off debt.
Due to poverty of ideas on the part of Africans and an insatiable innate gabby nature in our bloodstreams, the African will mishandle even foreign aids. The existence and persistence character trait of Africans, corruption and the incessant borrowing on the part of African Presidents and the massive rely on aids is what is dwarfing our growth and development as Africans. Africa, however, is endowed with many natural resources. We have renewable and non-renewable resources such as the green forest, gold, diamond, manganese, lithium and many more. These resources can be used to develop the countries and the people; but it is not the case. African leaders have behaved for years now like a baby who will do anything dirty to receive a toffee. African leaders of late are like a herdsman who rears cattle and forgoes them to cultivate "weed."

The point is that most African leaders of late leave behind treasurers, travel abroad to bring dead ideas and rubbish to litter our countries in the name of quenching our immediate but a non-lasting yearning for satisfaction. But have we no memories of how long the taste of sugar remains in the throat? For how long will you yearn for sugar which does not last? Let us rather plant for ourselves things that last and implement them. Things such as good attitude towards the respective countries, let's think of growth and not just development; for one can develop whilst not growing. Do not leave your gold and go elsewhere for copper.

Please STOP the barter trade you are engaging our countries in with the other countries. Make sure what you give out if that is the means and what you receive is equally proportionate.

As leaders, you must listen to the cry of the people, that cry which initially moved you to take up the office. Just as God heard the cry of the Israelites under slavery in Egypt, and straightway went to save them, you hearing the cry of the people must respond positively. We have been subjected to low standards of living as a result of poverty which is a byproduct of the corrupt attitudes of most of our African leaders. Like a warrior, your ears should always be on the ground to listen to the steps of your opponents and take precautions. Act positively upon hearing their cry to eradicate poverty, corruption and hardships. Just as the blood of Abel cried to the Lord so our ancestors who toiled with their life are weeping heavily in their graves. The ancestors wished greater things for their children and great-grandchildren. Our ancestors are weeping because those capable children they left the continent in their care are messing up everything.
Our ancestors have filled the earth with their mortal remains to enrich the land to help the people cultivate enough. Their mortal remains have formed part of the resources you are mismanaging. We call on you, our leaders to reason and not just think, to act and not just suggest. We call on the leaders to be positive thinkers.

Africa's problem of poverty cannot be eradicated so long as our exports are concentrated on primary commodities and for most of the countries concerned, the concentration of merchandise exports has also remained unchanged for the two decades (Lockwood, 2006).

To escape the chronic disease trap in the long term, African economy desperately needs to diversify away from low-value primary commodities (Lockwood). Africa will not develop until we eradicate corruption, which has become her most fundamental long-term external and internal problem. We have debunked our ability to be creative and develop our nations and taken interest in borrowing, which is not doing us any good but adding to the canker we are trying to uproot. Corruption is Africans' mental ailment that needs the attention of psychiatric doctors of which we are all these doctors the continent needs.

How do we get rid of this chronic disease? As an African, I entreat fellow Africans to be anti-corruption agents. Every African should work with clear conscience.
Every worker should be content with his or her salary. The extended family members should also cut down their demand on workers. Employers must pay workers a good wage that will meet the cost of living of their employees. Various churches and mosques should intensify their preaching against corruptions.

The government must also put in place checks and balances that will ensure that every one accounts for what he or she does. Africa beyond aid is possible only when the mentioned above checks and balances are clearly observed. Let us prove that Africa is indeed a country who can develop by itself without relying on aids by pruning off those uncalled for bad attitudes we display toward the continent. Indeed, as Nana Addo, the President of Ghana asked that the people's minds are freed from a mindset of dependence, aid, charity and handouts, and focus on mobilising Africa's own immeasurable resources to resolve the continent's problem.

I, in likewise manner, ask that African leaders free their minds from aid, charity and handouts as they endeavour to move their respective states to achieve social perfection where there will be zero poverty in the continent. African leaders must not prepare budgets looking else for funds to execute them. The aim to uplift every African to an equal socio-economic level must be the drive for members of African Union (AU).

Happy African Union Day fellow Blacks: I am proud to be Black, You must also be proud to be Black, so We then say with confidence, We are all proud to be Blacks.