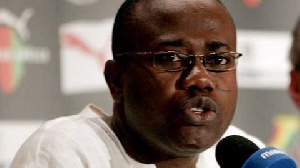 Hahaha hahaha we all saw Kwesi Nyantekyi, Eddie Doku, referee Emmanuel Suka and a whole lot of others taking huge sums of monies just to "murder" football, the passion of the nation without considering the psychological effect on the emotions of teeming supporters or funs.
This makes me to ask what if MAY 9TH was a fixed match? You see how people care very less about our emotions and the psychological breakdowns we are likely to suffer if our team loses? Their pockets and stomachs matters most to them and that has been the story of unconfirmed rumours of massive corruption and bribery at GFA until Anas Aremeyaw Anas came.

Mr. Kwesi Nyantekyi was actually seen counting monies into his black polythene bag with beautiful smiles on his face. His tribal mark on the right cheek even sparkled and glowed with his charming smiles.

You see how money can make man laugh in CAPITAL LETTERS? The legendary Pat Thomas said in one of his songs that "sika y3 mogya - money is blood" and we all know that no one survives without blood. We all need money and we need more of it no matter how much have it in our banks account.

Our desire for money is just insatiable so in Africa and in Ghana particular, people in authority scramble for money through foul or fair means because there are no strong checks on corruption. We are guilty on that.

Whereas Kwesi Nyantekyi was happily smiling and counting $65, 000 "choppable" Donald Trump dollars into the his black polythene bag, he forgot that his credibility was at stake so the holy book says money is the root of evil.

How many people in this country can prevail against the test of bribery? We should however not rush to condemn Kwesi Nyantekyi and his GFA officials to death by hanging because they are still innocent until proven guilty beyond all reasonable doubts by a court of competent jurisdiction.
No judge has hit the gavel on the bench to pronounce Kwesi Nyantekyi guilty of corruption charges yet so I am a little bit careful because I am wearing rag so I don't scuffle.

You see how Mr. Kwesi Nyantekyi failed the test the day he won the same shoe size as officers of Ghana Police Service? He smiled at corruption just like Rev Martey, the former moderator of Presbyterian Church of Ghana concluded that Ghana Police officers smiles at corruption and bribery.

Who in this world doesn't smile at money? I bet you that there many people walking on our streets who profess holy when it comes to corruption but the fact is that, they have never been tempted before.

Nobody has tried to offer them money to influence their decisions because they lack capacity and capability. They have no portfolios so who cares to influence them with money to gain a favour? Nobody cares at all. But let them get a position today and ask their opinion on corruption, they will shift goal posts no matter christ-like they once were.

Rev Martey is the only Ghanaian who said that he had openly rejected bribes from government officials so we should all hail him but we all don't know what he does in secret because that is what God looks at. May be he also smiles at corruption when no one is watching just like Kwesi Nyantekyi but comes out openly to condemn others.

We are waiting with bated breath for the day the binocular lenses of Anas Aremeyaw Anas will fall on him and that is when we can make a solidified opinion about him. After all, Kwesi Nyantekyi and all that were caught on cameras taking huge sum of monies always denied allegations of corruption and bribery pointed at them.
I must say that Kwesi Nyantekyi sued a lot of sports journalists to cover up until he was caught red handed on camera. We should not be fast to forget Countryman Songo and how lost his job at multimedia because of multiple suit from Mr. Kwesi Nyantekyi because he was his hard critic.

I have come to hate the hypocrisy of of Ghanaians particularly the clergy these days when it comes to their opinion on matters of corruption in this country because as a police officer who worked with MTTD for 8 years, many of them tried to pay their way through whenever they are arrested for road traffic offences like driving without licence, carrying of excess passengers among others.

They actually bargain and try to pay good money to police officers just to escape the brush of the law. After paying bribes, they nickname it as "offering of giving" and even pray for the police before they go.

Then from there you hear the same people preaching against corruption and laying emphasis that the police officer is the most corrupt person in Ghana.

Corruption public offices in Ghana was perception until Anas Aremeyaw Anas and his Tiger eyepi broke the myths and jinx surrounding this aged old canker of the nation that H.E John Agyekum Kufour once said, it is as old as Adam.

Until Anas Aremeyaw Anas came to the scene, we all held the popular believe that Ghana Police Service was the most corrupt institution in Ghana. No matter how people hold to their principles against bribery and corruption in the police, society or Ghanaians still see them to be corrupt because they are police officers.
The public assumption is that every police officer is guilty of corruption. How fair is that one? I guess Anas Aremeyaw Anas is correcting that false impressions through is exposès. We can compare and contrast.

In fact, we didn't need the anti-corruption agencies to tell us that Ghana Police Service and its personnel together are the most corrupt institution and officers in Ghana. From Paga to Axim, you are would see tones of police officers along the road physically collecting monies as low as Ghc 1.

I am not innocent of receiving in the police because I have at least received gifts in both cash and kind from certain individuals whom I rendered my statutory duties for though I believe I do my work not because of external influences. I must say that I am paid for my services to the nation so any other renumeration apart from my salary received from the general public can be fast concluded as bribery but you see, this Ghana.

How many of us don't receive gifts at workplaces? Cast the stone first if you are not guilty of the same offence? We all believe in tips at workplaces but the problem is those who have been trumpeting the corrupt practices of the police and cover their own like Kwesi Nyantekyi and his football people.

Until Anas Aremeyaw Anas came, almost every official in Ghana, both private and state could pinpoint extortions on our roads and conclude that Ghana Police Service is the most corrupt institution in Ghana. The Police Service itself has never had the courage and the confidence to rebut these allegations that its personnel are the most corrupt officers in Ghana.

The coming of the anti-corruption agencies sunk further the image of Ghana Police Service by constantly placing them on the number one spot of their indexes.
Then from nowhere Anas Aremeyaw Anas came to give us a convincing opinion about who is actually corrupt in Ghana through his investigative journalism exposès. You see how Kwesi Nyantekyi failed the day he won the same shoe size as officers of Ghana Police Service? He was caught live and coloured smiling at bribery and corruption and didn't care about who was watching him.

I am pretty sure Kwesi Nyantekyi like all Ghanaians once in his lifetime professed that police officers are corrupt and thanks to Anas Aremeyaw Anas, we now know he takes bigger bribes than the police officer.