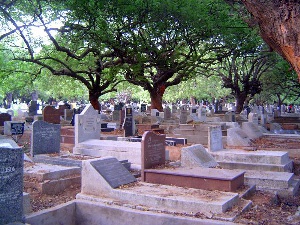 Apart from what is argued as a natural death, there is something that must kill a man. Those who in their own schemes and plans have decided to play a fast one on death have met her at junctures they least expected. By virtue of this, apart from been cautious, we are often encouraged to live above reproach, and focus more on the spiritual redemption of our souls for death will come when she will.
Growing up in my village I have witnessed on countless occasions, pall-bearers carry deceased persons in elephant tuft mats to burial sites. Sometimes, they have to commute distances to the ancestral cemetery to inter the bodies. The dead whoever they are, are often treated with importance and reverence. During this time, elegies, drumming and dancing, whether deserving or undeserving of the dead are crooned. There is a minimal discussion of their death even if their death serves a better purpose to their communities than they been alive. Societal and cultural propriety restricted mourners and sympathizers to say or hear ill-statements of them.

I think we are fast changing the world in many ways and are losing the level of sanctity we accord the dead. We no longer permit them rest. We forget that the dead no matter who they are, have a living memory we need to keep and protect. This memory may not serve our interest at the same level albeit, it is desired.

The trauma that comes with the passing on of a loved one cannot be stated in words. One may have to feel it to know it. Not allowing the dead then to rest brings fond memories which to a larger extent, exacerbates the agonies the family and loved ones are going through. I do not think inundating our media pages with gory or real pictures of the dead serve the same purpose it would the dead and their families. I can bet relatives of the dead some of whose pictures we put on the media have decided to take a break since visiting that media gives them that longing for their loved ones.

It is hard to say but the unpalatable truth is, I have had issues with friends on social media who have been sharing indecent and gory pictures of the dead. They often add accompanying text asking that if one does not want to end up in similar ways, then they should type Amen. The images they share have recognizable features of certain personalities. The missing point is, though they have passed on to glory, they deserve their privacy.
Sometimes, we also dis-honour the dead with a charade and mockery of self-sympathy in forms of eulogies in both the printed and electronic media. These writings do not only serve the purposes of satisfying our egos but also say things about the dead which creates discomfort among members of the deceased family.

Death is a sure thing every mortal will experience. The going might just be better than the coming. Let us strive to give the dead that rest for when we join them, we too will sure need it.

In this season of Lent I leave you with a verse of a Saint Francis of Assisi's Canticle of Brother Sun and Sister Moon;

…Praised be You, my Lord through Sister Death, from whom no-one living can escape. Woe to those who die in mortal sin! Blessed are they She finds doing Your Will.