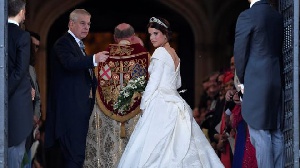 It is a tough time to be young in Ghana. People between the ages of 15 and 35 are either in an unstable employment, out of work, looking for a decent job or have already given up.
Working as the regional chairman for Ghana Chamber for Young Entrepreneurs (GCYE) and CEO for GLAFOYD (Global Alliance for Youth Development), I have found that only a smaller of young working Ghanaians have a 'good' job. Wage employment in the formal sector concerns only a few of the youth in Ghana. Others fall in categories defined by the International Labour Organization (ILO) as 'vulnerable employment', including self-employment and unpaid work (such as family farming). And while self-employment may not be bad per se, in the overwhelming majority of cases it reflects the lack of alternatives and implies unwarranted living conditions and working poverty. It shows that the reality for far too many Youth is that there simply aren't enough decent jobs to go around.

Many young people who are even working are nevertheless living in poverty where their salaries are not able to cater for their monthly utility bills, house rent, transportations and even food to live on. This is especially true in Ghana. It is estimated that, together, the unemployed and the working poor youth account for the majority in Ghanaian labour force.

We can think of the consequences as both personal and societal. Let's keep in mind that it's not the youth who suffers the lost alone but instead has a national implication which is negatively affecting society and the national economy, productivity is reduced for that matter the future of this nation is in woes. Ghana is producing a younger generation who is still not able to find meaningful and productive work. Future Leaders without meaningful careers puts our nation in an unsafe realm for the generations yet to come.

We are not saying that the government can eliminate the problem of Youth unemployment wholly in Ghana but we clearly know there is a great deal that the governments can be doing to make a difference in tackling the youth employment challenge and that will require a tailored and multifaceted approach. Government must heed the voice of the younger generation. It is the young people concerned who understand the measures that will help them adapt to their particular situation.

Firstly, government must remove obstacles to local business. There is the attitude of governments towards small businesses. The fate of Sunyani based Soap maker Kwame Ansah is an example of the importance of this. Early in 2013, he torched himself and sparked a revolution. Instead of providing him with services and incentives to register his business, government officials have been impounding his shop, preventing him from doing business until he gets a Business registration certificate from the Registrar General Department, Municipal/District Assembly Business registration, Local Tax payments, Community levy, etc. All these requirements will consume all Ansah's working capital. Others who would want to go into foods and other businesses will also be facing costly certifications from the Foods and Drugs Authority.
Government must make the tax system work to encourage business growth and not discourage them. The government need to simplify complex tax and burdensome regulatory rules that frightens lots of young business people and holding back the youth who wants to start a venture. Streamline these areas, relax complex and burdensome rules in areas such as taxes and provide support and guidance to young entrepreneurs so they move forward, not backward. Now is the time to review and cut red tape.

Governments need to support social insurance adapted to the needs of small businesses such as Kwame Ansah's. With the security that insurance affords, a small business owner can invest his earnings into his business instead of having to stack them at home in preparation for sudden costs like health care of family members.

Many small entrepreneurs in Ghana do not have access to low-interest loans that could allow them to grow their business. Although obtaining very small amounts of financing has become a little easier thanks to microfinance and susu companies but obtaining medium-sized loans about ¢6,000 is very difficult. Most banks are not interested because they make more money easily with bigger companies.

In conclusion, I will say that the government is responsible for providing an ecosystem for young entrepreneurs' success.