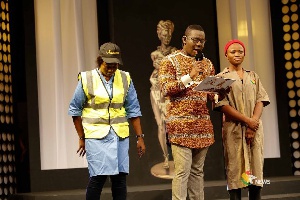 Ghana Most Beautiful is really the most entertaining programs in contemporary times. We have reached a civilization era that is rapidly devouring our culture. This cultural extinction whether consciously or unconsciously has further portrayed our nation as one without any rich sociocultural background to boast with. The youth unfortunately become the ambassadors of this sad brigade of cultural extinction.
The western culture has opened its mouth so widely like a hungry desert vampire, and is wickedly swallowing our pride. We have lamented enough over the wholesale importation of western culture but have done little about it to properly socialize the current and next generations, to know and take pride in our culture.

Today, it is sad that many cannot speak their own languages; do not patronize their local food, dress as well as the rich customs and traditions that can still place our country in a pedestal. This is because rich culture is tied to tourism and the general development of the people. A good cultural orientation also churns out hard working and patriotic citizenry that can spearhead national development. The opposite is obvious!! No wonder we have now have a chunk of citizens whom as a results of lack of our cultural virtues, become a threat to the progress and prosperity of Ghana. Corruption, prostitution, armed robbery and other social vices continue to escalate because we have failed to grow with the virtues and values that are embedded in our culture.

When tv3 introduced this Ghana most beautiful program somewhere 2007, as an annual program, many of us did not know that it was actually, deliberately, designed to nurture the youth of this country to showcase our rich culture. Indeed it is doing just that and I am happy because the amazing patronage of the program as well as its content. That is the way to go as a country. The media and other stakeholders of development must find a way of portraying our rich culture to the outside world. The dividends are immeasurably paramount to nation building.

However, I must be frank that I am sad over the performance of Upper West representatives on the show for the past two years (seasons). In fact, in 2017, we witnessed an embarrassing early eviction from the show. It was two obvious that our representative went there with physical beauty. I don't want to even remind my readers, how she became our representative and the politics, tribalism and corrupt allegations that came up. What I want to state categorical is that we cannot send beautiful ladies who are culturally half-baked and expect to win the crown. That is totally impossible.

Numbo demonstrated at the time, that she didnt know much about the culture of our region. From the many dances we have, the many festivals, tourist sites, our enviable languages to our rich cultural folktales.
I thought that embarrassing performance of Numbo had sent us back to the drawing board to ensure that we adequately prepare our young ladies who are potential candidates of the show. Little did I know that the murmuring and lamentations ended up with nothing to add up to boost our chances in subsequent seasons?

Unfortunately this year has recorded another painful early eviction. I had hopes in NUO (Ruby Nang) and I have voted a number of times for her believing that she was capable of changing the status quo. This lofty perception of mine turned out to be a figment of my own imagination. As though it was a dream, NUO is also gone! This lady has the passion and a good physical disposition that could have made her a force to reckon with. Unfortunately, she also demonstrated some avoidable inadequacies. Now we are all being emotional and lamenting over it again.

I think we need to get over the lamentations and carefully look at how we can prepare our candidates to get the confidence and knowledge of our culture. Our preparation is not too good, considering that fact that western culture has become a foe to the progress of own. Our current generation is too much drawn into western culture and would need a certain mentorship from knowledgeable people. We can't sit down aloof, waiting for another season only to go there unprepared.

People expectations from our candidates are always too high and their early exit precipitates emotional distress and in the future, can easily send many people to their graves considering the strong emotional attachment many supporters have for Ghana Most Beautiful.

Let me also use this opportunity to urge those in the forefront of entertainment in the Region to consider organizing many related shows that can model our young ladies.
Traditional rulers must begin thinking of the future. Traditional rulers can have their own local cultural centers in the palaces. If you go to the Asantehene palace, you would be amused at how children perform cultural dances, drum, and recite appellations and dirges with precision. We need to take similar steps. This can better enhance our chances in the future. If we nurture them to get the confidence, cultural knowledge and oratory skills, then we would be ready to garner enviable honors.

If you had a cursory look at Baci, our 2014 representative who won us the crown, you would agree with me that his confidence, oratory skills and cultural were far better than our subsequent candidates. I do not seek to undermine the sacrifice of those who represent us but we must do certain things right if we want good results. It is a trite knowledge. That was an exceptional competence.

Let me once again, use this opportunity to congratulate NUO for her boldness, sacrifice and struggle to gain glory for the Region. It is my hope that if the right things were done for her, she would have won us gold. Better luck next time.

Denis Andaban denisandaban@gmail.com 0249734023 The Writer, who hails from the Upper West Region, is a nominated candidate for the most outstanding student writer of the year award put together by Ghanaian Tertiary awards. Your votes and support are hereby solicited.