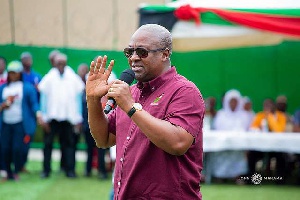 There is absolutely nothing wrong to borrow money and invest it prudently. However, there is everything wrong with reckless borrowing.
Thus, we can passionately conclude that the opposition NDC operatives are not entirely correct for arguing somewhat impetuously that since the then opposition NPP faithful persistently spoke against the outgone NDC government's relentless and alleged needless borrowings, the incumbent NPP government has no right borrowing money to fund important projects.

The NDC loyalists thus contend somewhat fallaciously that it is extremely dishonest and hypocritical for the Akufo-Addo's government to borrow money to fund important projects since they were against NDC's alleged aimless borrowings.

Let us, however, be honest, in as much as some of us respect the critics opinion on borrowing, their bone of contention is somewhat specious, given that the critics of the erstwhile NDC government concerns were premised on reckless borrowings.

Since the inception of the Fourth Republican Constitution (from 1993 to present), Ghana has regrettably lost billions of dollars meant for developmental projects through unbridled sleazes and corruption.

Indeed, it is boundless irresponsible for public officials to secure loans in the name of Ghana, and would end up stashing, misappropriating and embezzling the funds to the detriment of the poor and disadvantaged Ghanaians.

Given the circumstances, some of us are in agreement with the sceptics: it is indeed disgusting for public officials to embezzle funds in the name of SADA, GYEEDA, SUBA, SSNIT, amongst others.

Dearest reader, tell me, how could it be alright when money meant to provide textbooks for school children was abhorrently diverted into the branding of buses?
Apparently some of us do not suffer from chronic memory loss and can recall vividly how some NDC officials, with unabashed disgust, embezzled over GH200 million SADA funds.

Back then, we were shockingly told that large portions of the SADA funds were invested on trees which were burnt down and the guinea fowls miraculously flew to the nearby Burkina Faso without a trace. How bizarre?

We should, however, take solace in the fact that a competent court of jurisdiction convicted and sentenced two of the numerous NDC suspects in the wanton sleazes and corruption scandals which took place during the erstwhile NDC administration.

We can also recollect, albeit with extreme sadness, the faded STX Housing loan which was supposed to provide affordable housing units to the security agencies, and yet the then Vice President Mahama is alleged to have given us a bill in excess of $300 million. How strange?

It is however regrettable to emphasise that in the end, Ghana's debt ballooned from an arguable meagre GH9.5 billion in 2009 to an incredible GH122.4 billion by December 2016 with a little to show for.

Dearest reader, if you may remember, a few years ago, Mr Amidu came out and audaciously informed the whole nation that the late President Mills set up a Committee to investigate his then Vice President(Mahama) on what he(Mills) perceived as an irrevocable dishonesty on the part of his vice president over the Brazilian aircrafts deal.

It would be recalled that Mr Amidu boldly came out and told the whole nation that in July 2011, there was a hue and cry about the prices for the acquisition of five (5) aircrafts for the Ghana Armed Forces negotiated by Ex-President Mahama.
Mr Amidu stressed somewhat pertinently that, even though on 26th July 2011 the late Mills attempted to defend the purchase of the five aircrafts, he became convinced of the necessity to set up a Committee to investigate those purchases supervised by former President Mahama.

If you may remember, not long ago, we woke up to be greeted by yet another news of corruption scandal in the erstwhile NDC administration of alleged oil money of GH40.5 million secret transfers to the presidency, via the then Chief of Staff (See: 'Group explains why Amidu must probe Mahama, Debrah in GH¢40.5m BOST payment'; myjoyonline.com/ghanaweb.com, 19/09/2018).

Besides, in somewhere 2018, we read that four valiant Ghanaians had petitioned the Special Prosecutor Martin Amidu to probe into the alleged E.O. Group's $13 million corporate social responsibility fund towards the development of the Western Region which the petitioners claimed to have been diverted by Ex-President Mahama (See: 'Mahama diverted $13m E.O. Group money; probe him – Four citizens petition Amidu'-todaygh.com/ghanaweb.com, 18/06/2018).

A few months ago, I could not believe my eyes when I skimmed through the revoltingly ugly news about the misappropriation of $175 million loan facility secured in 2012, which was meant to provide seven district hospitals, but I was not. I was wide awake. The NDC hierarchy indeed misapplied the loan facility on the blind side of Ghanaians.

Astonishingly, the Joy News's fact-finding mission uncovered the damning scandal which took place in the outgone Mahama-led NDC administration.

The Joy News's meticulous investigation revealed that the erstwhile NDC government surreptitiously diverted $6 million of a government loan facility of $175 million into researching the then governing NDC party's chances of winning the 2016 general elections. How pathetic?

The clandestine research was alleged to have carried out by the United Kingdom based SCL Social, the mother company of Cambridge Analytica. According to the report, although SCL Social was given $6 million to carry out a nationwide survey to provide appropriate data for the proper planning of the healthcare needs of Ghana, the NDC government led by Ex-President Mahama deemed it fit to divert the loan facility for their internal research at the expense of the sick and infirm Ghanaians. How insensitive?
Dearest reader, how can we advance as a nation when some conspiratorial plotters keep hiding behind party coloration, devoid of patriotism and squeamishly squandering our scarce resources to the detriment of the poor and disadvantage Ghanaians?

"Corruption is an insidious plague that has a wide range of corrosive effects on societies. It undermines democracy and the rule of law, leads to violations of human rights, distorts markets, erodes the quality of life and allows organized crime, terrorism and other threats to human security to flourish" (UN 2003).

In spite of the fact that corruption is a serious economic, social, political and moral impediment to the nation building, our corrupt officials are bent on siphoning our scarce resources.

Yet, our shameless leaders would have the audacity to blame their Western counterparts for the sufferings they have wilfully brought upon their subordinates.

Ironically, when a section of our fed-up brothers and sisters opt to seek greener pastures in Europe through the high seas and perish their lives, our corrupt leaders would then turn around and blame the Western leaders for not donating more of their hard earned wealth. Isn't it pathetic? Yes, it is ruthful, so to speak.

The fact of the matter is that corruption is more often than not, slows down a nation's development. Besides, corruption has become an ecumenical phenomenon in scope, substance and consequences.

Apparently, this evil phenomenon is found in all countries—big and small, rich and poor—but it is in the developing world that its effects are most destructive.
Corruption hurts the poor disproportionately by diverting funds intended for development, undermining a Government's ability to provide basic services, feeding inequality and injustice and discouraging foreign aid and investment.

Corruption is a key element in economic underperformance and a major obstacle to poverty alleviation and development (UN 2003).

Interestingly, the Progressive Nationalist Forum (PNF) estimates that monies lost to corrupt and dubious transactions under the presidency of John Dramani Mahama amounted to GHC5billion.

Obviously, we need a true leadership with vision and ideas, altruistic leadership devoid of corruption, greed, Incompetence and capable of transforming us into an industrialized and robust economy.