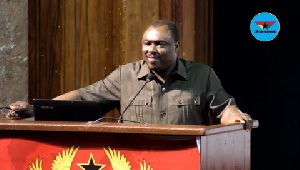 A good friend of mine up here in the States who (unfortunately?) happens to be an NDC sympathiser called to tell me to check my email because she has sent a media link of one of my "arrogant" party (NPP) member/minister's nauseatingly unsophisticated outbursts directed at all Ghanaians in diaspora. My initial hesitant response to my friend's call to view the video was: 'Here she goes again with her incessant critiques of everything wrong with Nana Akufo-Addo's presidency.'
Eventually, I checked out the video clip and right away I started laughing aloud not because the video's content conveyed anything funny. Rather, that Deputy Minister of Trade who called himself Robert Ahomka-Lindsay's pretentious portrayal of high-level expertise in diaspora experience bordering on hyperbolic overkill triggered my disdainful laughter. He was lecturing in a manner that made it seem so easy that any Ghanaian in the diaspora can quit his/her high-paying job abroad today; move his family back to Ghana and the following week or so the government in power appointed you the head of GIPC. That was what happened to him during ex-President Kufuor's administration, so he was lucky enough not to engage in "whining" to get on "people's nerves."

Mr Ahomka-Lindsay may not have claimed he is a repository of all knowledge pertaining to Ghanaians in the diaspora. Yet, his palpable insulting pontifications aimed at Ghanaians abroad, while taking veiled swipe at their so-called too-knowing demeanours, as well as their unwillingness to stay mum from "whining" about the subpar development in Ghana, highly point to the deputy trade minister's presumptuous diasporan know-how.

If his hidden intent was to be the talk of the town, then he probably met his expectation but we must quickly add that success was a pyrrhic one. In fact, prior to his infamous "whining rantings," Mr Ahomka-Lindsay's name had not ever crossed my conversation; neither did l ever hear about him before. But now, Robert Ahomka-Lindsay may be a household name, albeit not in a positive light, especially, among Ghanaians in a diaspora.

It is worth stating that "Ghana Diaspora Homecoming Summit" is the brainchild of the Akufo-Addo presidency. It's creatively engineered to organise and tap into the large pool of talents and other resources regarding Ghanaians in diaspora in the bid to fast-paced the nation's socioeconomic development. Needless to say, the Summit's main target was to try to lure and encourage many Ghanaians in Diaspora who are contemplating and exploring ways to come help contribute to the advancement of Ghana. The Diaspora Initiative was never about Mr Ahomka-Lindsay and his unsolicited projection of an aura of state power and hubristic "whining" lectures irrespective of his behind-the-scenes inputs.

Evidently, the Deputy Trade Minister. Mr Ahomka-Lindsay was not an excellent/effective communicator for that occasion — Ghana Diaspora Homecoming Summit - held at the Accra International Conference Center. Savvy organisational communicators, regardless of their personal feelings, are perfectly aware of the diverse sensibilities of their audience. Hence, they don't use communication only in terms of transference of information, but also they use communication as tactical control as well as a balance between originality and societal restraints.

That is why it is unbelievable to learn that Mr Ahomka-Lindsay used to work at the senior level position at the global beverage giants Coca Cola's public affairs communication division, and yet couldn't communicate a world-class body of information to suit the appropriate audience. Perhaps, the most likely explanation for his amateurish communication performance at Accra International Conference Center might have stemmed from the little political power he is wielding now as Ghana's Deputy Trade Minister. It's common to see many African policymakers allowing political power to get over their heads.
Paradoxically, the person (President Addo) who appointed Mr Ahomka-Lindsay to his current position is not cocky with all the immense executive powers at his disposal. Judging from Nana Akuffo Addo's genuine display of humbleness with political power since becoming president of Ghana, it is highly doubtful he had any idea one of his sub-cabinet ministers would talk in such a self-conceited tone as Mr Ahomka-Lindsay did. Truth is, the Deputy Trade Minister's contemptuous admonishments were not surprising to many of us in the diaspora community. The minister's comments reflected age-old worldview generally harboured by a considerable number of Ghanaians back home with regard to the highly educated Ghanaian class living abroad.

The foregoing general view informs some of these locally-bred technocrats or leaders that since they're the ones living in Ghana, no Ghanaian in the diaspora is "knowledgeable enough" to understand the prevailing conditions in the country to come tell them the proper or innovative ways of doing things in Ghana. The irony of these self-loathing proclivities, however, is that these same local Ghanaians don't have problem soliciting expensive services of Chinese, British, Canadian, or Indian expatriates. On top of that, whenever the foreign experts come in, our policymakers ensure that they get everything they asked for, even if they're "whining." And the sad part about many of these expatriates is that they don't even respect Ghanaians or Africans in their own lands.

At any rate, what puzzles some of us is the uninformed notion among some Ghanaians that somehow it is anathema to make associations or compare (say) Ghana to the United States or any other developed country. What is wrong with making comparisons between two modern nations made up of human beings with brains and natural resources to boot? We compare to know who the best is so we can aspire to be the best too. Even Americans "whine" and compare their country to Third World nations all the time when something isn't meeting their societal expectations.

More importantly, human mind/brain cannot properly interpret events or make any sense of the world without the constant processes of comparing phenomena and other unfolding events in our lives. It is just how all human minds function; whether one is Ghanaian or British. For example, we know that something is "bad" because we may have prior experience of what constitutes "good." That is a subtle form of comparison, and our brains do this cognitive activity every day. So, it is cynical on the part of Mr Ahomka-Lindsay to chide Ghanaians in diaspora by calling them "whiners" if they compare low-quality services in Ghana to those in the more advanced societies.

It is an all-too-familiar story in Africa that many well-intentioned and unassuming heads of states often failed midstream in their leadership journey because, in most cases, some over-zealously self-assumed government officials such as Mr Ahomka-Lindsay messed up an otherwise smooth-sailing regime for everyone else. It will not come as surprise if sooner than later a well-disciplined leader like Nana Akuffo Addo may offload the likes of Mr Ahomka-Lindsay and puts him in a place where he will not get the chance again to turn off many of his listeners via his aristocratic pretence.