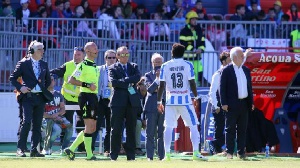 The strange case of Orlando Pirates striker Thamsanqa Gabuza's walk-off is the latest, rare as it is, case of a player leaving the pitch of his own accord during a match.
Gabuza stormed off to the changeroom following Pirates' opening goal at Black Leopards in the Absa Premiership on Tuesday, after remonstrating with fans.

He had faced a volley of abuse from the crowd after missing a number of early chances in the game, and it was certainly not the first time he had faced the ire of supporters during a five-year stay with The Buccaneers.

So when his cross was turned into the net by a Leopards defender, Gabuza ripped his shirt off and celebrated wildly, before letting the fans know exactly how he felt about them, angrily throwing his jersey into the stands.

After coach Milutin Sredojevic berated him, and shoved him in the chest, Gabuza stormed off. He later reappeared with a heavily strapped thigh and claimed injury, though it did not fool the referee, who promptly produced two yellow cards, one for removing his shirt during the incident, and the other for leaving the field of play without permission.

KweséESPN looks back in history at other instances of African players taking themselves off the park.

Zamalek

Cairo derbies between Al Ahly and Zamalek are usually tempestuous affairs, and it was no different in 1999 when the latter staged a walk-off after just two minutes.

French referee Mark Batta had shown a red card to Zamalek player Ayman Abdel Aziz for a tackle from behind. His teammates were incensed and staged a walk-off, refusing to return, and the game was awarded to Ahly.
Zamalek were fined by the Egyptian FA and four fans even took them to court, claiming the players had intentionally thrown the game.

Ivan McKinley

Former Wits University and South Africa defender Ivan McKinley did not walk off so much as sprint off. McKinley, who spent most of his career in the United States, frequently suffered from pre-match nerves, but during one particular match in 1995, the attack came mid-match.

Desperately in need of the toilet, McKinley made a headlong dash for the changeroom. Problem was, he had already been booked earlier in the game, so upon his return, the referee warned him that if he so much as put one foot on the pitch, he would receive a second yellow card, and thus be dismissed.

No amount of appealing for common sense could sway the referee's mind, so McKinley -- who went on to play for Tampa Bay Mutiny, New England Revolution and DC United -- was forced to watch the rest of the match from the bench.

Alex Nyarko

Everton's Ghanaian midfielder Alex Nyarko did not quite walk off the pitch at Arsenal during a 4-1 defeat in 2001, but asked to be substituted after an incident with a fan.

Nyarko was not having a good day as far as performances go, and when an Everton fan came onto the turf and offered to swap shirts with the midfielder, suggesting he, the fan, would do a better job playing for the Toffees, the player lost his cool. He approached manager Walter Smith and asked to be substituted, which he was five minutes later.
It would be the end for him at the club, and although he told journalists he was quitting football after the game, Nyarko went on to play for both Monaco and Paris St Germain, eventually calling it a day in 2007.

Gora Ibrahim

Not quite a walk-off, but a moment of madness to end a career, as South African Gora Ibrahim was so incensed at being substituted during the first half while playing for Rabali Blackpool that he karate-kicked his coach Walter Rautmann in the chest.

The Austrian ended up in hospital with fractured ribs and Ibrahim had to leave the ground with a police escort. He never played professionally again, hanging up his boots at the age of 29.

Normally a placid man by all accounts, Ibrahim later described the incident as "embarrassing and out of character".

Kevin-Prince Boateng

On a more serious note, Ghana international Kevin-Prince Boateng took a firm stand against racist chanting from fans when he walked off the field, followed by both sets of players, in a pre-season friendly between AC Milan and lower league side Pro Patria in 2013.

After fans continually made racist chants, Boateng picked up the ball and kicked it into the crowd, removed his shirt and walked off. Even the match officials followed, and it was the first time a team had walked off due to racism.
Sulley Muntari

Not all such incidents have a satisfactory ending though. Boateng's Ghana international teammate Sulley Muntari was banned for one game after walking off in protest over racist abuse from fans while playing for Pescara against Cagliari in Seria A in 2017.

After Muntari complained to the referee about chanting aimed at him from the start of the match, he was booked by the match official. That prompted Muntari to walk off the field and leave his side to play the final few minutes with 10 men.

He was later banned by Italian authorities for one game, though this was rescinded after widespread protest.

Katlehong City

The match between South Africa's Mamelodi XI and Real Katlehong City in 1971 was abandoned five minutes from the end by referee Paul Nkabinde after City players walked off the field.

Irate fans had invaded the pitch when Nkabinde disallowed a late Mamelodi XI equaliser. Faced with the crowd, the referee changed his mind and gave the goal, prompting the walk-off by Katlehong City.

They felt robbed of what looked like a becoming a hard-earned victory, as they had been forced to start the game with just seven players because of the late arrival of some of their team.
Referee

The referee walked off during the Durban derby between Golden Arrows and Zulu Royals in South Africa in 1972 because both teams ignored his decisions.

Arrows' captain Meshack Gcaba refused to go off after being given his marching orders. The referee decided to ignore him and played on, but when Gcaba touched the ball next, the ref stopped the game and gave Royals a free-kick, saying the player was "officially out of play".

This set off more arguments, which led to the referee packing up and going home with the score deadlocked at 1-1. The points were later awarded to Royals and Gcaba was suspended by the league.

Jorge Santoro

Jorge Santoro walked out as coach of Moroka Swallows at half-time of a BP Top Challenge Cup quarterfinal match against Aces in South Africa in 1977 when chairman Jack Sello vetoed a proposed substitution.

Swallows scored two goals in the second half without their coach to win 3-2 and book a semi-final place. For days afterward, Swallows tried to persuade the Brazilian coach to return but without any success.